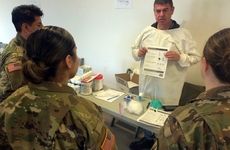 NEW YORK – With the COVID-19 pandemic expected to worsen in the US in the coming weeks, and testing capacity still playing catch-up, Emergency Use Authorizations from the US Food and Drug Administration have reached an inflection point.
Late last week the first two tests from the private sector were granted EUA, and early this week the FDA loosened its guidelines to make it easier for commercially developed tests to receive EUA.
Although it seemed the floodgates would now be opened to new all tests and kits, diagnostics developers are suggesting the timelines to launch products aren't going to be accelerated much by the new regulatory guidance. That said, they are preparing to ramp up production not only of the new SARS-CoV-2 assays but also of the designated testing systems in anticipation of increased demand.
Test developers such as BioFire Diagnostics, GenMark Diagnostics, and Rheonix were midway through the validation process when the new guidance was issued this week, and the loosening up of the rules appear unlikely to speed up the process for them. Indeed, GenMark received EUA late Thursday.
Meantime, some kit makers have announced the launch of tests in the US, but it is unclear how and to whom those could be distributed, although some developers, like Aldatu Biosciences, are working directly with labs to make tests available as EUA LDTs.
The new guidelines state that commercial test developers can launch an assay as soon as it is validated to previously guided standards, provided the companies subsequently pursue EUA within 15 days. This is similar to the guidance issued to labs seeking authorization for laboratory-developed testing.
A bird's eye view
The landscape for commercial testing for infectious diseases could be roughly divided into developers of instrument-agnostic test kits and developers of tests that run on a designated test system or instrument.
For example, five of the assays that have been granted EUA as of Wednesday this week – from Roche, Hologic, Abbott, GenMark, and DiaSorin Molecular – can only be run on those companies' test systems, while two others – from Thermo Fisher Scientific and Quidel – are test kits that could potentially be run on other PCR systems.
But there are many companies – including makers of agnostic kits, syndromic panels, and point-of-care diagnostics – that have disclosed they are seeking EUA.
For some, the new guidelines do not appear to be enough to accelerate the launch timeline, since ramping up production and distribution is actually the rate-limiting step, not the regulatory process.
Max Masucci, an analyst at Canaccord Genuity, explained in an email this week that while big players like Roche, Thermo Fisher, Hologic, and Quidel have all been granted EUA, there are a number of smaller companies that have submitted their COVID-19 tests for EUA approval and are now waiting to hear back. And, there are also companies, like Becton Dickinson and Chembio, that are developing point-of-care immunoassay testing, he noted.
"While I expect the diagnostics titans like Roche and Thermo Fisher to supply the lion's share of tests, I expect smaller companies to help fill pockets of demand for COVID-19" testing, Masucci said.
The availability of reagents has been the key factor limiting the mass distribution of SARS-CoV-2 tests. "It's my understanding that large companies like Roche and Thermo Fisher are working to expand their supply of reagents. If large companies are using their full capacity of reagents, the role of smaller diagnostics companies will become increasingly important [because] several smaller diagnostics companies use several different sources of reagents," Masucci said.
Overall, he said it is hard to estimate the exact number of tests that will be needed to adequately surveil the US, as this will be dependent on the effectiveness of social distancing and the consequent shape of the US epidemic curve.
"What we do know is this — we'd rather overshoot than undershoot that target," Masucci said, adding, "We think this will require a 'team effort' from diagnostics companies of all sizes."
At a granular level, Masucci said tests from companies like Roche may resonate well in large reference labs like Laboratory Corporation of America and Quest Diagnostics, while tests from companies like GenMark, which provide an instrument geared toward the hospital inpatient setting, may serve as an attractive solution for hospitals that don't anticipate having enough of a SARS-CoV-2 testing need to warrant a send-out to a large reference lab.
Masucci said he sees potential for COVID-19-specific instrument placements. Demand for pandemic-related testing may also be a catalyst to motivate hospitals and labs that may have already taken an instrument in but have not yet validated it and gone live with testing.
"We expect these incremental instrument placements to serve as a long-term driver of consumables utilization," Masucci said. And, given that point-of-care tests offer rapid turnaround time and improved patient accessibility, he also sees utility for these tests in doctor's offices, pharmacies, and potentially at the borders, if and when they attain EUA.
A snapshot of commercial timelines
Companies like BioFire, GenMark, Rheonix, and Aldatu represent the spectrum of different types of testing and company sizes, and they are each pursing EUA in a milieu of evolving guidelines.
BioFire, a BioMérieux subsidiary, was the first commercial test to achieve EUA on an assay for the Ebola virus during the 2015 outbreak, and has previously disclosed it is working to bring a COVID-19 test to market on its FilmArray and higher-throughput FilmArray Torch systems.
The new FDA guideline change is a "welcomed, and pretty aggressive move by the FDA," Wade Stevenson, senior vice president of global marketing at BioFire Diagnostics, said in an interview. "I think it is appropriate, given the magnitude of the COVID-19 pandemic and ensuing crisis."
Stevenson confirmed that the guidelines permit BioFire to commercialize its product 15 days before it submits it to the FDA, assuming the validation data looks good, but added that his understanding is that the firm also needs to post the validation data on its website.
Information on sensitivity and specificity of the COVID-19 tests available to date has been sparse in the public domain, so this could be a welcome change for customers, if it is the case.
BioFire is now far enough along in its test validation and manufacturing scale-up to provide a limited number of COVID-19 assays to the US Department of Defense starting next week, Stevenson said. "As we ramp up manufacturing capabilities, we will be able to provide that test more broadly beginning in April, under Emergency Use Authorization," he said.
Accelerating the regulatory authorization part of the timeline has been somewhat helpful, "but still, internally, there is a lot of ordering of raw materials, ramping up and production planning that still has to take place, and those were still on their original timeline" when the guidelines changed, Stevenson said. Since then, BioFire has been brainstorming ways to pick up the pace on these other aspects, too.
"As a manufacturer and developer, you try to coordinate all these different processes, and just because one has been accelerated, it doesn't mean that they all can be," Stevenson said, adding, "Many can, but you are at the mercy of the slowest one."
At the other end of the spectrum, GenMark was also midway through the EUA process when the guidelines changed, but had already submitted its test on March 10, and then obtained EUA on Thursday. GenMark Senior Vice President of Marketing Scott O'Brien said in an email that prior to EUA submission the company had provided several partners with RUO kits, which they in turn validated for use in their labs and then submitted their own EUA to the FDA.
The new guidelines allow the firm to distribute EUA-labeled products ahead of formal approval, O'Brien said. "We are currently transitioning production from RUO to EUA and updating labeling accordingly," she added. When the new guidance came out, the firm had already submitted its EUA application and was addressing initial questions from the FDA, and thus was "deep into the process and finalizing labeling" at that time.
Richard Montagna, CSO at Rheonix, said that from his perspective FDA has dramatically streamlined the EUA process. "We submitted our pre-EUA on Thursday of last week and we received their feedback on Monday. Clearly, they're doing all they can to expedite the process," he said.
Montagna said he expects the process of validating its sample-to-answer test on its instrument will take another week or two.  
Aldatu Biosciences – a start-up kit maker – has, meanwhile, brought its product to customers in a hospital in Boston. "The hospital will file for EUA using the RUO Aldatu kit and the workflow that we collaboratively validated in their lab as an LDT on their Abbott m2000 RealTime system," said Aldatu CEO David Raiser.
The firm started working on its test three weeks ago and had a validated assay two weeks later. "Within another five days, the test was clinically validated in a CLIA lab and being used to test hundreds of patient samples per day," Raiser said.
The test uses the firm's proprietary pan-degenerate amplification and adaptation, or PANDAA technology, and has been validated as a lab-developed assay on the Abbott m2000 RealTime system. "In parallel, we validated the test using the Abbott m2000sp unit for automated sample extraction only and the Thermo Fisher QuantStudio 5 for real-time PCR amplification and detection," Raiser said.
The test can detect as few as eight viral copies per reaction, Raiser said. And, despite the FDA EUA guidance requiring only in silico demonstration that test oligos are not cross-reactive with related viruses or other common respiratory pathogens, Aldatu has also performed specificity testing on a broad in vitro exclusivity panel of viral templates.
One potential bottleneck to testing currently is the availability of sample collection materials, such as nasopharyngeal swabs and universal transport media (UTM) or viral transport media (VTM).
GenMark noted that the firm had already increased critical staffing "both to respond to demand and to mitigate if individuals have to stay home as a result of the COVID-19 outbreak." And, from a manufacturing and supply chain perspective, the firm had also already planned for an extended and heavier-than-usual respiratory and influenza season, "so the increase in demand was something we are prepared to manage," O'Brien said. 
"We have heard some issues for customers in acquiring NP swabs and UTM/VTM, but we have verified several alternative media, and labs seem to be finding suitable alternatives."
Aldatu's Raiser also said the firm has planned ahead for bottlenecks. "We have gone to great lengths to work with our long-time suppliers to ensure timely delivery of our critical reagents so that we can guarantee an uninterrupted supply of kits to our CLIA lab partners," he said. "We are also seeing impressive innovation from the hospital customers to circumvent their own bottlenecks, such as repurposing swabs from other specimen collection kits and generating large quantities of VTM alternatives on site."
Sales and distribution during a pandemic
BioFire's Stevenson said that the COVID-19 assay will go out onto the existing installed base of FilmArray instruments. But, he added, "We are absolutely trying to install new instruments at this point, and as a matter of fact, the instrument demand has been going through the roof, as well as orders for our existing respiratory infectious disease testing products."
BioFire is, therefore, also ramping up production capabilities to meet the increased demand for instruments as well, he said.
Stevenson noted, however, that many hospitals in the US have closed their doors to sales reps during the pandemic. "We understand, and we want to support them in that, but that's not all hospitals, and on top of that we still have field application specialists who are busier than they've ever been in their lives going out and installing new instruments."
The firm is also accepting orders and staying in touch with customers online in cases where quarantine has been put in place.
For the BioFire respiratory panel, an increased demand in Asia has leveled off, Stevenson said, but has now ramped up in the rest of the world. "Overall demand for our respiratory infectious disease testing products is about 200 percent ahead of what we forecasted for the month of March, so it's been a lively time here, and a challenge to manage that when a good part of your workforce is working from home," he said.
The global number of BioFire FilmArray instrument placements was reportedly 10,400 at the end of last year.
GenMark sells direct in the US, which is the largest market for multiplex molecular diagnostics and the primary market for the firm. The company also has approximately 30 distributors globally who are also requesting SARS-CoV-2 test kits.  So far, the firm has taken a phased approach to global distribution, with a focus on Hong Kong, but it will now expand distribution with the new EUA.
O'Brien noted that during the initial RUO launch GenMark also placed new instrumentation.
"The initial sites had demand needs which required additional instrumentation given both the increase in ePlex [respiratory panel] testing and the need to run SARS-CoV-2, as well," O'Brien said. The firm now expects to add new customers, and thus place new systems, now that the EUA product is ready to launch.
"At this stage, we have not experienced any disruption of our technical team's ability to install new instrumentation, but we are doing this urgently now to ensure we get ahead of potential tighter restrictions," O'Brien noted.
Like BioFire, GenMark has seen an increase in demand for its syndromic respiratory panel testing. "Initially all the focus seemed to be on getting a COVID-19 test, but once laboratories realized the majority of patients are negative for SARS-CoV-2 they realized it is important to be screening for a broad range of respiratory pathogens [and] as a result, we have seen many hospitals recently update their testing algorithms to include more syndromic panel testing rather that starting with FluA/B," O'Brien said.
Rheonix is also selling direct in the US and through distributors internationally. The firm is not aware of any disruption to the distribution chain at this time. Rheonix plans to install and service workstations and ship kits as required, and to work with customers to ensure the safety of all involved in instrument servicing and installation. The company is also continuing to manufacture and ship its other products to customers. 
And, at this point Aldatu is also selling directly to the hospital that is currently using its test.
Impact of an evolving EUA landscape
GenMark said that the changing EUA landscape has not really impacted any decisions the firm has made in regards to development, production, and commercial strategy. 
"We initially chose to pursue the RUO path and as result were the first company to release a sample-to-answer test for SARS-CoV-2," O'Brien said. "Our plan was to use the RUO to generate the requisite data for FDA EUA submission, [so] the fact that the EUA guidance changed at this stage has minimal impact on GenMark since we are far along the process."
That said, the changing EUA landscape has been "challenging and frustrating for clinical lab directors and hospitals." The initial guideline required clinical labs to build their own lab-developed test (LDT) "and effectively conduct a mini-clinical study in order to submit their own EUA," O'Brien said. "This led to significant delays for many labs and more importantly, ruled out the majority of labs as they did not have the ability or resources to meet the EUA requirements." Now, the shift in guidance "really helps clinical labs … start using a test rapidly and complete the studies for EUA submission while in clinical use."
Rheonix has also been adapting to the changing guidelines. "I'm one of those 'old timers' that believes in FDA's adage of 'Come to us early and come to us often,'" Montagna said, adding, "We live by that, so nothing has caught us by surprise. …  In some respects, the changes have actually made things easier for us."
Aldatu's Raiser commented that some of the ambiguity and lack of clear guidance in the EUA requirements, in particular around how to acceptably generate contrived samples, resulted in some frustration, but "In general, the documents were clear and provided an unprecedented avenue for a company like ours to get a solution implemented in truly record time during a pandemic crisis."