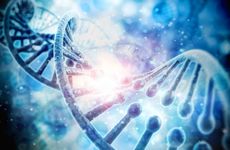 NEW YORK – In a new clinical validation study, an international team led by investigators at NYU Langone Health has demonstrated that BRAF gene mutations detected in cell-free circulating tumor DNA (ctDNA) can offer a window into treatment response and potential outcomes in individuals with melanoma.
"Our findings suggest that levels of ctDNA may serve as a fast and reliable tool to gauge whether an anticancer medication is working," senior author David Polsky, a pathology researcher at NYU Langone, said in a statement, noting that a blood test based on such ctDNA-based markers "could help support continuing the current treatment strategy or else encourage patients and physicians to consider other options."
As they reported in Lancet Oncology on Friday, Polsky and his colleagues tracked circulating BRAF-V600 mutation patterns in 383 individuals with melanoma, using analytically validated Droplet Digital PCR profiles to pick up ctDNA mutations in individuals before and during treatment. Their results suggested that detectable levels of ctDNA in the blood before or after treatment may act as a biomarker for treatment response and patient outcomes, providing better prognostic predictions than measuring blood concentrations of the lactate dehydrogenase enzyme.
Though lactate dehydrogenase is known as a prognostic factor, the authors explained, "it lacks sufficient specificity and sensitivity to routinely inform on-treatment decision making."
The individuals considered for the analysis had BRAF-V600-mutated forms of unresectable or metastatic melanoma, the team explained, and were enrolled through Phase 3 or Phase 2 clinical trials evaluating treatment with the BRAF small molecule inhibitor dabrafenib (Tafinlar from Novartis) plus the MEK kinase inhibitor trametinib (Novartis's Mekinist) compared with dabrafenib alone.
In their study, which was funded by Novartis, the investigators found that enhanced levels of circulating BRAF-V600 mutation fragments in the blood prior to treatment in more than 350 patients with available blood plasma samples coincided with shorter overall survival times in the melanoma patients, regardless of whether they were getting dabrafenib or dabrafenib-trametinib treatment. In contrast, those with 64 ctDNA copies or fewer in each milliliter of blood at baseline saw overall average survival times of more than 35 months compared with 13.4 months in those with higher ctDNA levels.
Likewise, the team noted that patients who had BRAF mutation-based ctDNA levels that were too low to detect by Droplet Digital PCR after four weeks of treatment had longer overall survival and progression-free survival times, based on data for more than 260 melanoma patients with available plasma samples at that point in their treatment.
"Although this gene-based test focuses on tumors with BRAF-V600 mutations, we believe it will be similarly useful for melanomas that have other mutations, such as defects in the NRAS and TERT genes, which are also commonly mutated in this disease," first author Mahrukh Syeda, an assistant research assistant at NYU Langone, said in a statement, adding that the team eventually hopes to see a US Food and Drug Administration-approved version of the test reach the clinic to aid in treatment decisions.
In a related commentary in Lancet Oncology, University Hospital Tubingen dermatology researcher Andrea Forschner reviewed the findings and their potential implications for treating advanced melanoma, including cases with intracranial metastases where ctDNA may be less informative.
Overall, Forschner concluded that "efforts should be made to implement ctDNA monitoring into daily clinical routine," and noted that the latest study by Polsky, Syeda, and colleagues "will certainly help to make this goal achievable."