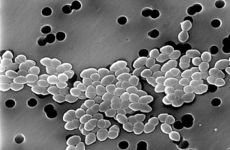 NEW YORK – ChromaCode this week debuted a new multiplexed qPCR panel to detect multi-drug resistant infections, expanding the firm's menu, which also includes a product for tick-borne pathogens launched last year that was the subject of a recent clinical study showing high accuracy.
The ChromaCode MDR panel detects genetic signatures of resistance to specific antibiotics in pathogens that are commonly thought of as hospital acquired, and is designed to be used as a screening test for infection control and isolation of asymptomatic carriers.
The firm unveiled the test for early access customers at the Association for Molecular Pathology annual meeting in Baltimore, and plans to have a broad commercial launch later this year or early next year, said ChromaCode CEO Greg Gosch.
The assay uses ChromaCode's proprietary technology, called high-definition PCR, which employs novel chemistries and machine-learning algorithms, including detecting multiple targets in a single fluorescence channel by restricting the concentrations of probes. The methods enable the firm to develop single-tube multiplexed kits with up to four targets for each color channel on a qPCR instrument, which equates to up to 20 targets for a five-channel instrument. The kits also employ a 96-well plate format, which allows users to scale the testing.
"A lower-plex multiplex application for use on an existing qPCR instrument, regardless of what model or vendor it is from, has really resonated well with people," Gosch said.
The MDR assay specifically detects genes conferring resistance in bacteria, including gram-negative bacteria and toxigenic Clostridium difficile.
Specifically, in a single reaction it will detect the marker CTX-M, which confers resistance to extended-spectrum beta-lactamases; the markers IMP, KPC, NDM, OXA-48, and VIM that each confer resistance to carbapenemase antibiotics; the marker MCR-1 for polymixin resistance; and vanA for vancomycin resistance in Enterococci bacteria. 
The panel also will detect the toxin B gene from C. diff, a gram-positive bacterium, that is a problem in hospitals. 
The panel can detect all of these targets from a single rectal swab and has a throughput that could potentially enable hospitals to screen all patients being admitted to ensure they aren't colonized.  
In a poster presented at AMP, the firm showed data from an analytical study of contrived samples that the test can detect dual- and triple-positive infections. "Those are less frequently seen, but we wanted to be able to test the edges of the technology," Gosch said. 
A total of 19 co-presence and four triple-presence simulated rectal swab samples were generated and tested in triplicate with MDR, and the performance was high for these samples with multiple resistance genes. The limit of detection for each of the nine MDR targets was between 3 and 30 copies per reaction in 144 spiked-in samples, and initial inclusivity studies also showed the test detects many different subtypes of each resistance gene as well.
The testing was performed across a range of standard qPCR instruments — the ABI 7500 Fast, ViiA7, and QuantStudio7 from Thermo Fisher Scientific; and the Roche LC480 — with results analyzed on the company's ChromaCode Cloud software.
In addition to the MDR test, ChromaCode's pipeline now includes oncology and other infectious diseases panels.
The firm is also planning to debut digital PCR kits in 2020 or 2021, Gosch said. These include a multiplexed non-invasive prenatal test that will test circulating fetal DNA for trisomies 13, 18 and 21, as well as four types of sex chromosome abnormalities. ChromaCode notes on its website that cost has been a barrier to adoption of NIPT for average and low-risk pregnancies, and that its panel will integrate into digital and droplet digital PCR instrumentation. 
The firm is also expanding into other infectious disease panels, Gosch said, specifically into a handful of undisclosed target areas that it is currently working on for which multiplex testing could be beneficial. 
Tick-borne diseases panel 
Instrument-agnostic, multiplex molecular diagnostic kits can potentially be cost-effective for labs, allowing them to utilize instruments that they already have on hand. But such panels still need to be carefully validated on clinical samples, which can be challenging if they cover rarely seen organisms or targets. 
ChromaCode launched its first kitted panel late last year — a research-use-only test to detect 12 tick-borne pathogens in less than three hours — and newly published data suggests it has some advantages over traditional methods. 
The tick-borne pathogens panel detects nine targets covering twelve pathogens. Specifically, it detects the spirochete Borrelia bacteria that cause borreliosis, or Lyme disease, in two groups:  B. burgdorferi and B. mayonii in one group, and B. hermsii, B. parkeri, and B. turicatae in another group. 
While B. burgdorferi is one of the most common and well-studied causes of Lyme, B. mayonii was first discovered in 2013 by researchers at the Mayo Clinic labs who happened to pick out an odd high-resolution melt curve in their B. burgdorferi testing. Although the two organisms are similar, a B. mayonii infection can cause some different symptoms, such as nausea and vomiting, a larger rash, and higher concentrations of spirochete in the blood, according to the US Centers for Disease Control and Prevention.
The ChromaCode tick-borne diseases panel also detects B. miyamotoi, an organism originally discovered in Japan that is now found in the US and that rarely causes rash. 
In addition to Borrelias, it detects Anaplasma phagocytophilum, three species of Ehrlichia — Ehrlichia chaffeensis, Ehrlichia ewingii, and Ehrilicha muris eauclarensis — that cause ehrlichiosis, and Rickettsia species that cause Rocky Mountain Spotted Fever, an infection that is reportable to the CDC. 
And, in addition to bacteria it also detects Babesia microti, a protozoan that can be transmitted by tick bites and is most common in the Northeast. 
An evaluation published in October in the Journal of Clinical Microbiology found that the test had a high sensitivity for almost all of the targets in the panel. 
Researchers from the Medical College of Wisconsin in Milwaukee and Gundersen Medical Foundation looked at 425 whole-blood specimens from patients being evaluated for tick-borne infection as well as 93 specimens with pathogen spiked in.
For Lyme disease, the testing algorithm established by the US Centers for Disease Control and Prevention relies on serological tests. But because the host immune response to Lyme takes weeks to build up, serology typically can't detect acute infections.
Blake Buchan, a clinical pathologist at the MCW and corresponding author on the study, said that Lyme treatment guidelines advise that patients who have the tell-tale bull's eye rash, also known as erythema migrans, and a compatible exposure history should be presumed to have Lyme, even though tests in the acute phase would likely show them to be seronegative. 
But, "Not every patient with Lyme has that rash, and tick bites are not always recognized," Buchan said.
A PCR-based test could potentially pick up acute infections, ensuring that the treatment was correct for the actual infection, he added.  
"There are many other pathogens that are carried by the same ticks that transmit Lyme and for some of them the treatment is different, while for others the long-term prognosis may be different," Buchan said. "As a clinical laboratory, we don't have very good methods for detecting these infections, including Lyme in the acute phases, when a patient comes in having been recently infected," he also said.
Although molecular testing for tick-borne illnesses is available as a send-out test from reference labs, the cost and turnaround time are prohibitive, Buchan said. 
Instead, MCW had been primarily using serology for Lyme testing and recommending physicians order a rapid blood smear test to look for the presence of organisms, while Gundersen, which sits in a region of Wisconsin where ticks are highly endemic, has validated a series single-plex PCR-based lab-developed tests.
Compared to these gold standards, the JCM evaluation found that the ChromaCode panel had a sensitivity and specificity in the 100 percent range for all but one of the targets. 
The B. burgdorferi had a sensitivity of 44 percent compared to a composite gold standard. Buchan noted that this is likely because the level of B. burgdorferi bacteria in the blood of patients needed to cause disease, also called the spirochetemia, is extremely low for this particular pathogen. In addition, Buchan said that none of the patients who tested positive for B. burgdorferi with the ChromaCode assay had a positive serology test, so the panel was able to diagnose some of these infections that might otherwise have been missed.
Buchan noted that the most surprising results were cases where the routine testing likely led to misdiagnosis. 
For example, the study found situations where patients were seronegative but had a positive molecular test, or "good catches" by the panel. In addition, there were patients who had positive Lyme serology tests but were revealed by the molecular testing to have an acute infection with a non-Borrelia pathogen, suggesting that they'd had a previous Lyme infection that would not have needed treatment. 
"That's one of the limitations of the serologic approach that is largely used, that it really can't differentiate between acute and past infections," Buchan explained. "The molecular test is going to tell you definitively what is causing the acute infection, and there is also not cross-reactivity with a molecular test." 
Also surprising was the fact that, in a fairly small sample size, the group saw two B. miyamotoi and one B. mayonii infection, which it had previously considered to be rare emerging organisms in the region.
At MCW there had been no in-house molecular testing for tick-borne illnesses, but Buchan said his lab is now interested in implementing a molecular option for detection of tick-borne pathogens and is currently conducting a verification study of the ChromaCode panel. 
Buchan also suggested that, in terms of overall tick-borne disease epidemiology, increased use of molecular methods could help physicians and patients. 
"Prognostically, I think having more accurate identification is going to allow us to see which disease states or sequelae are associated with which specific infection, and that leads to overall better patient management," he said.