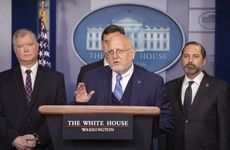 NEW YORK – The US Centers for Disease Control and Prevention announced Monday that it is submitting a molecular diagnostic test for novel coronavirus 2019-nCoV to the US Food and Drug Administration for emergency use authorization.
The submission follows the declaration of a public health emergency in the US by Secretary of Health and Human Services Alex Azar late on Friday. Separately, last week the World Health Organization also declared a public health emergency of international concern, or PHEIC.
Globally, the number of reported confirmed 2019-nCoV cases is 17,491 as of Monday morning. There have been 362 deaths, with the first death outside of mainland China reported on Saturday.
Nancy Messonnier, director of the National Center for Immunization and Respiratory Diseases, said in a media briefing Monday that CDC plans to submit an EUA package to FDA the same day.
There have been 11 cases of 2019-nCoV confirmed in the US to date using the CDC's real-time reverse transcriptase PCR test. There are also 167 confirmed negative cases, and 82 cases that are either pending or in transit to CDC labs, Messonnier said. The cases in the US have varied from mild to severe, but there have been no fatalities as of yet, she noted.
CDC publicly posted the protocol for its rRT-PCR test on January 24, as previously reported. The agency has also isolated the virus, Messonnier said, and it will be sending it to the BEI Resource Repository at the National Institutes of Health this week for use by the broad scientific community.
During the media briefing, Messonnier explained that the EUA process expedites the use of potentially lifesaving medical or diagnostic products during a public health emergency. Once approved, the EUA will allow public health labs across the US to use the CDC-developed diagnostic assay, which will greatly enhance the national capacity to test for the 2019-nCoV virus, she said.
"In preparation for that approval, CDC has shipped the test to the International Reagent Resource, so that states and international partners can begin ordering the test for their use," Messonnier said.
The EUA process for the CDC test is expected to be "extremely expedited," Messonnier said, because the agency has been working closely with FDA all along. "Our plan is to submit [the test] to them today, and I expect that means that we should be able to start sending these out by the end of the week, barring complications," she said.
Messonnier also offered clarification to the public on a statement she made last week related to people quarantined at March Air Reserve Base, in Riverside, California. She had previously said that even if an initial rRT-PCR screening test comes back negative from CDC labs, it does not guarantee the quarantined people won't get sick.
"Some people have taken that to mean the test doesn't work. That is not the case at all; this is an accurate test," she said, and added, "A negative test most likely means a person is not infected; however, it may mean that an infection has not developed enough to be detected by the test."
Meanwhile, various HHS divisions are reportedly collaborating with industry "to identify and move forward with development of potential diagnostics, vaccines, and therapeutics to detect, prevent, and treat 2019-nCoV infections," the agency noted in a statement.
The Biomedical Advanced Research and Development Authority (BARDA) has also created a portal for the 2019-nCoV medical countermeasures task force, which aims "to provide a single point of entry for the submission of market research packages from interested stakeholders." Ideal technologies and products might utilize an already approved platform, have non-clinical data suggesting efficacy, or have significant manufacturing capability, and come from organizations with full IP rights.
The FDA has also been requesting pre-EUA submissions for tests to detect 2019-nCoV on its website. The 2019-nCoV is not yet listed among its current EUAs, however.
The outbreak has echoes of previous epidemics, but Messonnier suggested that US preparedness might be in a better position than it was in the past. 
"As I look around me at the staff working on this outbreak here at CDC, I see a lot of people who worked on the 2009 H1N1 pandemic," Messonnier commented. "Rather than coming from abroad, that virus was on our doorstep when we recognized it — we didn't have much chance to prepare. ... This time we do have time to prepare, and we are preparing as if this were the next pandemic," she said.
Calling it "an unprecedented situation," she said the agency has taken "aggressive measures." A few weeks ago, China reported 41 cases, a figure that has exploded to about 17,000 as of Monday morning. "We made an aggressive decision in front of an unprecedented threat — action [that] now has the biggest potential to slow this thing down," she said.
A public health lab perspective on CDC's EUA
Representatives of the Association of Public Health Laboratories noted in an interview Monday that EUA of the CDC test offers several distinct advantages over centralized testing at CDC. For example, public health labs are closer to patients, so clinicians "don't have to worry so much about getting samples down to Atlanta," said Peter Kyriacopoulos, senior director of public policy at APHL.
Also, while CDC is great at developing tests, the agency prefers not to process large volumes of samples, he said, if they can, instead, go to state and local labs. "Our members can receive a lot of samples, get them into their systems, have them processed, and report out the results — that's what they do every day," Kyriacopoulos said.
Kelly Wroblewski, APHL director of infectious diseases, added that another benefit of rolling testing out through the EUA mechanism is that "it ensures a commonality and a standard performance and approach that provides consistency across the country," giving the confidence that public health labs can deliver the same quality of results as the CDC labs.
Finally, the EUA approach essentially gets CDC, FDA, and CLIA lab inspectors from the Centers for Medicare and Medicaid Services all on the same page to enable the local testing process, Kyriacopoulos said.
Generally, the tests that CDC produces are only available to public health laboratories or to laboratories that are closely associated with public health, like US Department of Defense labs, or, in rare instances, commercial laboratories, Wroblewski explained.
However, should volumes of testing be required that warrant testing in hospital labs, then it might make sense to have commercial testing available, too, she said.
A BARDA pathway could also provide economic incentives to diagnostics manufacturers to develop tests that aren't lab-based, such as point-of-care tests that could be used for airport screening, Wroblewski also said. Diagnostic tests that go through the BARDA pathway would still need to also go through EUA at FDA, however.
Noting the example of EUA for Zika a few years ago, clinical labs eventually brought on commercial tests, and a few public health labs even began using commercial tests instead of the CDC test, Wroblewski said. This occurred after the initial response, however, when putting the test on more automated instrumentation was needed to increase throughput when testing demand was high.
Still, Kyriacopoulos noted that EUAs have very specific use indications, and "A lot of times those directions are developed with input from public health laboratories and APHL." For example, the Zika virus diagnostics that have received EUA are limited to individuals who meet CDC's clinical or epidemiological criteria and must be performed in US labs with CLIA certification.
Additional CDC screening of travelers
CDC's Messonnier also commented extensively on newly instituted screening of travelers being overseen by CDC as well as ongoing and potential quarantines.
The agency has tested some of the approximately 200 American evacuees from Wuhan who are currently quarantined at March Air Force Base to learn more about transmission, Messonnier said. She further noted that the US Department of State is now planning to bring more people back from Wuhan, with four more planes expected to arrive and passengers to be placed under 14-day federal quarantine.
Some of the quaratined people have been tested by CDC. However, "At this point our plan is to use the [rRT-PCR] test to look more closely at close contacts of individuals with the virus ... Using it in patients that are asymptomatic is not meant to be a diagnostic tool as much as it is to be a public health tool, at a population level, to better understand the dynamics of the virus," she said, adding that the agency also does not have any plans to do any more cross-sectional studies of the people quarantined.
Based on new travel restrictions, foreign nationals who have visited China in the last 14 days are now barred from entry into the US. Those entering the country within the 14-day window will be directed to one of 11 US airports that are equipped for screening and triaging travelers, Messonnier said.
Citizens and people meeting certain exemptions, such as non-citizen family members of US citizens, will have an additional health assessment upon arrival from China, and they will be transferred for further medical evaluation if they are symptomatic. "They will not be able to complete their itinerary, and they will be isolated for 14 days" from the day they were last in China, Messonnier said.
Asymptomatic citizens and exempt people returning from Hubei province will also be subject to a mandatory 14-day quarantine at or near the location of entry, she said.
The agency is working with states to determine whether the travelers will be quarantined at military bases, Federal Emergency Management Authority trailers, or hotels, depending in part on previously developed local emergency plans. "As part of pandemic planning that we and our state and local partners have been involved in for a dozen years, this was one of the contingencies that we've been planning for," Messonnier said.
Asymptomatic citizens who have traveled from places in China other than Hubei will also be asked to stay home as much as possible for two weeks after arrival in the US.
Importantly, "This strategy is not meant to catch every single traveler returning from China with novel coronavirus," Messonnier said. "Given the nature of this virus and how it is spreading, that would be impossible." The goal, rather, is to slow the entry of 2019-nCoV into the US.