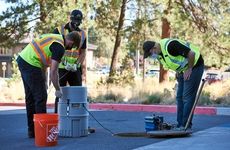 NEW YORK – The US Centers for Disease Control and Prevention is moving forward on a planned expansion of the wastewater infectious disease surveillance efforts it pioneered during the pandemic.
Scaled up to surveil sewage from nearly half of the US population for SARS-CoV-2 transmission, the agency now plans to also track gastrointestinal, respiratory, and antimicrobial resistant pathogens through the rollout of two dozen digital PCR wastewater surveillance targets next year.
The CDC's National Wastewater Surveillance System (NWSS) is currently collaborating with molecular diagnostics developer GT Molecular to create the digital PCR assays, as well as multiplex dPCR panels. The goal is to make the assays available as methods and kits to partners in public health labs for testing.
NWSS was established in September 2020 to perform SARS-CoV-2 surveillance after studies demonstrated that trends in the viral concentration in wastewater could provide up to a two-week lead time on the peaks in clinical COVID-19 cases.
In the ensuing two and a half years, wastewater "has really become the leading indicator of what is going on in communities," said Amy Kirby, NWSS program lead.
NWSS is now working with more than 1,400 sites performing wastewater sampling and COVID testing, Kirby said. This is up from approximately 900 sites a year ago, and collectively represents more than 40 percent of the American public.
There is also now wastewater surveillance in all 50 states — compared to 37 states a year ago — as well as in three territories and 12 tribal communities.
"As the health emergency and clinical surveillance has changed at the clinical level, we haven't changed anything about our wastewater surveillance," Kirby said.
Although the SARS-CoV-2 federal emergency is officially over, these sites are still collecting data on the presence of the virus in wastewater and submitting it to the CDC twice each week. The data is also made available to the public on the NWSS dashboard.
Clinical test results are no longer mandated to be reported, and more people are using at-home COVID tests, so "public health jurisdictions are now really relying on wastewater data as their first signal that cases are increasing in a community," Kirby said.
Amidst its dramatic expansion last year, NWSS also began to transition wastewater-based epidemiology (WBE) testing away from private and academic labs and into public health labs.
In addition, the team homed in on digital PCR as the chosen technological approach and began expanding to other targets.
Last year, it also added wastewater sequencing in order to track variants in communities, Kirby said, a program that covers 500 sites nationwide and can be used to determine the predominant variants and how they change over time.
Perhaps surprisingly, the NWSS team also added testing for mpox, formerly known as monkeypox, in 2022, also at about 500 sites.
Kirby said that there was no way to know whether wastewater surveillance would be able to detect mpox — a virus that causes skin lesions with relatively small case clusters driven by skin-to-skin transmission.
"It turns out it works really well," she said, because people infected with mpox shed the virus in stool and urine, as well as from skin lesions during bathing.
The approach is also very sensitive, with only a few cases in a community detectable in wastewater, as shown in a recent New England Journal of Medicine article.
Wastewater testing for mpox has also "been a great confirmation that the outbreak is in fact resolving, and there's not something simmering that we're not seeing," Kirby said. 
The panels
While COVID and mpox necessitated massive national responses, the NWSS team has also been creating a list of "non-response targets" for future surveillance.
"These are the illnesses that have been going on forever, that happen every day, but we want better surveillance for them," she said.
For this project, respiratory testing will be expanded into a panel that will include not only SARS-CoV-2 but also influenza A and B and respiratory syncytial virus.
The team will also add a foodborne infections panel that will include Shiga toxin producing Escherichia coli (STEC), norovirus, Campylobacter jejuni, and adenovirus 40/41, a virus that was linked to an outbreak of pediatric hepatitis last year.
A third panel will detect antimicrobial resistance genes in wastewater.
The AMR target groups include genes that give bacteria the ability to break down antibiotics, encoding the enzymes carbapenemase and extended spectrum beta-lactamase (EBSL), as well as genes that confer resistance to colistin and vancomycin.
The panel will also detect the environmental AMR indicators tet and intI1. The tet genes code for enzymes that confer resistance to tetracycline and can be transferred between bacteria, while the intl1 genes encode Class I integron integrases, enzymes that allow bacteria to acquire antibiotic resistance genes through recombination.
The goal of the AMR detection is to pick up changes in resistance rates in communities, and ultimately to help protect and preserve critical antibiotics used in clinics, Kirby said.
In addition to these three panels, the team will continue to develop and use assays for critical response targets, such as mpox, and is developing an assay to monitor Candida auris in wastewater.
The targets for the panels were chosen by a process that NWSS expects will be an ongoing yearly effort. The team consulted different CDC divisions to ask about current epidemiological needs that clinical data might not be catching and that wastewater surveillance might address. The intended assays also need to be technically feasible and specific in wastewater.
In the future, the team expects to consult across the CDC annually to make sure each assay is still needed.
Going digital
Although it currently supports sites submitting RT-qPCR and sequencing data, the NWSS team has selected digital PCR as the preferred method for WBE testing.
In collaboration with the Association of Public Health Laboratories, the CDC surveyed all wastewater testing labs and found that 60 percent of public health labs already have digital PCR systems.
About half have Qiagen and the other half Bio-Rad systems, Kirby said, although there are a few adopters of Thermo Fisher Scientific and other platforms.
The CDC will develop and validate its panels and protocols for use on both Qiagen and Bio-Rad instruments, she said, as "there are real pros and cons to both systems."
This decision may limit the multiplexing abilities — since the two systems do not have identical filters sets — so in some cases, there will be system-specific protocols and assays. If the assays also work on dPCR instruments from other vendors, that is fine as well, Kirby said, but the CDC will monitor market uptake of other systems before developing and validating tests for them.
GT Molecular, a Fort Collins, Colorado-based test developer, won a contract from the CDC in September to develop digital PCR assays for the NWSS panels.
"The main goal of the work is to optimize and transfer existing real-time PCR assays to digital PCR platforms," said Sarah Kane, GT Molecular's director of R&D. The firm declined to disclose the size of the contract, but Kane noted that the work will continue through the fall of 2023.
Digital PCR is preferred for WBE testing for two important reasons, Kane said. The method affords higher sensitivity than traditional PCR technologies, and it is more resistant to the residual inhibitors found within wastewater extracts.
GT Molecular is currently optimizing 28 targets, the CDC confirmed. These include 24 infectious disease and resistance targets, two fecal indicator organisms for data normalization, and two process controls.
Running all of these as separate dPCR assays would be "hugely expensive," Kirby said, "so what we want to do is multiplex them as much as possible."
Kane said that the team has already validated five-plex assays for the Qiagen QIAcuity, which has five-color detection capabilities, and expects to soon be developing multiplex assays on the Bio-Rad QX600, which has six-color detection.
Once the assays are developed and optimized, they will be validated in-house by the CDC, Kirby said. If everything goes according to plan, the agency will roll out these tests in early 2024 and will quickly begin to gather national surveillance data on these targets.
Going forward, the final formulations and conditions for the assays will be made publicly available, Kane said, and GT Molecular will also sell its kits as validated, quality-controlled reagents.
The future of WBE
The NWSS division within the CDC has been funded through 2025 by COVID supplemental funds in the American Rescue Plan.
Kirby said the team is hoping to prove the utility and value of WBE across public health in the meantime, adding that the community is already well on its way.
For example, in addition to COVID and mpox, some of the sites in the NWSS cohort have already begun monitoring wastewater for influenza.
"The sites that are doing it have seen great success," Kirby said, demonstrating that as with COVID, the detection of influenza virus community increases provides lead time on clinical cases.
The public relations side of WBE is as new as the field itself, and the CDC has also worked hard to craft messaging that is aptly targeted.
The first version of its public-facing dashboard got dinged both by academics and the public, Kirby said, since each group wanted different levels of information to be presented in different ways.
"You have to start by knowing who your target audience is, and being very strict about that," she said.
Now, the dashboard is focused on the public only, with additional information from a health department-specific dashboard available to academics who request it.
Still, there are likely going to be some growing pains. A news story in early June in New York City described a large increase in SARS-CoV-2 in wastewater that was visible in New York State Wastewater Surveillance Network's public-facing dashboard.
"I was puzzled by where that story came from," Kirby said, as overall SARS-CoV-2 levels continue to be very low across the country, including in NYC.
But, when levels are low, "a small relative increase looks like a huge percent change," she said, and this is likely what some enterprising journalist focused on in the data. 
In addition, a note on the New York dashboard suggests that high levels may have been related to the switch from RT-qPCR to dPCR, as dPCR viral load values are higher than RT-qPCR values.
"Previously, we displayed the raw data for dPCR starting in May 2023, however, due to the change [from RT-qPCR], levels in NYC appeared much higher than they actually were," the dashboard now notes, adding that the NYC data will be temporarily modified using a linear adjustment to make it comparable to older data.
In a similar vein, detection of cryptic viral lineages in Ohio and Wisconsin through routine wastewater sequencing has also brought up some of the unique ethical questions of WBE.
In these cases, billions of copies of rare SARS-CoV-2 variants appeared in sewage. Although they may be from an animal reservoir, and have not been observed in clinical samples, some of the circumstances suggest they may actually be from chronically infected individuals.
Kirby highlighted that wastewater is collected anonymously, and people who contribute to the sewer have not given explicit consent to have their excretions tested. Attempting to find specific individuals would be nearly impossible, Kirby said, but also likely to be considered unethical. Thankfully, the detection of cryptic SARS-CoV-2 variants continues to be rare and localized, so there is no evidence that the index cases are transmitting the virus.
Testing will also continue to be based in public health labs, as this is "still the most sustainable, cost-efficient, and flexible system," Kirby said. However, hurdles involving space, capacity, and staffing have led some health departments to partner with academic and commercial labs for the time being.
In addition, the CDC has a testing contract with BioBot that it expects to recompete next month. BioBot provides testing to an additional 500 sites outside of state health labs.
"We've found that it has been a huge boon as states and tribes get started in this type of surveillance," Kirby said.
Other future assays under consideration for NWSS testing include Giardia, Cryptosporidium, and Cyclospora. However, getting DNA from these pathogens would damage the RNA the teams need to measure viruses. "For these, we have to think more carefully about how the processing works upstream," she said.
The team has also set its sights on detecting the E. coli strain that caused an outbreak transmitted in romaine lettuce a few years ago, specifically Shiga toxin-producing E. coli O157:H7.
"We have seen cases since then, and we would like to know where it goes between these outbreaks," Kirby said. NWSS is working internally and with academic partners and hopes to develop an assay specific enough to pull only the O157:H7 strain.