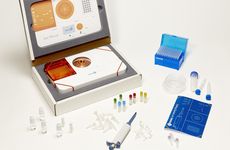 NEW YORK (GenomeWeb) – Bento Bioworks, a new entrant into the nascent DIY molecular testing market, said last week that it has concluded a period of beta testing on its Bento Lab molecular testing system, and is now preparing to embark on its first production run.
This first production run of about 300 units will be supported by funding that includes a Kickstarter campaign, which has already reached nearly triple the company's initial goal since its launch March 21.
Founders Bethan Wolfenden and Philipp Boeing developed Bento Lab as students at University College London. Using award funding from The London E-Challenge, UCL's Bright Idea Awards, the IBLF Awards and the Royal Academy of Engineering's ERA Foundation Entrepreneurs Award, the company initially built 20 beta units and sent them to testers last fall.
The system is designed to attract two different types of user — one, more experienced and already involved in genetic or molecular research, but for whom a portable all-in one system might offer a different way of working; and two, inexperienced but enthusiastic amateurs interested in doing their own biological experiments either in traditional educational settings or in their own home.
"I think the ultimate goal in starting out was could we make something that is enjoyable to use and leads toward a higher level of bioliteracy in general," Wolfenden told GenomeWeb this week.
The London-based company's current prototype is contained neatly in a laptop-sized case that weighs about five kilos and includes a PCR thermocycler, gel electrophoresis unit.
"To be honest, there is nothing hugely innovative about the equipment," Wolfenden said. "We have a mini centrifuge, a PCR that fits about 32 tubes — it's not real-time PCR but it's got a heated lid which makes the PCR easier — and we've got a gel electrophoresis unit with a transilluminator."
Wolfenden and Boeing developed the actual components themselves in order to make sure they would to fit together seamlessly in the portable, suitcase-style framework that is the hallmark of the system.
Based on the success that early beta users have had so far, the two creators decided that they are ready to begin a first production run, which will be about 300 units.
Working toward broader commercialization, the company joins several others looking to advance miniaturized or otherwise simplified PCR instruments.
Philadelphia-based Biomeme has developed a real-time PCR thermocycler with an iPhone readout, which it said last year it eventually hopes to be able to manufacture and sell for under $200.
Cambridge, Massachusetts-based Amplyus is also advancing a similar platform to Bento Lab called miniPCR, with more of a focus on educational and initial kits for family tree inquiry, pathogen detection, and forensic experiments.
Another do-it-yourself PCR company, OpenPCR, has had a DIY assembly instrument on the market since 2011, and one of that company's founders subsequently formed Chai Biotechnologies, which launched its own crowd-funding campaign last year to help commercialize its planned $1,500 real-time PCR instrument.
Finally, New Zealand-based startup Ubiquitome, a spinout of the University of Otago, has also launched a small, battery-operated qPCR platform that can run four standard qPCR assays in about one hour with a six-hour battery life.
According to Boeing and Wolfenden, with the DIY molecular detection field still young, Bento Lab doesn't see itself as aggressively competing with these other entrants.
"Within entrepreneurship there can be a sense that your competitors are out there and you have to work 24/7 to make sure you get there first … but from our perspective everyone is working from different angles … and contributes toward growing this market," Wolfenden said.
"Also, knowing that there are other players looking at a similar market makes us feel like we are not insane," Boeing added.
While users attracted to a system like OpenPCR might be those more interested in building something from soup to nuts, the users Bento Lab is targeting are those who might be a little intimidated by constructing their own system, or using something that looks more like traditional lab equipment.
According to Wolfenden, Bento has put a significant proportion of its focus on the aesthetics of its system, making it friendly and accessible even to the most amateur or anxious adopter. "We wanted it to look friendly and like it can also be sterilized easily," Boeing joked.
Also crucial in the company's growth plans for Bento Lab is engaging with the amateur DIY segment of its potential customer base with appropriate caution and sensitivity.
"We have had a lot of interest, and people are really fascinated to be able to learn about genetics and their own DNA, and it would be easy to play that up," Wolfenden said. "But we want to be really careful about the end experience a person has with this."
To that end, Bento Bio has limits to what it plans to supply to customers in terms of reagent and primer kits, and also it is hoping to design its initial starter kit — aimed at first-time amateur users — so that the experiments it enables help guide them in exploring questions about genetic testing and DNA analysis that will help build their overall literacy with the field, its potential, and its limitations.
"We don't want it to be just a collection of experiments with instructions," Boeing said. "So, the idea is that this starts a discussion about interpreting results or how easy it is to make a mistake, all the context around these genetic tests."
The targets for the starter kit that Bento plans to ship for contributing funders in its Kickstarter campaign are not yet defined; Wolfenden and Boeing are hoping to involve backers from the campaign in choosing the final list. But they will mostly likely incorporate some of the possibilities the company has highlighted publicly, including blood group typing, detecting variants in the PTC gene associated with sensitivity to bitter flavors, as well as the so-called "athlete" gene, ACTN3.
"The rough plan is for 10 mini projects that take you from total amateur to analyzing DNA with different primers. So, that will include a couple of experiments around the function of each process, like creating a gel and loading it — and then we are planning about six sets of primers."
"There has been an increasing amount of interest in genetics and what that means, with people sending out to uBiome and 23andMe, but without totally understanding what it means if you have an increased genetic disease risk, and how that plays out in relation to diet, lifestyle, etc.," Wolfenden explained.
Bento hopes the starter kit can incorporate experiments that will explore concepts around those questions "without straying at all whatsoever toward the medical."
It's a difficult line to toe, and for help, the company is working with an ethicist at Kings College London, bouncing ideas off of him to make sure that any potential primer set — for example, the firm recently considered whether an assay for genetic variants associated with male pattern baldness could be included — "whether each of these is something that people would need support for or could do at home without risk of getting upset or confused."
Ostensibly capable researchers who want to adopt the system into their academic or other research work could use the system for anything they might otherwise test using a standard lab PCR system by acquiring their own primers and reagents.
A particularly intrepid amateur home user might be able to do the same. But, Bento will not be actively enabling medical testing of any kind by supplying kits in those areas, Wolfenden said.
Early testers of the system in both DIY and more traditional academic research environments so far have included field reseachers, brewers, mycologists, and school science teachers.
According to Wolfenden, Bento also has seen testers using the lab to prep samples for sequencing using Oxford Nanopore's MinIon platform.
Early-bird discount options for Kickstarter backers to receive a Bento Lab at $793 (£549) and then at $938 per piece have already sold out, but interested investors can still contribute $1,000 and receive a lab system.
A separate pledge of $215 gets funders a starter kit that equips them to perform 10 DNA experiments, including necessary reagents, pipettes, and other sample preparation equipment, and a handful of primer sets for detection of specific targets.
"At the moment it's looking like we will sell out either on Kickstarter or orders we have received from other sources," Wolfenden said.
Following this initial production run, she said the plan is to price the next phase at about the same level.
The goal going forward, however, is to reduce the cost of Bento Lab as much as possible, so, further down the line, perhaps after two years or so, "we'd like to see a reduced-cost version," Wolfenden said.
Another option the company is considering, Boeing added, is to diverge the product into two models with two price points — one geared more toward researchers with a higher price point, and one geared more toward education with a lower price.
According to the Bento Kickstarter, the first lab units should ship out this October.