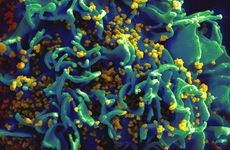 NEW YORK (GenomeWeb) – Aldatu Biosciences has been awarded direct-to-Phase II Small Business Innovation Research funding to develop its quantitative PCR-enabling technology into test kits to detect genes conferring resistance to certain HIV treatments. 
The funding is from the National Institute of Allergy and Infectious Diseases and totals approximately $3 million over three years. It will be used to adapt the firm's pan-degenerate amplification and adaptation (PANDAA) method for reagent and product development to diagnose HIV resistance to protease inhibitor therapeutics. 
Aldatu previously won a similar direct-to-Phase II grant to develop reagents and products using PANDAA that detect resistance to reverse transcriptase inhibitors, the major components of typical first-line antiretroviral therapies.
"The new grant allows us to take the foundation that we built in the reverse transcriptase realm to the protease inhibitor realm," Aldatu Cofounder and CEO David Raiser said in an interview.
This resistance is encoded by a different gene in HIV, and the patient population that would be a candidate for this type of screening is slightly different, often including adolescents and in some cases not overlapping with the population screened for reverse transcriptase inhibitor resistance. Thus, the funding will allow the firm to reach additional patient populations, he said.
The resistance-detection products are essentially patient management and decision-making tools, Raiser said. They can help clinicians to determine if a patient's HIV infection is unsuppressed due to nonadherence to the prescribed drug regimen, or because the strain of HIV the patient is infected with happens to be drug-resistant. 
The cost differential between different HIV therapies can be quite dramatic, so, before switching patients to more expensive drugs, it is beneficial for clinicians to know this information.
For example, a 2013 study in Clinical Infectious Diseases modeled a scenario where genotype testing was done after first-line antiretroviral therapy failed to reduce HIV viral load. In the model, identifying wild-type virus led to adherence counseling and maintenance on first-line ART, rather than switching to the more expensive protease inhibitor therapy. This resulted in a net cost savings, particularly in cases when the genotyping test cost less than $100.
The Aldatu products promise to be low cost, although the firm has previously said exact pricing will need to be negotiated with individual countries or health ministries. Furthermore, "[a]s part of the affordable nature of these kits, we intend them to be used on existing real-time PCR equipment in centralized testing labs," Raiser said.
Like with first-line ART treatment, a patient on protease inhibitor-based therapy can have resistance to that treatment as well, and some patient populations are recommended to get this type of treatment as their first-line therapy. By 2020, researchers estimate as many as 3 million adults and children will be receiving protease inhibitor-based antiretroviral therapy, with failure rates ranging from 10-40 percent depending on the population, Raiser said. 
The Aldatu kits will all rely on the firm's PANDAA method — a qPCR-enabling technology that compensates for sequence variability around SNPs of interest in a target genome. It is potentially useful in HIV diagnostics since the virus's hypervariablity can lead to mismatches and reduced sensitivity for probe-based PCR detection of resistance-causing SNPs.
Using the PANDAA method, the target genome is adapted through site-directed mutagenesis during initial qPCR cycles to remove secondary polymorphisms flanking the primary SNP or drug resistance mutation, Aldatu CSO Iain MacLeod said. This generates a homogeneous amplicon population whereby the only point of nucleotide variation within the probe-binding site is at the primary SNP of interest.
The PANDAA technique was developed by MacLeod and Raiser while they were at the Harvard School of Public Health, and Aldatu now holds the exclusive license to the technology. For now, the company is focused on HIV-related applications. It has work in the R&D pipeline for all four major HIV drug classes, Raiser said, and hopes to begin field testing its first-line ART management kit with its partners in sub-Saharan Africa by the end of this year. 
However, the firm is also actively engaged in early discussions with potential industry partners who may wish to use PANDAA to enable existing qPCR-based diagnostic platforms to combine detection testing with resistance detection in HIV, for example, or in other disease areas where sequence variability has limited qPCR-based testing, Raiser said. He declined to identify the potential partners due to the early stage of the conversations.  
Aldatu is also now recruiting a new senior scientist to work on the new reagent development and to help manage the firm's multiple projects.