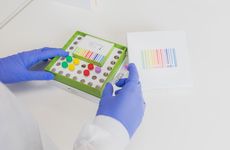 NEW YORK – The past few weeks have been busy for molecular diagnostic firm ChromaCode, starting with the publication of data confirming the multiplexing ability of its technology and continuing with the announcement that it is one of the five winners of the XPrize Rapid COVID Testing Competition.
With this new data and money from the competition, ChromaCode is set to expand its product menu and ramp up its manufacturing capacity for its SARS-CoV-2 test beyond what it has already achieved. 
ChromaCode's technology, called high-definition PCR (HDPCR), is what the company's VP of Operations and Data Science Chris MacDonald called an "upgrade of real-time PCR." By using its own proprietary chemistry and digital signal processing, the company is able to include more targets in one reaction, in one well of a PCR plate, without the addition of new capital equipment. The exciting part about ChromaCode's technology is "the ability to add on more data and more answers for patients and clinicians," MacDonald said.  
The technology "combines [Thermo Fisher Scientific's] TaqMan chemistry and familiar workflows with robust encoding to enable far higher levels of multiplexing on a traditional qPCR system without an increase in cost or reduction in throughput," according to a study in Analytical Chemistry published late last month.  
For the study, ChromaCode designed a custom assay to detect 20 targets across five color channels in a single well, which required "careful design of target sequences" to avoid secondary amplifications, along with "robust multichannel encodings of target amplification levels to accommodate hardware variation and increase accuracy," the researchers wrote.
Researchers also used routine gene expression sequences from Integrated DNA Technologies to create a test that could detect eight targets across four color channels using a binary encoding scheme, which showed the HDPCR tech can combine single-plex TaqMan assays without designing extra sequences. The third test detected SARS-CoV-2 RNA targets, influenza, and respiratory syncytial virus in a single well. 
Sensitivity for the 20-target method was greater than 99 percent while specificity was almost 100 percent, with an overall well accuracy of greater than 98 percent, although the researchers noted that the tests were prototypes and would need to be analyzed with a larger variety of clinical samples. The SARS-CoV-2 prototype assay had 92 percent sensitivity, the researchers added.
The technique "makes mid-density multiplexing a possibility with off-the-shelf qPCR instrumentation and can be applied to any nucleic acid detection panel, including common diagnostic panels such as respiratory, blood culture identification, gastrointestinal, or antimicrobial resistance," the researchers said.
Another key benefit is that the technology is platform agnostic and can be used with any qPCR machine, MacDonald added. "Our goal is to enable anybody with a PCR instrument to become a testing lab," he said. Although it can be used with sample-to-answer qPCR machines at the point of care, ChromaCode President and Founder Greg Gosch said the company sees it mostly being used at central laboratories, which the company has focused on in its marketing efforts.
However, ChromaCode may want to look into broadening its tech so it isn't tied only to existing PCR platforms, said Paul Drain, an associate professor in the departments of global health, medicine, and epidemiology at the University of Washington who was a judge for the XPrize. Drain said it would be possible for the company to expand its technology to the point of care through additional investments, which would allow it to be applicable in multiple settings.
According to Drain, the technology "has the potential to change the nature of PCR testing, not only for SARS-CoV-2 but for other pathogens as well."
In addition to the technology's multiplexing capability, ChromaCode uses a HIPAA-compliant cloud platform for its data analysis and reporting test results, which can be integrated as needed with a customer's desired laboratory information management system, MacDonald said.
Instead of a laboratorian looking at the data for each individual sample, the software works with the firm's proprietary chemistry to do that data analysis in the cloud. Laboratories can upload the complex raw data from tests and get back a full report quickly without having to do their own data analysis, MacDonald continued.
SARS-CoV-2 testing
ChromaCode, headquartered in Carlsbad, California, started work on its SARS-CoV-2 test during the early stages of the COVID-19 pandemic, and when lockdowns began and the US shut down, "we decided to go all in with the company to make and develop and produce a coronavirus test," developing it in eight to 10 weeks, MacDonald said. The company received Emergency Use Authorization from the US Food and Drug Administration for its test in June.
The $25 test returns results in two hours and 380 tests can be run at the same time, allowing some sites to process approximately 10,000 samples per day, MacDonald said. Using just a single instrument, the daily total is about 6,000 tests, Gosch added. ChromaCode has provided 3 million SARS-CoV-2 tests over the past year, he said.
The SARS-CoV-2 test was not ChromaCode's first commercial entry into the diagnostic space, however. It previously developed a nine-target test for tick-borne pathogens and a blood test for multidrug resistance. 
ChromaCode is also looking into other areas for its tests, including other infectious diseases, noninvasive prenatal testing and oncology, Gosch said.
In addition to the EUA for its SARS-CoV-2 test, ChromaCode was able to expand usage of its test by entering the XPrize Rapid COVID Testing competition. Its initial entry was just data on its technology and how its test worked, as well as how it could be distributed and scaled, MacDonald said. Teams then used their tests on blinded proficiency panels containing samples that either did or didn't have COVID-19, so the judges could see "which teams were actually for real," he said. Drain said the test "has a simple workflow and had test accuracy" in the blinded testing.
ChromaCode then sent its test to different potential partners, such as the Weill Cornell Institute, to undergo clinical proficiency studies to ensure the technology worked and was easy to use, he added. Drain said that the test could help "facilitate additional testing for emerging genomic variants and facilitate testing across PCR platforms."
ChromaCode has spent "a lot of effort" on beefing up its supply chain and manufacturing capability to be able to provide at least 500,000 tests per week, MacDonald said. "We're excited about this next phase where we can try and get our test into more people's hands and start to serve a broader audience with it," he continued. The $500,000 award from XPrize, which was the first allotment of the prize money, is being used to help with that scale up, MacDonald said. 
An additional $500,000 will be awarded once ChromaCode completes a field study and provides the data to XPrize. That field study requires four weeks of testing at a deployment site with 500 tests run per day that will allow the company to receive "direct feedback" from users, MacDonald said.
The company also plans to use the prize money to expand its SARS-CoV-2 test offerings, developing a test that will type the virus and identify its strain, and a mini respiratory panel that can detect SARS-CoV-2, influenza A/B, and respiratory syncytial virus with two internal controls, Gosch said. He added that because the mini panel includes a human control, it could be compatible with at-home sample collection and will be submitted to the FDA for EUA in the coming weeks. ChromaCode also plans to submit the respiratory panel for regulatory approval outside of the US, Gosch said. 
It will also explore efforts to subsidize tests for schools and businesses that wouldn't otherwise have comprehensive testing programs, Gosch said.
The pandemic has accelerated the company's test development timetable and has allowed it to bring more products to market than it expected. It has also allowed ChromaCode to implement its offerings in labs without having to step on-site, something that was rare two years ago. Because its technology uses existing instruments, the company can train employees on the web and get its tech up and running in a laboratory within a day or two, MacDonald said. 
"The scalability of the technology is really what's lending itself to our success, in that people can collect many, many thousands of tests and process them very quickly," Gosch said.