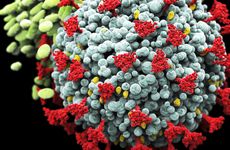 NEW YORK ─ Unilabs has developed a homebrew multiplex test to detect the UK, Danish, Brazilian, and South African coronavirus variants.
The test, the firm said, provides a basis for quickly adding targets when contagious variants emerge.
The Geneva-based firm, which develops assays and provides testing from its laboratories, recently developed a multiplex RT-PCR kit to detect SARS-CoV-2 and specifically to identify the new variants, which have been shown to be more contagious than the wild-type virus.
The firm has started to run tests using the kit in its Swiss laboratory and plans to roll it out to its broad network of laboratories with the aim of enabling broader testing for SARS-CoV-2 variants.
The development of its homebrew test stemmed from concerns about how contagious variants could reduce the performance of RT-PCR assays it had had already developed to detect SARS-CoV-2, Christian Rebhan, Unilab's chief medical officer, said in an interview.
"The important conclusion from this [development project] is that in our lab, we don't use kits that only test for one SARS-CoV-2 RNA region because if that region mutates, the test cannot detect it or the associated variant," he said.
Unilabs wanted its own test, he said, to avoid challenges with the supply of testing components, including reagent shortages that beset the industry this past year, and developed and released it in about four weeks.
The multiplex assay detects the contagious variants with the same level of sensitivity as standard RT-PCR tests for SARS-CoV-2, the firm said.
Rebhan noted that running one test to detect whether a patient is positive for SARS-CoV-2 and has a specific variant has the potential to speed up testing and allow for more timely patient care.
Additionally, Unilabs believes that such a test can help mitigate concerns about whether tests for active infection testing can provide accurate results when they encounter SARS-CoV-2 variants. According to Rebhan, its development also shows how a test developed and validated by a firm for its own laboratories can get to market quickly with the aim of helping solve pressing testing challenges.
The company started broad-scale coronavirus testing in the first quarter of 2020, and runs the tests in its laboratories in Czechia, Denmark, France, Italy, the Netherlands, Norway, Peru, Portugal, Slovakia, Spain, Sweden, Switzerland, the United Arab Emirates, and the UK.
Overall, the firm performs about 1 million PCR tests per month for SARS-CoV-2 and other conditions, Rebhan said.
The firm develops and performs serology tests to detect past infections as well as the RT-PCR tests to detect current SARS-CoV-2 infections. Toward the end of last year, it developed and released a rapid antigen test for SARS-CoV-2 to test symptomatic patients for active infections.
Unilabs' multiplex test detects variants already known to be highly contagious, but the company has an ongoing program to continuously add targets for its assay as new variants emerge that are highly contagious or can increase mortality.
The company uses next-generation sequencing on a portion of positive samples in its laboratories to confirm the presence of known variants in samples that were positive by RT-PCR. It also uses NGS and the continuous monitoring of scientific literature to identify and monitor variants that may end up being contagious.
Rebhan said the company correlates what it finds from testing with what happens in clinical settings. "When clinicians start to observe the rise of more severe or less severe cases, we need to understand where this is coming from, and sequencing tells us whether a variant could be the driving factor," he said.
In daily testing for SARS-CoV-2 and its variants, RT-PCR is a more nimble and practical approach than sequencing, he noted, adding that the firm "can test several thousand samples per day" by PCR but it would take one week, or more, to perform NGS for that number of samples. A week's turnaround time is not practical, he noted, when it is vital to isolate patients as quickly as possible based on test results.
The multiplex kit uses an open protocol that can be run on standard PCR equipment and distributed among Unilabs' laboratories as well as to its diagnostic industry collaborators, said Pierre-Alain Menoud, head of Unilabs molecular diagnostic laboratory in Lausanne, Switzerland, who led its development.
The information that the test provides about prevalence in specific regions can be used by health authorities to help track the rise and fall of the variants, he said.
As the new SARS-CoV-2 variants continue to emerge, some IVD manufacturers have said that their tests can detect those variants that have been confirmed so far, though the number of tests that can specifically identify new variants have been limited.
PerkinElmer this week launched two research-use-only assays for the identification of genomic mutations that have been reported in new SARS-CoV-2 variants, called the PKamp VariantDetect SARS-CoV-2 RT-PCR Assay and the NGS-based NextFlex Variant-Seq SARS-CoV-2 Kit.
Also, German firm Seq-It has developed a panel for use with Agena Bioscience's MassArray platform that can detect a number of the new variants. It is for research use and is sold for surveillance purposes.
The US Food and Drug Administration recently said that it was working with test developers to determine whether existing assays were able to effectively detect variants, and clinical labs are developing approaches to detect the confirmed variants and determine prevalence.
As vaccines are rolled out and cases have begun to fall in many regions, some health officials have expressed concern that emerging variants are helping sustain the pandemic. The more contagious variants are also raising concerns about whether current vaccines will provide protection against mutations.
Unilabs said that in the future, information about the spread of the specific variants may be needed to tailor vaccination programs for local variant outbreaks.
"One of the key messages associated with our ongoing fight against COVID is that laboratories, such as those we have in Switzerland and elsewhere, need to push forward scientific frontiers" to help mitigate concerns about new variants, Rebhan said, adding, "We believe that COVID will be with us for quite a while."
The firm began thinking about the need for a multiplex approach as variants started to emerge last summer. "We could see that the virus was not behaving as it had during the first wave," Manoud said.
He and his colleagues observed that the virus was seeking to "find a balance between being aggressive and being able to infect as many people as possible," he said. 
In December, it became clear that some of the emerging variants are highly contagious, so the group started work on the multiplex test. It validated the test using several hundred positive samples that were readily available to the firm because it has a large repository of samples from ongoing coronavirus testing in its laboratories.
"After we had obtained an understanding of the variants, we designed primers and probes to address them specifically, validated the new design, and altered it again until we had the same level of sensitivity as for our other PCR tests," Menoud said.
Though Unilabs wants as many of its own labs and collaborators to use the new test as possible, country regulations will influence its adoption. "In France, there's a quick way to get the test on the market but under the condition that we get a CE-IVD label pretty quickly," Manoud said. "In Switzerland, we are not being pushed to have the CE-IVD label provided that we have a strong validation protocol and file to prove it."