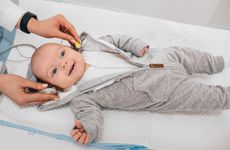 NEW YORK – A recent study in the UK will lend support to the widespread adoption of a point-of-care pharmacogenomic test in that country that could spare newborns the potential loss of hearing associated with a widely prescribed antibiotic.
The assay and point-of-care device, manufactured by Manchester, UK-based Genedrive, were implemented in a trial in cooperation with partners based at Manchester University NHS Foundation Trust. The study, called Pharmacogenetics to Avoid Loss of Hearing, or PALOH, was supported with a £900,000 ($1.2 million) UK National Institute for Health Research grant and ran from January to November 2020. Its results were published last month in JAMA Pediatrics.
The effort recruited 751 babies at two units within the trust who were screened for MT-RNR1 m.1555A>G, a variant that predisposes carriers to hearing loss when prescribed gentamicin, a first-line, broad spectrum antibiotic given to newborns admitted to intensive care units. About 1 in 500 people carry the variant, and about 100,000 newborns are admitted to ICUs per year in the UK, of which between 80 and 90 percent will be treated using gentamicin. Not only did Genedrive's test perform well in the study, but the investigators were able to identify three babies who carried the mutation and were at risk of lifelong hearing loss if prescribed the drug.
Bill Newman, a consultant in genomic medicine at Manchester University NHS Foundation Trust and a corresponding author, said that the study both demonstrated the utility of the Genedrive test, as well as its ease of adoption into an acute setting.
"The key thing for us was to show that the introduction of this technology didn't delay the routine prescription of antibiotics," said Newman, noting that decisions about administering antibiotics have to be made within an hour of admittance to an intensive care unit. "You can have the best test in the world, the best technology in the world, but if it doesn't fit into the clinical pathway, it is not useful," he said.
The study showed that babies were still prescribed antibiotics within the same time frame as they would be without the use of the test, he said, demonstrating that the addition of genetic testing into the critical care setting did not slow decision making.
"I think that was one of the key learning points for us," he said. "Integrating the test within the normal routine clinical pathways was absolutely critical for its adoption."
Genedrive's MT-RNR1 ID kit is an in vitro molecular assay for use on human buccal cells. The assay relies on a reverse-transcription loop mediated isothermal amplification approach to produce a result in about 26 minutes. Genedrive originally relied on RT-PCR for the assay but transitioned to RT-LAMP to shave away turnaround time, which was originally 40 minutes. 
"Fifteen minutes doesn't seem long, but within the context of having an hour to make a decision, it's a big difference for us," commented Newman, who has worked together with Genedrive on the assay for about five years.
The kit is run using the Genedrive System, a benchtop device that can be used in an emergency care setting. The latest generation of the device includes a touch screen and has wireless connectivity, according to the firm, and clinicians can analyze patient samples for their MT-RNR1 m.1555A>G variant status before deciding on antibiotic treatment. Genedrive secured a CE-IVD mark for its MT-RNR1 assay in 2019, and for the latest version of its system last September.
According to CEO David Budd, Genedrive's preclinical validation of the test had demonstrated assay sensitivity and specificity of 100 percent, but the results of the recent trial reinforced that data, with sensitivity of 99 percent and accuracy of 99 percent. In Budd's words, these outcomes "have proven the efficacy and capability of Genedrive's technology at the point of care."
The partnership with Manchester also enabled Genedrive to improve its platform for ease of use and to simplify the workflow, based on feedback from users. Budd said the inclusion of a touch screen was made for more flexible user interaction. Genedrive also added "fail-safe physical solutions" to prevent test failure through premature removal of the assay cartridge from the device, Budd said.
"The testing [in the study] was all done by nurses," Newman pointed out, instead of experts in genetics or point-of-care diagnostics. "These were routine nurses looking after babies in the middle of the night that were able to get results from this test, and it was adopted into clinical care."
Manchester and Genedrive are now working to make the test more widely available across the UK. Newman said that "there is a lot of enthusiasm" within the country's National Health Service for adopting the assay. The government's Medicines and Healthcare Products Regulatory Agency, he said, which oversees the regulation of IVDs in the UK, has provided guidance that if such a genetic test is available to discern a potential negative reaction to an antibiotic, it should be adopted.
Newman also said that while there have been "pockets of real excellence" in terms of genetic testing within the NHS for years, the national health provider is working to expand access throughout the country, "so that it doesn't matter where you live, and it is based on clinical need." That will mean it will be introduced around the country, which has a population of about 67 million people.
The test is currently being rolled out in Manchester, with around 300 nurses being trained to use the Genedrive System at Saint Mary's Hospital, Wythenshawe Hospital, and North Manchester General Hospital, all of which belong to the Manchester University NHS Foundation Trust. The intention, though, is to eventually make it available to everyone in the UK, Newman stressed.
"We are in discussions with the NHS as to how this test should be nationally commissioned," said Newman. "That will take time in terms of training of staff, ensuring they are familiar with how assay works," he said. "But we think that is straightforward, and we are enthusiastic that it will happen."
The test also got a nod late last month from the UK's National Institute for Health and Care Excellence (NICE), which provides guidance on how to improve national healthcare. On March 29, NICE issued a Medtech Innovation Briefing (MIB) on the MT-RNR1 test, which noted that the cost of the test is £80 ($105) per analysis, and that the Genedrive System costs £5,000, which the company confirmed. In comparison, NICE noted, the cost for pyrosequencing or Sanger sequencing to identify the same mutation would be £212 and £191, respectively. NICE underscored that these tests are done after the fact, though, to retrospectively investigate the cause of hearing loss, in contrast to Genedrive's test, which is administered at the point of care to prevent hearing loss.
It is unclear if there are other commercial assays in development for the same indication. A Japanese research team last year published a method for detecting the mutation that relied on a single-stranded tag hybridization chromatographic printed array strip in the journal Genetic Testing and Molecular Biomarkers. In the paper, the authors suggested the approach could be used as a companion diagnostic.
In its brief, NICE said uncertainties remain around Genedrive's test in terms of studies, as well as initial and possible future costs of using the technology. Still, Budd characterized the MIB positively, calling it an "important step" in raising awareness about the assay within the NHS, and said the brief will "ultimately help drive adoption" by providing NHS trusts considering new medical devices with the information they need to make informed decisions. He added that the MIB, as well as the new JAMA Pediatrics study, also laid out the next steps required to include Genedrive's test into clinical guidelines for routine use within the NHS.
In the meantime, Genedrive is already working with a UK distribution partner called Inspiration Healthcare to drive adoption in the country. Similar activities will be necessary to raise awareness and increase market uptake across Europe to provide access to the product, Budd said. Ultimately, Genedrive intends to expand market access into the US, too, "where this test would be an attractive proposition and could be widely adopted," he said, but did not provide an estimate when that might happen.
In European markets, the new Genedrive MT-RNR1 test is classified as a Class C device under the new European In Vitro Diagnostic Regulation (IVDR), which will come into force next month, with grace periods for devices approved before the date of enforcement. In the case of Genedrive's test, it will require clearance under the IVDR by 2026.
The UK is transitioning to a new regulatory framework since it left the EU in 2020. The MHRA has said it will continue to recognize CE-IVD marks until July 2023, by which time manufacturers will need to obtain a UK Conformity Assessed mark, or UKCA, following review by a designated organization or "approved body." Budd said that Genedrive is on track to achieve a UKCA mark for its test by the 2023 deadline.
With that ongoing, the company and its partners are also eyeing other opportunities where a rapid pharmacogenetic test could be implemented into routine clinical care without major disruption to existing workflows. Budd said that Genedrive is now working on developing a stroke and cardiac marker test to screen patients for CYP2C19 mutations, for example.
"Like newborn intensive care unit settings, emergency admissions for strokes and heart attacks have tight time frames for clinical decision making," Budd said. He noted that drugs such as clopidogrel, sold as Plavix by Bristol Myers Squibb and Sanofi Pharmaceuticals, are often prescribed and can reduce further strokes or cardiac events in most patients. However, the drug will have no effect in between 15 and 20 percent of patients, depending on their genetic profile.
"Rapid screening could provide clinicians with the information they need to prescribe the most effective drugs for the individual patient as quickly as possible," suggested Budd.
Newman agreed that, in general, the availability of such a test platform lends itself to further use in acute settings, such as in stroke medicine. "It is about those situations where you need a result very quickly, there isn't testing available at the present time, and routine lab testing takes too long to provide you with information in a meaningful way," said Newman. "Those are the scenarios we are working on and thinking about."