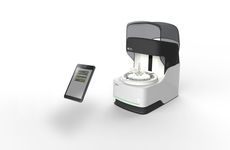 NEW YORK ─ Clinicians at Cambridge, UK-based Addenbrooke's Hospital are implementing a point-of-care molecular assay for SARS-CoV-2 testing after a clinical study showed it enables a faster time to result, quicker decision-making in the emergency department, and faster release of patients from isolation rooms.
Implementation of the SAMBA II SARS-CoV-2 assay is an example of the increasingly important role that point-of-care testing is playing in helping mitigate the COVID-19 pandemic, said Ravindra Gupta, a physician treating patients at Addenbrooke's hospital, part of Cambridge University Hospitals NHS Foundation Trust, who led the clinical validation of the point-of-care test.
In a preprint study published recently on MedRxiv, Gupta, along with a team of clinical investigators and researchers, said that the assay and platform, developed by Diagnostics for the Real World (DRW), enabled them to make faster decisions about how to treat patients in the hospital, which led to additional clinical utility. The study has not been peer-reviewed.
The SAMBA II low-throughput, point-of-care platform has been the system of choice over higher-throughput systems when rapid clinical decisions related to SARS-CoV-2 are needed in the hospital, Gupta said in an interview.
In the context of testing for SARS-CoV-2, he said, the assay's ability to provide faster results that are "clinically actionable" are among the chief contributors to its clinical utility. The clinical investigators saw that the time to obtain a testing result decrease by almost 36 hours during the implementation of the point-of-care assay. "The assay is proving useful not just as a diagnostic tool but also for infection control [associated with] a disease that looks a lot like other diseases," Gupta said.
The clinical researchers noted that the POC test's shorter turnaround time sped up clinical triage processes and led to patients spending less time in COVID-19 holding wards while they await SARS-CoV-2 results. Use of POC testing also increased availability of isolation rooms and reduced unnecessary bay closures, which is critical as hospitals look ahead to the winter and the need for space increases to treat multiple conditions, Gupta said.
At the hospital, the DRW POC test is seeing most use in the emergency department, where fast decision-making is paramount and where most patients present to the hospital with SARS-CoV-2 symptoms. The SAMBA II platform is being deployed to test patients who have entered the hospital for reasons unrelated to SARS-CoV-2 but developed symptoms of the coronavirus. Addenbrooke's Hospital is further using the machine to evaluate patients being admitted for emergency surgery, to test those undergoing urgent transplants, and to confirm that patients can be released from the hospital because they no longer have a SARS-CoV-2 infection.
The hospital is currently using 20 SAMBA II machines to run about 250 rapid tests per day, and it anticipates purchasing additional systems. The machine provides a test result for one sample in about 90 minutes.
Complementary methods
As healthcare providers decide where and when to apply point-of-care tests instead of or alongside laboratory tests, many industry participants believe the approaches complement one another.
Other than DRW's molecular point-of-care test, the laboratory at Addenbrooke's hospital uses several RT-PCR machines to test for SARS-CoV-2, including the high-throughput Hologic Panther system. The lab handles high-volume testing for SARS-CoV-2 that involves fulfilling testing requests from other hospitals that don't have point-of-care assays, Gupta said. Additionally, the high-throughput machines in the hospital's lab process samples from patients coming into hospitals for scheduled procedures, such as surgeries, he said.
Helen Lee, president and CEO of DRW, said in an interview that for point-of-care SARS-CoV-2 testing, clinicians are finding many uses for SAMBA, which is short for simple amplification-based assay. Lee said that the firm, with offices in Cambridge and San Jose, California, is seeing a sharp uptick in demand for its SARS-CoV-2 assay running on the platform. About a dozen hospitals in the UK have adopted the platform for SARS-CoV-2 testing, she said.
Though high-volume lab-based testing is the backbone of any effective response to COVID-19, governments must also focus attention on point-of-care testing to save additional lives and resources, she said. "This will require a concerted effort to define where and when this type of test could prove most impactful," Lee added.
Importantly, the instrument, which is roughly the size of a coffee machine, operates independently of lab facilities and doesn't require medical training to operate, she noted. The machines can be placed anywhere within a hospital, including at a patient's bedside or in the emergency department, and in community settings, which include general practitioner and dentist offices, long-term care homes, and workplaces.
Cost should not be a barrier to the test's adoption, because the price per test is lower than for testing being done by central laboratories in the UK, Lee said. The testing instrument should also be affordable for many facilities, Lee claimed, though she declined to disclose pricing details and said the firm is evaluating its pricing model considering a surge in demand that may enable it to reduce prices.
Use of the SAMBA II machine for monitoring HIV viral load in blood has given the firm experience in applying it for novel uses, Lee said.
Last year, Gupta used the point-of-care platform to monitor HIV viral load as part of a study he led to prove that stem cell transplantation could cure HIV. He and his colleagues presented a paper recently in The Lancet HIV and last year in Nature describing the second case in history involving the long-term remission from HIV of a patient, now known as the London Patient.
DRW's SAMBA platform was originally developed to detect DNA or RNA associated with infectious diseases to enable test-and-treat clinics to make prompt clinical decisions. SAMBA I, its first-generation platform, enables semi-automated extraction, amplification, and detection of pathogen nucleic acid. It consists of two instruments ─ one for sample extraction and a second for amplification and detection of target nucleic acids. Each sample prep instrument can run up to six samples at a time, enabling the platform to test up to 72 samples per day, according to DRW. The company targets regional hospitals for its adoption.
SAMBA II, on the other hand, is a fully automated system for diagnosis and treatment monitoring. Since 2017, HIV tests have been implemented in Uganda, Malawi, Zimbabwe, and Central African Republic on the SAMBA II platform.
The system consists of a tablet that controls an assay module and displays test results. DRW developed the platform to withstand harsh operating conditions, and it works in temperatures ranging from 10 degrees C to 38 degrees C and relative humidity of up to 80 percent, Lee said. The system uses uniquely shaped consumables cartridges that can only fit into matching slots in the machine, making them easy to load, she said. Visual results are automatically analyzed by an integrated camera to ensure consistent and accurate interpretation.
The SAMBA II assay for SARS-CoV-2 molecular testing received CE marking in April, permitting its use in European countries and others that accept the designation. DRW also has applied for Emergency Use Authorization from the US Food and Drug Administration. Lee noted that the firm has responded to the FDA's questions about the assay and anticipates a decision soon.
The authors of the recently published medRxiv preprint noted that several assays running on near-patient platforms are being used for SARS CoV-2 nucleic acid testing, including the Cepheid Xpert Xpress SARS CoV-2, GenMark ePlex SARS CoV2, Abbott ID Now COVID-19, and DiaSorin Simplexa SARS-CoV-2 platforms. Meanwhile, Newcastle Upon Tyne, UK-based point-of-care firm QuantuMDx said on Monday that it has received the CE-IVD mark for its SARS-CoV-2 detection assay.
All the near-patient and point-of-care systems used for coronavirus testing have their own strengths, Lee said. Some people point out that SAMBA II has a longer time to result than some of the competing systems, she noted, but DRW opted for use of environmentally friendly chemicals and reagents, she said. That slowed the time to result, but it is a necessary part of driving platform adoption in low-resource settings, Lee added.
DRW is looking to expand its test menu to cover additional infectious agents and has tests in development for hepatitis B and C, influenza A and B, and sexually transmitted infections.