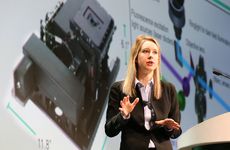 PHILADELPHIA – At the American Association for Clinical Chemistry annual meeting here today, Theranos CEO Elizabeth Holmes offered a first look at the components of the company's miniLab technology with which it hopes to make diagnostic testing broadly accessible in a decentralized manner.
"There has been a lot of news about our company and we chose this meeting today to begin engaging in a scientific exchange about our inventions and our technologies," Holmes said, acknowledging the mounting criticism the company has faced in recent months. But she noted that this presentation marked "a new chapter for the company."
Theranos' lab testing framework, developed over a decade, comprises a device for collecting small capillary whole blood and plasma samples from a finger stick, Nanotainer tubes for storing the sample, centrally performed high-throughput assays for processing large volumes of samples, and a miniLab that can be deployed outside of the clinical lab.
The miniLab employs robotics to replace manual sample processing and uses a disposable and customizable cartridge that contains reagents, liquid handling tips, reaction cuvettes, and other consumables to perform a range of tests using different methodologies, including immunochemistry, hematology, and molecular biology.
The miniLab connects to the Theranos Virtual Analyzer that enables remote process control and results interpretation within a centralized clinical lab setting.  
Holmes presented 16 studies demonstrating the performance of the miniLab across different testing categories and methods, performed under an IRB-approved protocol. For example, she presented data showing the precision of the miniLab to yield reproducible results when testing for lymphocytes and lipid levels in a day within a single assay system, within a single miniLab day to day, and across three miniLabs.  
She presented data showing that its lipid tests performed on the miniLab correlated to a comparator test from Siemens analyzing venous plasma samples. Despite good correlaton, Holmes noted there was a 9 percent median bias between results from the miniLab HDL assay and the comparator, but Theranos was able to confirm the accuracy of its tests against a reference standard from the National Institutes of Standards and Technology.
Holmes also showed results from similar comparison evaluations for lymphocyte testing between miniLab and BD Biosciences' Multitest 6-color TBNK reagent with Trucount tubes on the FACSCanto II flow cytometer.
Researchers from Mount Sinai's Icahn School of Medicine earlier this year published a study in the Journal of Clinical Investigation where they took 14 samples from each of 60 patients and compared 22 lab measures performed by Theranos from finger prick blood draws with testing performed by Quest and Laboratory Corporation of America using traditional blood draws. The study showed that although most of the lab results between labs agreed, Theranos reported abnormal test levels 1.6 times more often than Quest and LabCorp, particularly for lymphocytes and certain lipid levels. Theranos has criticized this study as flawed and noted that out-of-range results don't necessarily mean that the results are wrong.
Theranos has submitted validation data to the US Food and Drug Administration to garner emergency use authorization for a Zika virus assay that will run on its miniLab. The assay employs magnetic bead-based extraction of nucleic acids, isothermal amplification and detection, and requires 75 microliters of plasma or serum. Real-time measurements are taken every minute for 35 minutes to detect an inflection point in fluorescent signaling, Holmes explained.
She showed that a target gene could be detected with 96 percent sensitivity at a limit of detection of 480 copies/mL for the virus, and that the assay doesn't cross-react or interfere with other pathogens. An analysis of 180 samples from healthy subjects with fever and those with symptoms of Zika showed that the miniLab test had 95.6 percent negative agreement and 100 percent positive agreement with a comparator test using venous serum.
Holmes also demonstrated Theranos' sample collection device that draws blood from a lanced fingertip, and showed cholesterol levels detected by that method correlate well with venous plasma.
Holmes' hour-long presentation, though packed with never-before seen details of Theranos' technology and a sampling of data, left AACC experts and audience members with more questions. "You look at the people in the room, there's clearly a lot of interest in your company," Stephen Master from Weill Cornell Medical College said. "I would argue that a lot of that comes from the fact that there were claims made that were very broad early on ...The evidence that you presented fell far short of that." Members of the audience at AACC applauded Master's point.
Theranos' story by now is infamous within the lab community as the blood-testing startup once valued at $9 billion, but now facing the scrutiny of a number of state and federal government bodies. Holmes dropped out of Stanford University and launched Theranos in 2003, at the age of 19, with a vision to make diagnostic testing accessible to people earlier in their disease process, at the point of care, and using smaller blood samples. The company has said it wants to revolutionize the lab testing industry by performing a range of tests from a finger prick's worth of blood and at a lower cost than traditional labs analyzing blood from traditional blood draws.
Although Theranos had operated quietly for the most part since launching, in recent years Holmes started to speak publicly about the company's technologies, and the firm garnered attention for high-profile board members such as Henry Kissinger. Trouble started for the company last year, when lab testing and evidence-based research experts began expressing doubts about the company's claims and criticizing the firm for not having any peer-reviewed publications backing its technology. In response, Theranos said it had intended to demonstrate the analytical and clinical validity of its tests through FDA review, but since the clearance of a herpes simplex virus test last summer, the firm hasn't garnered the agency's nod for any other tests.
Subsequently, the Wall Street Journal, citing anonymous former Theranos employees, reported that the company's proprietary technology had accuracy issues and that the company had quietly pulled back from using it much on patients. Although Theranos has vociferously denied these allegations, it has come under increasing scrutiny since then.
The FDA and the Centers for Medicare & Medicaid Services found deficiencies with the company's operations after lab inspections. In an effort to address the lab issues raised by CMS, the company voided two years worth of test results and sent corrected reports to doctors. Even though the firm has said it is working to address CMS' concerns, in July the agency issued a number of sanctions against Theranos, including revoking its Newark, California, lab's CLIA license, which would bar Holmes from owning and operating any labs for at least two years.
The US Securities and Exchange Commission and the US Attorney's Office for the Northern District of California have or are investigating the firm. Democrats from the House Energy and Commerce Committee last month asked Theranos to explain "how company policies permitted systematic violations of federal law," and what the company is doing to fix these mistakes.
Adding to this pressure, industry observers also haven't relented their demands that Theranos share data on its technology and subject it to peer review. In answer, Theranos has taken a small first step by presenting data at a conference attended by thousands of lab and healthcare professionals. Holmes said that the company is working on third-party evaluation of its lab tests and on publishing peer-reviewed papers on its technologies and tests.
Meanwhile, the sanctions against Theranos' Newark lab are slated to go into effect 60 days from CMS' July 7 letter, and the company has the option to appeal. "We take full responsibility for our lab operations and we're working diligently to rectify all outstanding issues and realize the highest standards of excellence in lab operations," Holmes told AACC attendees, noting that the details she presented on the architecture of Theranos' technologies are distinct from the issues related to its lab operations.
The firm has added new members to its board of directors, and recently created a compliance and quality committee. Theranos has maintained that based on its own evaluations, and interactions with CMS, physicians, and patients, its tests haven't harmed patients.
Holmes said at the meeting that she wished she had begun building Theranos' scientific and medical board earlier and working toward peer-reviewed publications. She acknowledged that there is a lot more work ahead to engage with the lab community, but noted "that's not going to happen all in one day and in one presentation."