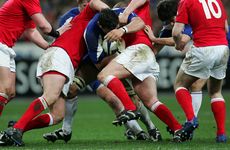 NEW YORK ─ In collaboration with University of Birmingham researchers, Marker Diagnostics has developed a saliva-based multiplex microRNA assay that it believes could enable broad use of clinical testing for concussions.
In a study published last week in the British Journal of Sports Medicine, microRNA biomarkers in the Marker Dx test identified 94 percent of enrolled professional rugby players deemed to have a concussion with the use of a standard clinical protocol.
MicroRNA molecules, which are expressed throughout the body including regions of the brain, are responsible for protein translation. In their study, the University of Birmingham researchers identified a panel of microRNAs, called small non-coding RNAs (sncRNAs), and validated that their concentrations were elevated in saliva as a result of brain injury. A combined panel of 14 microRNAs differentiated concussed subjects from all other groups, the researchers said.
Marker Dx believes that the results of the study are representative of the broader utility of the test and its potential for diagnosing concussions in adult women and men, including people participating in sports and outside of sports, the firm's Chairman and Director David Cohen said in an interview.
He added that the use of specific salivary sncRNAs give its test advantages over the blood-based concussion tests that are already on the market or in development.
"Research done over the last five or six years demonstrates the promise of small non-coding RNAs as a biomarker for concussion and really for almost any neuro-related condition," he said.
The company's test detects changes in the concentration of the saliva biomarkers within five minutes of a concussion, and can monitor concussions over time so that a patient knows when it is safe to return to play or work, Cohen said.
The multimarker assay runs on standard qPCR platforms used in laboratories and could be particularly timely as concerns are intensifying about the long-term brain health of people exposed to repeated concussions, Cohen noted.
A year ago, Marker Dx, a subsidiary of Marker, a diagnostics and therapeutics developer based in Zug, Switzerland, obtained CE marking for a concussion test, called MDx 100, for professional male rugby players, which uses the sncRNA biomarkers. The firm anticipates launching an over-the-counter test later this year for people suspected of having a concussion, including men and women who are participating in sports and also for those who are not sports participants, Cohen said.
In regions that accept the CE mark, people wanting to use the test will be able to purchase a kit over the counter, self-collect a saliva swab, and mail it to a Marker Dx designated laboratory for processing, Cohen added.
Laboratories send test results back to Marker Dx indicating the presence and concentration of target biomarkers in saliva samples, and the firm will run an algorithm to analyze that information before sending a result to the taker of the test. Marker Dx has collaborations with an undisclosed number of CLIA-certified, CAP-accredited labs that are performing the concussion tests, Cohen said. A test result would be available within 24 hours, he added.
More long term, the firm has plans to expand to the US and obtain regulatory clearances for the test, and it will seek to obtain reimbursement in various countries, Cohen said.
In their study of the test, called Study of Concussion in Rugby Union through MicroRNAs, or SCRUM, the University of Birmingham researchers collaborated with UK-based Rugby Football Union and Premiership Rugby.
The investigators collected saliva samples from 1,028 players prior to and during the 2017-2018 rugby season in the UK, including 156 players who had to conduct standardized World Rugby head injury assessments (HIAs) during play. The HIA protocol used by rugby medical staff includes a neurological examination, a series of cognitive tests, and an evaluation of gait and balance to determine whether a player has a concussion. The players were swabbed during and after the game and between 36 hours and 48 hours after the game.
The clinical investigators identified a panel that combined 14 salivary sncRNA biomarkers that were 96 percent accurate in identifying concussed players. When they tested the panel during the 2018-2019 season, they found that the biomarkers predicted whether players would be found positive or negative for concussion during a standard head-injury assessment in 94 percent of cases.
Marker Dx believes that as a result of the study, its saliva biomarker test has the potential to enable a diagnosis in recreational sports that is comparable in accuracy to that provided by sophisticated clinical assessments currently available in professional sports, Cohen said.
Teena Shetty, director of the Concussion Program in Neurology of New York-based Hospital for Special Surgery, noted that the "major advantage of saliva-based biomarkers is that they are non-invasive."
The utility of salivary sncRNAs has recently come into focus, said Shetty, who operates a concussion clinic at the hospital and is the principal investigator of a clinical study there to validate the utility of the Marker Dx panel in a broad cohort of patients, including men and women that participate in sports and others who do not participate in sports. The study is enrolling 150 patients including 75 people with mild traumatic brain injury and 75 healthy control subjects, and could be completed within a year, Shetty said.  
She noted that sncRNAs influence protein translation, and they are tissue specific, highly abundant in saliva, and easily measured in biofluids.
They are also resistant to enzymatic degradation and freeze-thaw cycles, meaning they are long-lasting and excellent biomarkers for concussion, Shetty added.
Given that a high percentage of concussion cases go unidentified, diagnostic test developers ─ including Abbott, Banyan Biomarkers, Quanterix, and Nanodiagnostics ─ are entering or already in the market for concussion diagnosis with blood, plasma, or serum biomarker tests.
Similar to the Marker Dx saliva test, blood-based tests aim to detect brain injuries received in sports-related activities and in non-sport settings, including for the diagnosis of military personnel who may experience brain injuries in combat, as well as people who have fallen or have been in an automobile accident, among others.
BrainBox Solutions recently announced that it has begun enrolling patients for a clinical trial to evaluate the clinical utility of a serum-based diagnostic and prognostic test for mild traumatic brain injury and collect data for an application to obtain marketing clearance from the US Food and Drug Administration.
Banyan Biomarkers' Brain Trauma Indicator was first to market in 2018 for detection of brain bleeds within 12 hours of injury using glial fibrillary acidic protein (GFAP) and ubiquitin carboxyl-terminal hydrolase L1 (UCH-L1) markers in blood serum. This past January, the FDA cleared a 15-minute handheld blood serum test by Abbott also for the detection of brain bleed using the GFAP and UCH-L1. Banyan Biomarkers had licensed two biomarkers ─ GFAP and UCH-L1 ─ to Abbott for use in its point-of-care and core lab TBI tests.
The Abbott test measures the biomarkers GFAP and UCH-L1 present in the blood after a brain injury, and negative results can be used to rule out the need for a head CT scan.
Shetty said that Marker Dx's saliva test has the potential to detect concussions that are outside the reach of blood-based tests, which can be limited in their application.
Blood-based biomarkers have been found to be useful when a CT scan can detect a brain bleed, she noted. However, "the majority of mild traumatic brain injuries do not result in hemorrhage or structural abnormalities detected on routine neuroimaging," she said, adding that currently "major barriers to implementation exist that limit the clinical utility of blood-based tests."
Among its barriers are low sensitivity to levels of proteins in patients who do not have detectable intracranial lesions and the invasiveness of blood draws that require trained healthcare professionals, she said. The cost of equipment, including centrifuges needed to separate serum from blood, and the need for sample storage to prevent protein degradation are further barriers to their clinical use, Shetty added.
She noted that the British Journal of Sports Medicine study validated a panel of saliva biomarkers for concussion in male rugby players, but she and her colleagues are seeking to validate them for concussion in a broader population of patients.
"Now that these biomarkers have been identified and panels have been shown to repeatedly be present and increase in concentration with brain injury, it makes sense to continue to validate their use in saliva as a biofluid to verify that they are prognostic for concussion," Shetty said.
A couple of studies have demonstrated similar results, showing that sncRNAs are elevated following a concussion, she noted.
Prior to the British Journal of Sports Medicine study, University of Birmingham researchers reported in 2019 in the Journal of Concussion that microRNAs showed promise as indicators of traumatic brain injury.
Cohen said he believes that Marker Dx will have an over-the-counter version of its saliva-based test on the market in Europe for the general population within a year.
Marker Dx currently has 25 employees and is expanding its internal sales, marketing, and R&D teams. It is also in discussions with diagnostic companies to collaborate on the development of a point-of-care version of the test.