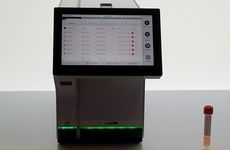 VIENNA (GenomeWeb) – Spain's Stat-Dx this week unveiled the first production units of its fully integrated and automated molecular testing platform for infectious diseases along with the system's first test cartridge, a respiratory panel designed to detect and identify up to 22 viral and bacterial pathogens simultaneously.
Barcelona-based Stat-Dx (formerly Stat-Diagnostica) also plans to begin clinical trials of the platform and respiratory panel over the next few months at various hospitals across Europe with the intent of launching the products with CE marking in the second half of this year.
The company unveiled its technology at the European Congress of Clinical Microbiology and Infectious Diseases held here this week.
Stat-Dx has been developing its platform, called DiagCORE, for around six years. From the beginning the company stated its intention to market a combined molecular testing and immunoassay system. The immunoassay component of DiagCORE is in the "advanced development" stage, Stat-Dx CEO Jordi Carrera said, but the firm plans to go to market with only the molecular capabilities in place.
The primary instrument is about the size of a small PC unit and it accepts different cartridges that contain all the reagents necessary to run a specific test. As such, Carerra noted, it should not be too difficult to launch the platform with only the molecular cartridges, which use real-time PCR, and add immunoassay cartridges down the road.
"For molecular we use one detector and for immunoassay we use time-resolved fluorescence, so there are two different cassettes," he said. "We are not trying to dream that a single technology can do both. They're very distinct technologies and the sensors are inside [the instrument.]"
Stat-Dx chose to use real-time PCR for the molecular component of its platform because "it's the state of the art for molecular diagnostics," Carrera said. Although the initial respiratory panel is designed to detect 22 target simultaneously, the company claims it is possible for the system to detect and identify up to 48 molecular targets simultaneously.  
This can be achieved, Carrera explained, because each cassette has eight reaction chambers, and the detection instrument features an optical sensor with six wavelengths, although some channels will be used for control assays.
"That's using real-time PCR," he said. "If we wanted to go even higher on the multiplexing we could go with melt curve analysis, and … we could could go higher than 100-plex." Such multiplexing, while impressive, is currently overkill for infectious disease diagnostics, which seem to have found a sweet spot in the region of 20 to 30 targets.
Carrera was not coy about identifying Stat-Dx's primary potential market competitor: BioMérieux's BioFire Diagnostics subsidiary, which has a significant head start in the market. Last week the company announced that its second-generation respiratory panel, the FilmArray Respiratory Panel 2 Plus, received the CE mark and has been submitted to the US Food and Drug Administration for 510(k) clearance.
"BioFire is the player, and they're really very well positioned in infectious disease testing, and BioMérieux has offered them a great sales reach," Carrera said. "The [FilmArray] platform is great. I think we are thankful for their success, because we want to use their success to boost our business."
Other potential competitors include Luminex and GenMark Diagnostics, both of which market multiplex molecular panels for syndromic testing.
Platitudes for the competition aside, Carrera noted that the DiagCORE platform will be able to carve out a market niche based on its flexibility.
"There will be a migration toward decentralization — ICU, emergency department — and we have features that are really helpful for that," he said. "We can do swabs, we can do resuspension of swabs inside of the cassette. All the reagents are inside, so you only have to put the sample, click a button, and you get the result out."
Furthermore, although Stat-Dx is launching with larger syndromic test panels, its platform is amenable to low-plex testing, as well. Tests of this type, with just a couple of molecular targets, would put the DiagCORE platform squarely in competition with the likes of Cepheid's GeneXpert platform.
Carrera declined to discuss the potential cost of DiagCORE or associated test cartridges, only noting that the platform is "not yet structured to compete on cost." Last year he said that the company had planned to sell test cartridges at a price similar to competitors — in the €120 to €160 ($130 to $174) range, depending on geography.
"Certainly, our technology has great potential to compete on price down the line," he said this week. "Ten years from now, the technology is not going to be sold at the same price. Technologies cannot digest their cost of manufacturing, or [manufacturers] are going to be out of business."
Over the last year, DiagCORE beta units have been in the hands of early-access users who have helped tweak the platform and contribute to its development. Due to the collaborative nature of these relationships, Carrera declined to identify the beta-test sites, but noted that they will also participate in clinical trials, so information will be forthcoming. For now, he said, "We have four sites across Europe: one in the Nordics, two in Central European countries, and of course one in Barcelona to really cover the whole geography in Europe, so we get samples and patients representative of our intended geographies of launch."
Should the trials be successful, Stat-Dx plans to have a limited market release of DiagCORE and the respiratory panel in the second half of this year "and go to full-fledged commercial operations in 2018." The company also has a gastrointestinal panel in the works for its next commercial product, and has its eye on the US market, but these developments are further down the road, Carrera said.