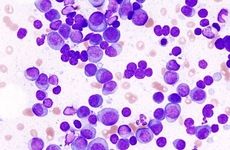 NEW YORK (GenomeWeb) — SkylineDx, a Dutch molecular diagnostics company, has developed a new algorithm that can be used to predict the optimal treatment for patients with multiple myeloma.
The new computational tool, called TOPSPIN, complements the company's MMprofiler test, which stratifies multiple myeloma patients based on their microarray gene expression profile.
Using that information, clinicians can decide on a course of treatment according to their patient's genetic subtype.
TOPSPIN is an acronym for Treatment Outcome Prediction Using Similarity Between Patients. SkylineDx developed and validated the tool using data from multiple myeloma patients assessed with MMprofiler. The Rotterdam-based company is now planning follow-on validation studies, and considering making TOPSPIN-generated data available to its MMprofiler patients.
"There is a clinical need for tools that can help predict treatment response at the moment of diagnosis," Martin van Vliet, executive vice president of bioinformatics and product development at SkylineDx, said.     
According to van Vliet, at the moment, there are few drugs that have companion or complementary diagnostic biomarkers that help guide physicians to the best treatment plan. TOPSPIN was developed to do that by interrogating the genetic data from patients to try and find subgroups with a significant benefit from the specific treatment, van Vliet said.
This is relevant in multiple myeloma, where patients tend to vary in their response to different treatments.
According to Joske Ubels, a bioinformatician at SkylineDx who played a leading role in developing TOPSPIN, such a wide variance in response rates to therapies means that it is "critical to select the right treatment" at the time of diagnosis.
"This requires discovery of predictive biomarkers, such as a gene expression signature, that can predict survival based on which treatment patients receive," Ubels said in a statement.
Developing TOPSPIN, however, wasn't easy for the company, in part because of the computational challenge of analyzing large amounts of gene expression data. TOPSPIN is, therefore, based on a "smart search strategy," Ubels said, and works by identifying gene sets denoting treatment-specific survival. This allows the company to stratify patients into two groups: those who experience a significantly greater benefit from the treatment versus the other group.
According to van Vliet, TOPSPIN relies on gene expression datasets generated by MMprofiler, combined with information on the treatments that the patients have received, and their survival. By analyzing the genetic similarity between patients, TOPSPIN can then determine the type of patient that will benefit from a certain treatment.
Van Vliet said the algorithm incorporates about 10,000 gene sets. The ensuing analysis results in a predictive biomarker, "which is essentially a classifier that uses the gene expression data for several gene sets to predict the best treatment for new patients." In other words, the TOPSPIN algorithm is capable of finding companion and complementary biomarkers from those large datasets, he added.
SkylineDx sought to demonstrate TOPSPIN by using it in a data set of 910 multiple myeloma patients, 396 who received bortezomib, and 514 who did not. Bortezomib, an anticancer drug, is marketed by Takeda Pharmaceuticals under the name Velcade.
As part of the study, SkylineDx was able to select gene sets to pinpoint a subgroup of patients that benefit from using bortezomib, compared to those who had no benefit over standard care. Using TOPSPIN, the researchers then successfully identified subsets of patients with longer progression-free survival when treated with bortezomib. The findings were validated in a set of 304 patients, from which the company was able to distinguish a patient subset, 27 percent of the total, who would have a more-than-twofold benefit of using the therapy.
The company is keen to continue developing and implementing TOPSPIN in its existing programs. Founded in 2013, with the backing of Dutch investment firm the Van Herk Group, SkylineDx is based on IP and assets acquired from Skyline Diagnostics, a defunct molecular diagnostics firm that had developed an array-based test for acute myeloid leukemia called AMLprofiler.
The same year it was established, SkylineDx rolled out MMprofiler, a gene expression test for diagnosing multiple myeloma patients into high and standard risk groups based on a 92-gene signature called SKY92. In November 2015, SkylineDx gained a CE-IVD mark for MMprofiler, allowing the firm to sell the test as a clinical assay in Europe as an alternative to conventional fluorescence in situ hybridization and other tests.
All of SkylineDx's tests have been based on the Affymetrix platforms.
More recently, in October, the firm said it received a €2.9 million ($3.2 million) grant from the European Commission under its Horizon 2020 Fast Track to Innovation program to develop another array-based test called MMpredict that could be used to guide therapy selection for cancer patients.
Van Vliet said that SkylineDx would now integrate TOPSPIN into the development program for these development projects.
"We're generating MMprofiler data from additional MM patients, on which we can further validate the biomarker for bortezomib," said van Vliet. "Such follow-on validations, but also the discovery of biomarkers for other treatments, are part of initiatives" such as MMpredict, he said.
The method could also be used to expand SkylineDx's MMprofiler offering. "The predictive biomarker for bortezomib can be reported to physicians and patients, but will take some additional development to comply with regulatory requirements," said van Vliet.
The company is also interested in applying TOPSPIN in other datasets to predict responses to different treatments in various cancer types. "We hope to find other gene sets associated with response to specific anticancer agents, knowledge that can help guide therapeutic decision-making," SkylineDx CEO Dharminder Chahal said in a statement.
"Theoretically ... the same gene sets could also work for other treatments or cancers," said van Vliet. "However, more likely, when running TOPSPIN on datasets from other tumors, biomarkers will be found that use different gene sets," he said. "TOPSPIN is not limited to oncology," he noted, "and applications extend beyond to other disease areas as well."