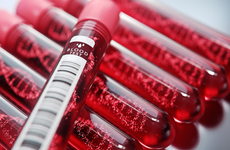 NEW YORK – Exact Sciences plans to use its pending acquisition of Resolution Bioscience to expand into the market for next-generation sequencing-based liquid biopsies with tests that will complement its lines of tissue-based tests.
Brian Baranick, general manager of Exact's precision oncology business, said Exact had its eyes on acquiring Resolution Bio before Agilent snapped it up in 2021 for $695 million.
"We've always had great respect and admiration for the company and the technology that Mark Li built here at Resolution Bio, where I am today with the team," he said.
Agilent announced last month plans to shutter the business due to what it deemed a disappointing market for kitted NGS-based companion diagnostics, saying it didn't see a realistic path to profitability for the Resolution business.
Against this backdrop, Exact swooped to nab the Agilent subsidiary. Once the deal goes through, Exact plans to develop Resolution Bio's technology into specialty lab-based tests, starting with an NGS-based multi-cancer liquid biopsy therapy selection test. Agilent, in contrast, said in 2021 it hoped to leverage its manufacturing and distribution expertise to develop IVD kits that could be used by thousands of labs worldwide.
Baranick said Exact is arguably the world's largest oncology-focused specialty diagnostic reference laboratory, and the company thinks direct-to-oncologist sales are the right approach to liquid biopsy therapy selection. Because healthcare providers often order both tissue- and blood-based tests, Resolution's tests will be important for rounding out Exact's portfolio, he said.
"I think it's a different infrastructure," Baranick said. "Agilent sold kits and instruments to laboratorians and pathologists. I think we sell high-quality diagnostics to oncologists."
Analyst Kyle Mikson, who covers Exact Sciences for Canaccord Genuity, said the company is a diagnostics powerhouse that picked up complementary assets at a low price. Although the firms did not provide the financial terms of the deal, both described them as immaterial.
Mikson said Exact's post-acquisition plans also suggest that centralized single-site testing remains the preferred model compared to Agilent's plans for kitted NGS-based liquid biopsy, a market that has not yet fully developed. Few healthcare providers have the sequencers to run NGS-based tests in-house, he said.
In a statement, Agilent officials reiterated that they made a difficult decision to wind down Resolution Bio, but the firm did not see the market for kitted NGS-based companion diagnostics developing as expected. The company declined to provide further comments on the expectations they had for Resolution Bio at the 2021 acquisition or the difficulties in developing markets for its products.
"Although Agilent has exited the kitted NGS-based CDx business, supporting the fight against cancer with strong offerings for cancer research, translational research, and diagnostic test development utilizing NGS with blood and tissue samples will continue," it said.
Small, competitive market
Arushi Agarwal, a partner at consulting firm Health Advances, said Agilent made a reasonable bet in its acquisition of Resolution Bio, which had potential to give Agilent a new center for innovation. She also agrees with Agilent's assessment that the market for kitted NGS-based liquid biopsy tests is quite small. A specialty lab firm, such as Exact, may be able to put those same technologies to good use.
Before the 2021 acquisition, Resolution Bio was already immersed in a highly competitive and increasingly crowded market as a liquid biopsy-focused specialty lab, and kitting NGS-based liquid biopsy tests posed additional challenges, Agarwal said. Hospitals have been hesitant to invest in capabilities to run large NGS-based panels because their oncologists are already able to order similar tests from Guardant Health, which has established itself as the dominant player in the NGS-based liquid biopsy testing space. They also tend to favor plug-and-play technologies rather than adopting kitted NGS-based testing that requires investments into validation and expertise, she said.
In addition, liquid biopsy is typically relegated to serving as a backup to more sensitive tissue-based testing.
"They're not going to be a first-line test for a long time, particularly for therapy selection," Agarwal said.
Exact Sciences, in contrast, already supports the use of large NGS-based panels and is working to get its NGS-based solid tumor panel out the door. Adding liquid biopsy capabilities improves the company's product portfolio and lets the company offer an alternative when solid tumor testing isn't available, she said.
Agarwal also noted that the purchase could have additional strategic value if Resolution Bio's products have potential to be kitted someday for sales in markets outside the US. The single-site lab model used by Exact and Guardant is difficult to replicate outside the US because of the challenges of shipping samples across borders.
Caroline Popper, cofounder and president of healthcare and life sciences consulting firm Popper and Company, said Agilent's 2021 acquisition of Resolution Bio followed years of work to expand its precision diagnostics portfolio, and she noted the firm had previously acquired NGS technology firm Lasergen and similarly shut down that business. Agilent invested in Lasergen in 2016 and bought its remaining shares in 2018, but the company halted efforts to develop Lasergen's technology into a sequencer in 2020.
Resolution Bio's team may find closer cultural alignment with Exact Sciences, which has a history of investments into developing the market for complex tests to guide cancer treatments. Developing diagnostics for precision medicine requires long-term commitment and investment into a lengthy adoption path, either through clinical validation of lab-based testing or trials ahead of US Food and Drug Administration regulatory review. Resolution Bio's lackluster short-term performance was unsurprising, especially considering the COVID-19 pandemic's drag on adoption of novel diagnostics for cancer care.
For now, Popper said physicians seem uncertain about how to use the results of blood-based tests alone since they typically have lower accuracy than tissue-based tests, although confidence in such tests may rise if those blood tests incorporate proteomic information that provides a more encompassing tumor profile.
Competitors in the NGS-based kitted diagnostics space remain bullish about the market for such tests, however.
Richard Watts, VP of companion diagnostics partnerships at Qiagen, said NGS-based companion diagnostics are opening a new realm of possibilities for tumor characterization and therapy selection, and he noted that Qiagen is looking beyond cancer to applying NGS-based technologies to tests to guide treatment of various conditions including Parkinson's disease, Alzheimer's disease, and cardiovascular disease. He said the global market for NGS-based testing requires kitted solutions, which is an area where he said Qiagen has built up expertise in delivering products.
Watts said Resolution Bio delivered innovative and highly sensitive tests that were very attractive, but translating the testing procedures from a single-site laboratory into standardized protocols that can be performed by other laboratories is a challenging task that requires investment and a convincing case for healthcare providers.
"You need to demonstrate that capability in kitting and in supplying and establishing the business on a global basis, and I guess Resolution Bio hadn't gotten that far in that journey," he said.
Steve Wowk, the NGS business VP and general manager at Danaher subsidiary Integrated DNA Technologies (IDT), said in a statement that the firm has also seen growing demand for NGS-based disease screening assays, diagnostics, and treatment guidance as well as strong demand for its Archer business's NGS-based research assays. IDT announced in December 2022 that it had acquired Archer's portfolio of NGS-based research-use assays from Invitae in a $48 million deal.
That demand is fueled by expanding discovery of genetic variants that impact patient prognosis and treatment, and Wowk anticipates growing demand for larger NGS panels as scientists harness larger volumes of information.
Augmenting Exact's portfolio
Baranick of Exact Sciences didn't close the door to developing more kitted NGS products, but that remains a secondary consideration compared to developing its centralized CLIA lab-based early cancer detection testing capabilities.
He noted that Agilent had secured FDA approval for its ctDx FIRST test that was developed by the Resolution Bio team as a companion diagnostic to determine which patients were likely to benefit from Mirati Therapeutics' Krazati (adagrasib) for treatment of adults with KRAS G12C-mutated locally advanced or metastatic non-small cell lung cancer. The company is also still learning about Resolution Bio's legacy biopharma contracts and going over how far along the former Agilent subsidiary was in its talks with potential biopharma partners, some of which may have already led to discussions with the FDA.
Exact plans to apply its existing commercial network, its expertise in establishing evidence to support tests in oncology, and its market access team that works with MolDx and commercial payers to secure best-in-class reimbursement, Baranick said. Resolution Bio's technology will be backed by that infrastructure as part of a range of products from cancer risk stratification to treatment selection for patients with advanced-stage metastatic cancers.
"There's not another company in the industry that I'm aware of that has a full portfolio the size of Exact's or the infrastructure that we bring to bear," he said.
With the Resolution Bio acquisition, Exact will pit its multi-cancer liquid biopsy test against the likes of Guardant Health, Tempus, and Foundation Medicine. Those liquid biopsy tests will complement the firm's comprehensive tissue-based OncoExTra test, and the firm is filling out the portfolio with its OncoDetect circulating tumor DNA assay for residual cancer, which the firm plans to launch by early 2024, and the firm's NGS-based Riskguard Hereditary Cancer Test that the firm will launch in 2024.
While that timing is not yet certain, Baranick said he expects that entry to the market will be measured "in months, not years."
"It's a growth market," he said. "It's probably growing faster than the tissue-based market, and we're excited," he said.