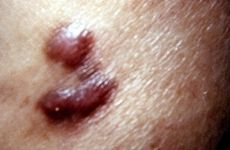 NEW YORK – Researchers have recently validated a rapid molecular assay that detects Kaposi's sarcoma, potentially improving survivability for patients. The assay was tested in a large sample of patients in Uganda using an inexpensive isothermal diagnostic instrument. The team now hopes to commercialize the assay and the instrument, potentially in partnership with industry.
In a study published last week in Science Advances, a team led by bioengineer David Erickson at Cornell University demonstrated the feasibility of a loop-mediated isothermal amplification (LAMP) instrument, dubbed TINY, in Uganda and showed the assay had 97 percent sensitivity and 92 percent specificity compared to pathology in a sample of 506 patient biopsies.
"Our goal with this effort was to create a system that would allow diagnosis to happen earlier, and to catch this cancer at an earlier stage," Erickson said in an interview.
Kaposi's sarcoma is often found in the context of HIV infection, where it can cause purplish tumors of the skin, mouth, and internal organs. This cancer has a particularly high mortality rate in sub-Saharan Africa, in part due to detection at later stages of disease.
Much like cervical cancer, Kaposi's sarcoma is thought to be related to a fairly common viral infection. The virus, called Kaposi's sarcoma herpes virus (KSHV) or human herpes virus-8 (HHV-8), was discovered and sequenced in the mid-1990s. It is believed to be transmitted in saliva and act synergistically with HIV-1 to lead to increased tumor formation.
Both KSHV and HIV-1 infections have a higher prevalence in sub-Saharan Africa, and Kaposi's sarcoma is also one of the most common childhood cancers in this region. Because patients in resource-limited settings are often diagnosed in late stages of illness, Kaposi's sarcoma mortality rates are abysmally high compared to the rest of the world. 
In 2010 Erickson began collaborating with Ethel Cesarman, a member of the team that originally discovered KHSV. Cesarman has been working In her lab at Weill Cornell Medicine's pathology department to determine KHSV's oncogenic tricks and has discovered it can cause another cancer called primary effusion lymphoma.
Erickson's team now also includes an epidemiologist at the University of California, San Francisco and local experts at the Infectious Diseases Institute in Kampala, Uganda.
While the researchers had initially developed a solar-powered system that performs continuous flow endpoint PCR targeting KHSV, they subsequently moved on to the Tiny Isothermal Nucleic acid quantification sYstem, or TINY, LAMP-based portable system.
TINY is designed to compensate for power interruptions and can be operated with solar, electrical, or thermal energy. It requires a peripheral device, like a laptop, to run but has built in amplification and detection, Erickson said. It also has a robust assay chemistry and has some unique mathematical tweaks to the algorithms to enhance accuracy, he said.
The sample prep for the system was done separately in the Science Advances study because the focus was to show the KHSV assay run on the TINY system could provide accurate results and be operated in low-resource settings, Erickson said. The team was also awarded $4 million last year from the National Cancer Institute to develop a "direct-to-LAMP" system that will automatically process tissue biopsies, a process that can otherwise take up to four hours.
Now, "as part of that effort, we have expanded out and are including 11 other clinical sites across Africa, including in Rwanda, Tanzania, Botswana, and Malawi," he said.
Potential utility
The results of the new study are "impressive," according to Denise Whitby, principal investigator at the Viral Oncology Section of the US National Institutes of Health's AIDS and Cancer Virus Program who has been following the development of TINY for many years.
Epidemiology studies by Whitby and her colleagues have shown more than 90 percent of people in Uganda are infected with KHSV by adulthood. "KSHV is an ancient virus that co-evolved with the human species," she said in an email, but "the introduction and spread of HIV caused a massive increase in Kaposi's sarcoma cases in sub-Saharan Africa mostly due to immune suppression."
A correct diagnosis is critical to enable Kaposi's sarcoma treatment, Whitby said, but access to pathology is limited in sub-Saharan Africa and approximately 20 percent of Kaposi's sarcoma cases are misdiagnosed.
Offering the accuracy of molecular testing with less reliance on trained staff, "the TINY test is likely to prove an immense boon to clinicians and patients in low- and middle-income countries," Whitby said.
Susan Krown, an emeritus professor at Memorial Sloan Kettering Cancer Center who has researched KHSV in sub-Saharan Africa, concurred in an email that a faster, less expensive, less labor-intensive test could help patients in resource-limited settings.
"They still have more work to do to field test the device, but I think this is a potentially important advance," she said.
Krown pointed out that HIV care is often decentralized in sub-Saharan Africa and pathology labs are not always nearby. Even when the facilities are available, the cost of a biopsy and pathologic diagnosis is unaffordable for many people in the region, she said.
Studies in Kenya and Uganda have found that delayed diagnosis of Kaposi's sarcoma is common, in part due to a lack of awareness about the disease. Frightened patients sometimes wait months after lesions have appeared before visiting a physician, sometimes pursuing traditional healing practices first. The research also suggested that health system factors and financial constraints also delayed diagnosis.
"Many patients who present with advanced-stage Kaposi's sarcoma have had lesions for many months," Krown said.
However, the clinical utility of TINY and the Kaposi's sarcoma assay would depend somewhat on the cost and ease of use of the equipment, she noted.
Local personnel also would need to be trained to recognize early Kaposi's sarcoma lesions and perform biopsies, she emphasized. Increased awareness among the general population is also necessary to enable early detection.
More than half of Kaposi's sarcoma patients improve after chemotherapy, according to the American Cancer Society. Initiation of antiretroviral therapy (ART) in patients with Kaposi's can also improve outcomes, but can occasionally cause an illness called immune reconstitution inflammatory syndrome, or IRIS, that leads to rapid progression of lesions and swelling. Knowing whether a patient has Kaposi's sarcoma can therefore inform patient monitoring when initiating ART.
Krown highlighted other ongoing studies in sub-Saharan Africa to evaluate treatments for earlier-stage Kaposi's sarcoma, such as a trial testing the efficacy of pomalidomide, a drug marketed by Celgene as Pomalyst that received accelerated approval to treat AIDS-related Kaposi's sarcoma from the US Food and Drug Administration in 2020.
"There needs to be a coordinated effort," Krown said, but "a combination of improved treatments for Kaposi's sarcoma, and improvements in the ability to recognize and diagnose Kaposi's sarcoma at an earlier stage, could well lead to improved outcomes."
Future directions
Rapid, simple diagnostics for diseases endemic to low-resource settings — such as malaria, schistosomiasis, sickle cell anemia, and tuberculosis — can potentially reduce suffering and save the lives of millions of children and adults each year.
Erickson said the team is considering connecting with nonprofits that support HIV-related diagnostics, but noted that up to this point the team has been fully funded by the NIH and NCI.
The cost of the TINY instrument and Kaposi's sarcoma assay are expected to be "cheap enough so that they can be deployed, such that cost isn't an issue," he said, but declined to specify an exact price. The low cost is related to the simplicity of the design, and the fact that the system is easily repairable and can run off a standard computer, he said.
Because TINY was specifically developed for Kaposi's sarcoma testing — which may require running only a handful of tests each week — it currently has capacity to run six assays at a time. But the team has also developed a system with increased throughput of 96 wells, which Erickson said would be useful for other infectious disease diagnostic needs. The instrument was deployed early in the pandemic for COVID-19 screening, for example.
NIH's Whitby also noted that the lack of a commercial KHSV assay — even in high-resource settings — has been a challenge for monitoring transplant recipients and is a major barrier to the development and testing of a vaccine for KSHV.
Going forward, Erickson said he is hoping that expanding its validation efforts into more clinical sites will help build local acceptance and grassroots support for the system. "That can build momentum for this new form of diagnosis," he said, as can connecting with local key opinion leaders. "We are trying to work upwards, rather than downwards."
While Erickson has a track record of starting companies, such as Halo Labs, VitaScan, and Dimensional Energy, he said the team is also looking into commercializing the system and the assay, either together or separately, in partnership with industry. He said he could envision the KHSV assay running on a system like the Cepheid GeneXpert, for example, which already has a large installed base in Africa.
"My preference is to partner with somebody who has a local footprint, so we can expand out more quickly," he said.
Cesarman is also looking forward to the team's approach being useful in the future. "We hope to see a time when we can quickly diagnose and treat Kaposi's sarcoma so patients can avoid so much suffering," she said.