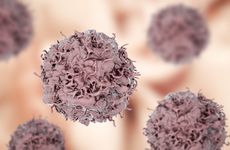 NEW YORK (GenomeWeb) – A pair of recent studies highlight the potential for proteomics to aid in the diagnosis of lung cancer as well as the challenges involved in the development of such assays.
Published in the Journal of Proteomics Research and Clinical Proteomics, respectively, the studies looked at early-stage discovery and validation of lung cancer markers and development of a clinical assay for detecting the disease.
In both cases, the work focused on analyzing pulmonary nodules detected during CT scans to determine whether they are likely benign or malignant. This has become a pressing need within pulmonology as increased imaging of high-risk patients has led to an increase in the number of such nodules that are detected and that must be evaluated.
A number of researchers and companies have set to using proteomics to address this question, the hope being that a blood test could help clinicians determine when a patient with a difficult-to-evaluate nodule should be passed on for more invasive procedures like fine needle biopsies or thoracotomies.
Most notably, in 2013 Integrated Diagnostics launched its Xpresys lung test, a mass spec-based proteomics test that measured 11 proteins in patient blood to rule out nodules as not cancerous. This year, the company announced it is launching a second-generation version of the test that measures just two proteins from the original panel along with clinical factors like nodule size, location, and morphology as well as patient age and smoking status.
According to Indi, this second-generation test is able to identify benign lung nodules with an average negative predictive value of around 97 percent. The original test's performance ranged from around 88 percent to 99 percent depending on the patient population.
These levels of performance were sufficient to bring the test to market and, in the case of the second-generation test, receive a draft guidance from Medicare contractor Palmetto GBA proposing its coverage. However, said Pierre Massion, professor of cancer research at Vanderbilt-Ingram Cancer Center, there remains room for improvement.
Massion is senior author on the recent JPR study in which he and his colleagues used mass spec-based proteome profiles to identify ten potential protein markers to distinguish between benign and malignant nodules.
Massion has worked with Indi on development of the Xpresys test but said he felt there was still "a lot of rationale for going back to the basics and rethinking [lung cancer] discovery efforts."
A major point of the JPR research is to focus not only on markers of cancer but also on markers of benign disease.
"We still have a hard time identifying markers that are cancer-specific," Massion said. "So our question is: Can we find markers that are specific to [benign] inflammatory reactions or granuloma? We want to eventually, by identifying with good certainty benign disease, increase the negative predictive value of a blood test. This is where we are going, but we're not there yet."
In the JPR study, which Massion characterized as "a very early step" in the larger goal of developing a lung nodule test, the researchers used mass spec to profile 34 resected benign lung nodules, and 24 untreated lung adenocarcinomas (ADC) along with biopsies of bronchial epithelium. In this set of samples they identified 65 proteins that differentiated nodules from ADCs and normal bronchial epithelium and 66 proteins that differentiated ADCs from nodules and normal bronchial epithelium.
They then used parallel-reaction monitoring mass spec to evaluate 43 of these markers in an independent cohort of 20 benign nodules, 21 ADCs, and 20 normal bronchial biopsies, identifying 10 proteins whose expression appeared significantly nodule-specific.
Following this up in tissue microarrays, the researchers confirmed that four proteins, ALOX5, ALOX5AP, ITGAX and SLC2A3, were nodule-specific, while one, CEACAM6, was cancer-specific.
Massion said that to his knowledge this was the first effort examine in depth the proteome of benign nodules, making it a somewhat new approach to the challenge of distinguishing between benign and malignant lung nodules.
Much more work remains to be done, though, he noted. For instance, the discovery research was done in tissue, and Massion and his colleagues have yet to look at their markers in blood.
Additionally, they have yet to demonstrate any clinical utility for any of the markers, he said, noting that "the path to the development of biomarkers is very tedious, very long, and very rigorous."
Looking ahead, Massion said the researchers are trying to better understand the biology underpinning the markers of benign disease with the idea of potentially combining that knowledge with proteomic and molecular imaging data.
He said he also continues to use the Indi test in a research setting generating additional validation for the test. He said he believes the second-generation Xpresys assay requires further clinical validation but that it is "on the right track."
"Whether the test is robust enough to provide people with great confidence that a [negative] test makes them comfortable not to pursue further diagnostic investigation of their nodule is a big deal," Massion said. "You don't want to miss the cancer. So it will take them a little more time to get to that level of confidence."
"To convince doctors to change their practice and the way they manage [patients] is a very difficult process," he added. "That's what every company who's trying to bring a biomarker in the field is facing. It's a tough deal."
The aforementioned Clinical Proteomics paper provides a look at the challenges Massion references. Published last month, the study, led by researchers at Quest Diagnostics, evaluated a set of blood-based lung cancer markers the company acquired in its 2011 acquisition of Celera.
The markers, or variants of them, have been under development for close to a decade, but the results of the Clinical Proteomics study suggests that a commercial test still remains a somewhat distant goal. At the 2009 American Association for Cancer Research's annual meeting, Celera presented data on a six-marker protein panel that the company said distinguished between lung cancer cases and controls with 94 percent sensitivity and 93 percent specificity and could prove useful in managing suspicious lung nodules picked up during imaging.
Based on those results, Celera said it was "expediting" commercialization of the test and predicted a 2012 launch.
Two years later, in 2011, the company presented again at AACR, this time on a study in 40 cases and controls in which the panel distinguished between benign and malignant lung lesions with sensitivity and specificity of 83 percent.
After purchasing Celera, Quest issued few reports on the status of the lung cancer program, but the Clinical Proteomics study found that a five-protein panel derived from this research distinguished between benign and malignant nodules with an area under the curve of .653, which, said Charlie Birse, scientific director at Quest, "falls short of the performance needed to be used in the clinic in the management of individuals with indeterminate nodules."
Birse declined to say whether, given this level of performance, Quest planned to continue moving ahead with proteomic test development in lung cancer, but he noted potential paths forward for the research.
One possibility, he said, is additional follow-up on two of the best performing markers from the five-protein panel: CEA and CYFRA 21-1.
"These proteins distinguished the malignant lesions from the benign nodules with reasonable performance," Birse said. "We feel they should be considered as possible complimenting components of future multi-marker test."
He also cited data he and his colleagues presented at the World Conference of Lung Cancer 2015 annual meeting that indicated that the panel described in the Clinical Proteomics paper did improve the performance of clinical measures when added to these measures.
Birse cautioned that "these were very preliminary results generated in a study evaluating a small number of individuals, 22 with benign nodules and 22 with malignant lesions."
Nonetheless, the findings "were encouraging," he said.