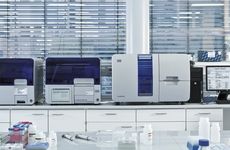 This article has been updated with information from Qiagen's website and from its workshop at the AMP annual meeting.
NEW YORK (GenomeWeb) – Qiagen today launched its long-awaited GeneReader next-generation sequencing system, along with a 12-gene cancer panel, at the Association for Molecular Pathology annual meeting in Austin, Texas.
The firm also presented results from an evaluation study by the Broad Institute that compared results from the GeneReader with those from existing clinical assays and other sequencing platforms.
The GeneReader NGS system, which is geared toward clinical laboratories, is not a standalone sequencing platform but an integrated package with multiple components that cover all steps to analyze a tissue sample, including sample and library preparation, target enrichment, sequencing, data analysis, and clinical reporting.
"Today, we are presenting what we think is the world's first sample-to-insight next-generation sequencing solution, designed for any laboratory to deliver actionable results," Qiagen CEO Peer Schatz told GenomeWeb.
While other NGS platforms require a plethora of ancillary equipment, reagents, and data analysis and interpretation tools from different vendors, resulting in a "highly fragmented" workflow that represents "a significant hurdle for many laboratories who want to use next-generation sequencing in a clinical practice," he said, Qiagen is now offering customers everything they need in one package.
The GeneReader NGS system includes the QiaCube for automated DNA extraction and library preparation; the GeneRead QiaCube for automated clonal amplification of libraries; the GeneReader sequencing instrument; and Qiagen Clinical Insight (QCI), a platform for sequence data analysis and variant interpretation that consists of two tools, QCI-Analyze and QCI-Interpret. It also includes a software package, GeneRead Link, that links the workflow to a Laboratory Information Management System.
Qiagen provided no technical performance data about the GeneReader sequencing instrument, but it can run between one and four flow cells, each with up to 10 samples, that users can load and start independently from each other, which Schatz said is important for clinical labs that do not have large numbers of patient samples and want to run them as soon as they get in.
Turnaround time is several days and varies by application, similar to other sequencing-by-synthesis NGS instruments.
As the first assay to run on the system, Qiagen launched the Actionable Insights Tumor Panel, which consists of 12 clinically actionable genes involved in breast, ovarian, colorectal, and lung cancer, as well as melanoma, that were selected based on clinical guidelines and reimbursement.
The panel, which can detect up to 1,250 genetic mutations, builds on the company's existing GeneRead DNAseq V2 panels and is the first in a new family of panels, called QiaAct, the company plans to develop that will focus on clinically actionable genes. Qiagen already has a large portfolio of NGS panels, Schatz said, and "we are slowly moving them over to the GeneReader and creating these integrated packages with the GeneReader."
He said the company found cancer to be the most attractive area for the GeneReader NGS initially. "We are targeting oncology because that's where the need is highest, where personalized medicine is most advanced, and where multi-gene panels have emerged as a real pressing need for better solutions."
Later on, Qiagen plans to move the system into other areas, such as hematology and infectious disease testing, and potentially into non-clinical areas, such as forensics, food testing, and veterinary testing, which are not yet commercially viable for NGS.
There will also be performance upgrades to the GeneReader NGS, including increased throughput and output per flow cell, as well as compatibility with different samples types, such as liquid biopsies.
Customers can purchase the GeneReader NGS suite under a new pricing model, called price-per-insight, where they do not pay for the hardware but for each clinical report the system generates. "We are the only company that can do that because we have the complete suite of all of the reagents, the consumables, assays, and informatics to make this possible," Schatz said.
Similar payment models, where customers commit to and pay for a certain number of assays rather than the instrumentation upfront, are common in the clinical diagnostics market, he explained, and Qiagen sells other instruments under that model.
Qiagen is not yet announcing pricing for the panels, which will differ between assays, but Schatz said they will likely be on par or less expensive than existing panels from competitors, which he said typically cost between $400 and $600 when all costs from sample preparation to report are included.
The company has already installed the GeneReader NGS at several undisclosed clinical laboratories, as well as at the Broad Institute. Qiagen is taking orders for the system now and expects to start shipping it before the end of this year. "It's clearly an attractive market, and we think that there is an annual volume of anywhere between 500 and 1,000 systems [to be] placed for this type of application every year," Schatz said.
The Broad Institute has tested the performance of the GeneReader NGS against a number of other platforms. It found that GeneReader NGS results with the Actionable Insights Tumor Panel on 43 previously tested FFPE colorectal cancer samples were 100 percent concordant with results from Qiagen's FDA-approved Therascreen KRAS RGQ PCR assay and Qiagen's CE-marked Therascreen RAS Extension Pyro Assay, and identified additional mutations.
The GeneReader also agreed 100 percent with data generated on an Illumina MiSeq, but Qiagen said that because the GeneReader data had fewer FFPE artifacts, "it rendered a more accurate reflection of genuine somatic mutations in the samples."
Scott Steelman, associate director of technology labs at the Broad, presented data from the study at a Qiagen-sponsored workshop at AMP this week and pointed out that the GeneReader achieved "outstanding coverage" for the FFPE samples. He said that 92 percent of bases in the amplicons were sequenced with greater than 500-fold coverage, and 97.2 percent with greater than 200-fold coverage.
Going forward, Qiagen plans to take the GeneReader NGS through FDA clearance and is currently working with several pharmaceutical partners and customers on a timeline and the best panel test to submit to the FDA, Schatz said.
Overall, the new system will mostly compete against and seek to replace, "complex homebrew workflows," Schatz said, which many clinical laboratories have implemented for NGS-based assays. "They can put away all of that and simply say they have an off-the-shelf one-partner solution that is giving them this focus on results versus the focus on the workflow," he said.