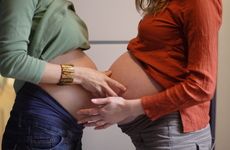 SAN FRANCISCO (GenomeWeb) – Natera said this week that it is developing a new noninvasive prenatal test that will look for de novo mutations in single-gene disorders. The firm is collaborating with Baylor Genetics to develop the test, which it calls Vistara.
During a conference call discussing the firm's first quarter results, CEO Matt Rabinowitz said that Vistara, along with its recently launched cord blood collection service Evercord, would add to the firm's suite of women's health products.
Meanwhile, progress on the reimbursement front continues to be steady, if slow, and Natera is also readying its circulating tumor DNA assay for launch, first in the research market later this year and for clinical testing next year.
Reproductive health
The noninvasive sequencing-based Vistara test will analyze 30 genes associated with disorders such as Rett syndrome and other severe skeletal, cardiac, and neurological conditions. Mutations in such genes often occur de novo so cannot be detected with carrier screening and incidences are higher with advanced paternal age. The conditions are often "undetected until after birth and into childhood," Rabinowitz said. The screened disorders have a combined incidence of 1 in 600 pregnancies, higher than Down syndrome and cystic fibrosis, he added.
Initially, the test will be available in a limited fashion to select maternal fetal medicine specialists and key opinion leaders, Rabinowitz said, but ultimately will be broadly available. The firm has been collaborating with Baylor, which launched a test in January called PreSeek, to develop the test and to help them improve metrics like the redraw rate, Rabinowitz said in a follow up interview.
Rabinowitz said that the firm planned to publish the validation of the assay, which he said had a combined analytical sensitivity and combined analytical specificity of greater than 99 percent each.
The launch of Vistara follows on the heels of the launch of Evercord, a service that enables expecting parents to collect, store, and retrieve their newborn's cord blood and tissue for therapeutic use. Vistara fits in with Natera's suite of reproductive health products in a similar fashion, enabling the company to engage with patients and physicians from pre-pregnancy through birth.
Rabinowitz did not disclose the price of Vistara, but said testing would be billed to insurance companies. "There are existing reimbursement rates for the conditions" included in the Vistara test, he said. The new products are "cutting edge and leverage the existing channel and access to Ob/Gyns," Rabinowitz said.
Aside from the new reproductive health products, the firm is continuing to make slow but steady progress in getting reimbursed for its chromosomal aneuploidy NIPT for average-risk pregnancies and microdeletion testing, Rabinowitz said.
Thus far, insurers representing 105 million covered lives have a medical coverage policy that reimburses for average-risk NIPT, Rabinowitz said. "Ubiquitous coverage is inevitable."
Nonetheless, Natera ran approximately 26,000 average-risk Panorama tests in the quarter that were not reimbursed. In addition, despite recently securing a CPT code priced at $802 for microdeletion testing, only about 10 percent of its microdeletion tests were reimbursed, leaving around 40,000 unreimbursed tests in the quarter. Rabinowitz anticipated that data from its SNP-based Microdeletion and Aneuploidy Registry (SMART) trial, a prospective trial that tracks birth outcomes of 10,000 patients who receive prenatal microdeletion testing, would help generate data that would increase reimbursement. He said that initial data would be released in 2018.
Rabinowitz added that Natera's current and future portfolio of women's health products constituted a total addressable market of $15 billion in the US.
Oncology
Aside from reproductive health, Natera is pushing forward its oncology program. Last month, researchers led by Charles Swanton, a professor at the Francis Crick Institute in the UK, published initial results of 100 patients participating in the Tracking Cancer Evolution through Therapy (TRACERx) trial.
During the conference call, Solomon Moshkevich, Natera's senior vice president of products and strategy, said that Natera aimed to develop a liquid biopsy assay that would be fundamentally different from others currently on the market. Rather than a pan-cancer assay, he said that the company would build individualized assays specific to mutations identified in a patient's tumor.
"Our proprietary technology lets us quickly and cheaply build these assays," he said, while "multiplexing capability lets us test for dozens of mutations," he said. Moshkevich estimated that the liquid biopsy assay would be priced at around $500.
The firm plans to launch the test as a research-use-only product in the second half of the year and for clinical use in 2018.