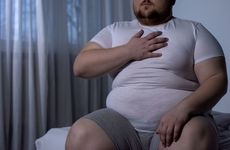 NEW YORK (GenomeWeb) – Clinicians at the Mayo Clinic are developing a multiomics blood test that combines DNA, protein, and metabolic biomarkers to identify obesity phenotypes and guide more precise administration of medication for weight loss.
By associating US Food and Drug Administration-approved medications with four obesity phenotypes, the researchers have been able to increase the rate of response to weight loss medications from 35 percent to 74 percent of patients undertaking testing during two randomized trials, Andres Acosta, an assistant professor of medicine at the Mayo Clinic in Rochester, Minnesota, and one of the test's developers, said in an interview.
Last year, Acosta and fellow Mayo Clinic gastroenterologist and researcher Michael Camilleri spun out Minnesota-based Phenomix Sciences to commercialize the multiomics approach and test, and they are now preparing a study to evaluate the prototype that they have developed and on which they have done the preliminary testing.
Their approach comes as clinicians who treat people with obesity are finding it challenging to have more people adopt medications.
Use of medication to treat obesity is "an underutilized approach," and at the same time "we are trying to grow the workforce and offer better treatment," Eduardo Grunvald, an obesity medicine physician and medical director of the weight management program at University of California San Diego Health, La Jolla, said in an interview. "It's worthwhile to have a more personalized, predictive approach that provides a better way to select the right medication for the right patient," said Grunvald, who has not been involved in developing the Phenomix Sciences test but has been in contact with the firm and may participate in future clinical validation studies.
Of the 116 million people who are candidates for a medical weight-loss intervention that could include medications and surgeries, only 1 percent currently receives medication, according to Phenomix Chief Operating Officer Ross Higgins. A major reason for that has been an inability to select the right patient for the right medication, he said.
"If you compare [the Phenomix Sciences approach] to the standard approach for selecting patients for obesity medications, it gives you better results," Grunvald said. It's still early days in the process of validating the test, he said, but "the data I have seen are promising."
Selecting patients for weight loss requires a lot of trial-and-error, according to obesity clinicians. The FDA has cleared six medications for marketing in the US and many others are in the development pipeline. They are sometimes prescribed based on their side effect profiles and to minimize associated patient distress and based on cost, which is usually not reimbursed by insurance. On average, people currently taking medications lose about as much weight as they would lose on a diet and exercise program, and that has held back uptake.
With an objective to drive better patient outcomes using medications, surgeries, and other techniques, Acosta and his colleagues began six years ago to look into ways to solve the problem of low response rates to obesity medications at the Mayo Clinic.
Since 2013, they have received National Institutes of Health funding for several studies to improve obesity research and outcomes. In 2015, they reported in Gastroenterology that they found that quantitative traits were associated with high body-mass index and "can distinguish obesity phenotypes" and predict response to pharmacotherapy.
"While studying the pathophysiology of obesity, we realized that we could classify the four obesity groups using machine-learning algorithms," Acosta said. They classified obesity into satiation; satiety or return to hunger; psychological; and energy expenditure phenotypes.
Inputs to the machine-learning model that identified the obesity phenotypes included patient demographics, comorbidities, food intake, and results of brain MRIs, and measurements of gastric emptying and accommodation, satiety hormones, energy expenditure, and metabolism. Costa said that in deriving the current set of biomarkers for its panel, the investigators conducted a GWAS study that included 2.4 million SNPs. They also evaluated 100 metabolites and six hormone proteins before deciding on the biomarkers in the current panel.
Thus far, the firm has tested its approach in three placebo-controlled, double-blinded, randomized trials with 24, 20, and 40 participants. It is currently conducting a randomized trial with 200 participants and plans to soon start a 2,000-participant trial.
Acosta said that the multiomics test operates from a blood draw and predicts phenotypes using a patient questionnaire as well as six DNA biomarkers, two hormone biomarkers, and 30 metabolic biomarkers. The firm is preparing a publication that describes early validation of the biomarkers, he said.
The company will launch its test using two platforms. For DNA identification, the firm is using PCR platform to interrogate SNPs, and for metabolite and protein identification the firm is using liquid chromatography mass spectrometry (LCMS). Measurements for each analyte provide inputs for a treatment algorithm.
In the studies completed thus far, the approach identified patients with 90 percent accuracy, Acosta said. The algorithm guides a specific choice of medication and/or surgeries based on a person's obesity phenotype.
Louis Aronne, an internal medicine clinician and head of the Comprehensive Weight Control Center at Weill Cornell Medicine in New York, said that the Phenomix Sciences pheno test could help investigators solve one of the "major conundrums" in the field of obesity treatment — medicine works well for some people but not for others, and clinicians haven't had an effective way to increase the precision of prescribing.
However, based on early clinical validation studies of the Phenomix Sciences test, a clinician can almost double the likelihood that someone is going to respond to a medication-based treatment regimen, and double the average weight loss to greater than 13 percent of body weight in a year, which can result in significant health benefits, Aronne said.
He noted that he has been treating patients for obesity and related metabolic problems for more the 30 years. He has published academic papers with the Phenomix Sciences cofounders but has not been involved in developing the multiomics test though he is now considering working with the group to help it further validate the platform.
Phenomix Sciences recently closed a crowdfunded financing round that raised $350,000 and began using some of the proceeds to complete installation of a laboratory from which it intends to begin running a lab-developed test later this year, pending CLIA approval and CAP accreditation.
The firm is continuing to raise funds from friends, family, and private investors as it puts in place some of the early key components of its business, including doing market development and planning, Higgins said in an interview. The firm is preparing a controlled launch of its panel and currently collaborating in studies with 10 US obesity clinics, he added.
Assuming positive results from the study, Phenomix Biosciences hopes to begin broadening its market outreach around the end of this year. Over the next few months, the firm expects to build a market development and sales team that will target some of the 3,200 American Board of Obesity Medicine physicians in the US, Higgins said.
While the firm intends to commercialize a laboratory-developed test, it could eventually look to obtain FDA clearance as it evaluates different distribution models, including selling test kits to labs, Higgins noted.
For now, the firm anticipates launching its test at a price point of $599. Acosta said that the firm plans to "work aggressively with payors on health economic pilots to drive a positive coverage decision in the future."