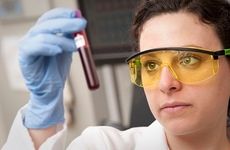 SAN FRANCISCO (GenomeWeb) – As liquid biopsy companies attempt to develop ever more sensitive tests for cancer detection, many are beginning to see value in looking at more than one analyte, including circulating tumor DNA, circulating tumor cells, protein markers, and methylation, either in the same test or for different applications.
Over the years, researchers have argued over whether ctDNA or CTCs were more useful biomarkers for noninvasive cancer detection and tumor mutation profiling. While CTCs contain the entire tumor genome and may be indicative of metastasis, they are extremely rare and, so, difficult to detect. As such, in recent years, ctDNA has taken the lead with a number of companies in the US launching laboratory-developed tests that analyze ctDNA for therapy selection or recurrence monitoring. Such tests have become useful for late stage cancer patients for whom an invasive biopsy may not be possible, but, as researchers increasingly seek to detect cancer at earlier stages, many are now expanding beyond ctDNA.
At the Precision Medicine World Conference last week in Mountain View, California, several companies described their progress on such tests, and noted that tests that detected multiple analytes at once often had better sensitivity. In addition, the different markers have advantages for different applications.
Commenting on a recent study from Johns Hopkins University that looked at a combination of ctDNA and protein markers to determine whether an individual had cancer, Anne-Renee Hartman, vice president of clinical development at Grail, said that "the approach of looking at focused amplicons and integrating proteins is very interesting and speaks to the fact that it's not likely to be a single feature" that is able to diagnose cancer early.
Grail is currently testing a range of approaches in its circulating cancer genome atlas (CCGA) study, including sequencing of both ctDNA and ctRNA, as well as bisulfite sequencing of ctDNA to look at methylation.
Atul Sharan, CEO of CellMax Life, said in a follow-up interview that while his firm initially focused on CTCs, "the premise was always that we needed multiple biomarkers." Looking at multiple biomarkers will be important both for early detection and to keep costs low, which will be important for serial testing in recurrence monitoring, he said.
"The answer will be to use multiple analytes to solve the more difficult problem" of early detection, Sharan predicted.
CellMax currently sells a CTC test for colorectal cancer from its lab in Taiwan, and recently presented data demonstrating that its sensitivity ranged from 77 percent for precancerous lesions to 87 percent for stage I-IV cancers, with a specificity of 97 percent.
The firm has also developed ctDNA profiling technology, and is collecting data on CTCs, ctDNA, and other biomarkers like methylation and gene expression, Sharan said. One particularly promising biomarker is the cell-membrane protein PD-L1, which is important for determining which patients may respond to immunotherapy, and could potentially be coupled with ctDNA analysis to predict response to other therapies, he said. Sharan said at the conference that CellMax is interested in partnering with pharmaceutical companies to develop such assays.
Genomic Health's Chief Medical Officer Phil Febbo also said in a presentation that CTCs, ctDNA, and gene expression are "all important analytes" for liquid biopsy. It currently markets OncotypeSeq, a 17-gene liquid biopsy assay based on sequencing ctDNA. But, it is also developing two other prostate cancer-specific liquid biopsy tests — OncotypeDx AR-V7 and Prostate IsoPSA. It will commercialize the OncotypeDx AR-V7 test, which detects the V7 variant of the androgen receptor protein in CTCs, in collaboration with Epic Sciences.
Febbo said that the company anticipates launching that test in the first quarter of this year. And, it is developing the IsoPSA test, which will also be a protein-based CTC liquid biopsy, in collaboration with Cleveland Diagnostics, using its proprietary IsoPSA reagents and technology to analyze structural changes and isoforms of PSA.
Guardant Health, one of the first companies to launch a multigene NGS-based ctDNA test, is now looking to expand beyond ctDNA. Guardant CEO Helmy Eltoukhy said during a presentation that the company is making progress in looking at both epigenetic signatures, like methylation, as well as immune signatures. "I think we'll see more and more use of this type of testing modality," he said. "Cancer is complicated and we keep underestimating the complexity of the disease."