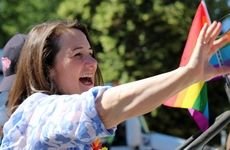 NEW YORK (GenomeWeb) – The US Food and Drug Administration has proposed new legislative language for the Diagnostic Accuracy and Innovation Act (DAIA), departing significantly from the regulatory framework that House Representatives Larry Bucshon (R-IN) and Diana DeGette (D-CO) had drafted with extensive input from stakeholders.
The agency in May provided high-level comments to legislators on this draft bill, and it proposed that any new regulatory framework for diagnostics include a precertification program, providing a path through which test developers could exempt a category of similar tests from premarket review requirements. 
On Aug. 3, the FDA provided Bucshon and DeGette more detailed recommendations for how they might address regulation of so-called in vitro clinical tests via legislation. The FDA's version includes provisions related to premarket approval, provisional approval, and a precertification program, and makes explicit its authority to revoke approval, request raw data, and take corrective action against test developers in order to protect the public health.
The agency said in its documents to Bucshon and DeGette that its proposals are intended to establish a balanced regulatory approach that allows the monitoring of currently marketed tests but also ensures new tests can come to market using a flexible and efficient pathway. According to the FDA, its proposals aim to establish a framework that doesn't hinder access to tests already on the market or for rare diseases, for example, but where the agency also has the power to remove tests from the market that put the public health at risk.
Industry stakeholders with copies of FDA's proposed bill said they needed more time to review the agency's detailed recommendations. They had been expecting the agency to submit line edits to the working draft of DAIA that Bucshon and DeGette released last year, and with which most in the lab industry are familiar. Some policy experts who didn't want to be quoted at this time felt that in many ways that what the FDA had submitted to legislators was an entirely new bill. 
A working draft of DAIA has come together over the past three years following efforts by a coalition of diagnostic manufacturers and labs to craft an industry-led solution to the longstanding controversy surrounding FDA regulation of lab-developed tests. The FDA has historically practiced enforcement discretion over LDTs, and although the agency has repeatedly tried to regulate these tests noting more complex technologies, broader marketing, and increasing risks to public health, the lab industry and pathologist groups have maintained that the agency lacks statutory authority to regulate lab activities, which are overseen by the Centers for Medicare & Medicaid Services under the Clinical Laboratory Improvement Amendments.
However, the so-called Diagnostic Test Working Group's suggestions in 2015 for a new framework has garnered far more lab industry backing than FDA's 2014 draft guidance for regulating LDTs. The group recommends the regulation of a new category comprising test kits and LDTs, called in vitro clinical tests, to be spread across FDA, CMS, and the states. The DTWG's ideas found support among House Energy & Commerce Committee members Bucshon and DeGette, resulting in a draft bill that legislators released for stakeholder comment last year. 
It's unclear at this point whether lab industry players will come together behind FDA's vision for DAIA.
To start, the agency's definition for IVCTs is notably different from the draft bill released last year. The 2017 version defines IVCTs as a laboratory test protocol or a finished product (test kit) that is used in disease detection, screening, prediction, and monitoring, and for selecting treatment based on analysis of human samples. According to FDA's definition, the agency would also consider test protocols, test platforms, and software used for these same purposes to be IVCTs. The agency had indicated in its high-level comments to legislators that the draft bill as written may leave test platforms with insufficient regulatory oversight.
Notably, the FDA does not specifically mention the terms "finished product," "laboratory test protocol," or "laboratory-developed test" in its definition of IVCTs or anywhere in its legislative proposals.
The 2017 draft of DAIA establishes a process for determining whether at test is low-risk, moderate-risk, or high risk, and outlines regulatory requirements in line with the test's risk level. The FDA, in contrast, defines high- and low-risk test categories but doesn't mention a moderate-risk category, which according to the 2017 draft bill, would have comprised a significant number of tests.
The FDA's proposed framework involves premarket approval, provisional approval, and precertification, though the agency envisions that a substantial portion of tests would be exempt from premarket review and other requirments.
For manual, public health surveillance, law enforcement, and investigational tests, developers would be exempt from notification, premarket review, adverse event reporting, quality systems, and labeling requirements. For low volume tests, developers would have to report adverse events and include labeling; for grandfathered tests, they would have to notify FDA and report adverse events; while for tests for rare diseases, developers would be exempt from premarket review but subject to other requirements. High-risk tests would require premarket review under the agency's plan, and be subject to labeling, quality systems, adverse event reporting, and notification requirements.
Tests with priority review status — for example, tests that use breakthrough technology or address an unmet need — could be provisionally approved by the agency, allowing developers to bring them to market on an expedited time frame and remain on the market as long as they complete and submit post-market studies within the specified time frame. The agency can also establish "mitigating measures," where, by following certain FDA requirements, a test developer can limit the risk for patient harm from an erroneous result.
Although the FDA has implemented a precertification program in the digital health space, the agency for the first time detailed how such a framework could be applied to IVCTs. The agency is expecting that this could be a least burdensome pathway for a significant number of tests.
A test developer could apply for precertification for a group of tests that use a single technology or test method, and have other elements in common, such as the analytes they measure, the kinds of samples they analyze, the diseases they address, their purpose (such as monitoring or predicting disease), their intended population, and the type of facility in which they're to be used. In order to garner precertification, the test developer would have to submit premarket review information for one test representative of the group of tests, and describe the test methodology, analytical and clinical validation procedures for all IVCTs that fall under that category.
After achieving precertification, the developer could launch new tests that fall in that group without having to garner premarket review. The agency used a similar approach last year to authorize 23andMe's direct-to-consumer health risk tests. 
The precertification would be valid for a period of two years, after which test developers must reapply submitting information on a different test representative of the precertified group. If during this period, pertinent aspects of the test group change, such as the underlying test methodologies, then those IVCTs wouldn't be eligible for renewal.   
Previously, the agency had expressed its wish to make greater use of third-party reviewers and to limit premarket submissions when developers make changes to tests following prespecified protocols. These ideas have found their way into the FDA's version of DAIA.
In its high-level comments to legislators in May, the FDA flagged provisions in the draft bill that would make it harder to meet its obligation to protect the public health. For example, the agency felt certain language in the bill restricted its ability to ask for raw data to further evaluate the analytical and clinical validity of IVCTs. In its version of the bill, the FDA makes explicit that raw data should be submitted for high-risk, cross-referenced, or first-of-a-kind tests, and that the U.S. Department of Health and Human Services secretary can request raw data for any other test.
Another area of concern for FDA was that the draft bill contained strict review timelines that if the agency failed to meet, would result in the test being automatically approved. These timelines are not in FDA's version of the bill.
The FDA also didn't like the proposal to create a new center for IVCTs, which it said would be costly and unnecessary. Instead the agency proposes the creation of collaborative communities of private and public sector stakeholders who can advise the FDA on mitigating measures and performance standards for IVCTs.