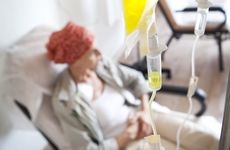 NEW YORK – Postmenopausal, early-stage breast cancer patients whose disease has spread to the lymph nodes may not derive additional benefit from adjuvant chemotherapy if they have an Oncotype DX score of 25 or lower, according to new results from an ongoing clinical trial.
At the San Antonio Breast Cancer Symposium this week, researchers led by Kevin Kalinsky, director of the Glenn Family Breast Center at the Winship Cancer Institute, presented five-year follow-up data from the RxPONDER trial, in which they explored whether Exact Sciences' multi-gene expression breast cancer recurrence test Oncotype DX could accurately predict which node-positive, early-stage breast cancer patients could safely forgo chemotherapy.
In Kalinsky's view, the interim data are a step toward more personalized treatment strategies for breast cancer patients who are currently thought to be at higher risk of recurrence based on their node-positive status. "The take-home message [is that] postmenopausal women with one to three lymph nodes involved and a recurrence score of 0 to 25 can likely safely forgo adjuvant chemotherapy without compromising invasive disease-free survival," he said. "This will save tens of thousands of women the time, expense, and potentially harmful side effects that can be associated with chemotherapy infusion."
On the other hand, interim data from RxPONDER suggests that premenopausal women with positive lymph nodes and test scores in the 0 to 25 range will likely derive significant benefit from the addition of chemotherapy to endocrine therapy, he said.
However, other breast cancer experts at the meeting were more cautious in interpreting the data and not entirely convinced that all early-stage, hormone receptor (HR)-positive, HER2-negative, node-positive, premenopausal women should be recommended chemotherapy in addition to endocrine therapy. Specifically, other oncologists wondered whether the benefits being attributed to adjuvant chemotherapy in the premenopausal group could actually be due to the loss of menses (amenorrhea) during chemo, which lowers estrogen levels and reduces the risk of cancer recurrence. If so, then this type of ovarian suppression could be achieved without chemo in premenopausal patients, they suggested.
Kent Osborne, founding director of the Duncan Comprehensive Cancer Center at Baylor College of Medicine, for one could not come up with a biological rationale for why chemotherapy should work differently in premenopausal and postmenopausal women. "Until we show that this is not a [chemo-induced] endocrine effect, I'm pretty skeptical," he said. "I just can't imagine why that group of [premenopausal] patients, even the ones with a very low Oncotype DX [score], would have a different response to chemotherapy."
Around 25 percent of HR-positive, HER2-negative, early-stage breast cancer patients in the US have disease that involves one to three lymph nodes and are considered to be at higher risk of recurrence than those with node-negative disease. As such, three-quarters of women in this subset receive chemotherapy. "The results of RxPONDER will allow tens of thousands of women each year to avoid unnecessary chemotherapy," Exact Sciences Chief Medical Officer Steven Shak said.
The TAILORx trial established the ability of the Oncotype DX test to identify early-stage breast cancer patients who can forgo chemo, but focused on women whose disease hadn't spread to the lymph nodes.  That study, published in the New England Journal of Medicine in 2018, enrolled more than 10,000 women and found that patients with Oncotype DX scores in the intermediate range, 11 to 25, don't garner any additional benefit from adding chemo to endocrine therapy if they are over 50 years of age. 
"It's been unclear whether the TAILORx results can be extrapolated to those with node-positive breast cancer," said Kalinsky, noting that a retrospective analysis of another study, SWOG-8814, suggested that postmenopausal breast cancer patients with lymph node involvement and low Oncotype DX recurrence scores may not derive benefit from adjuvant chemo. 
The international Phase III RxPONDER study, coordinated by Southwest Oncology Group and sponsored by the National Cancer Institute, screened approximately 9,400 patients with stage II/III, HR-positive, HER2-negative, lymph node-positive breast cancer with Oncotype DX between 2011 and 2017.
Researchers enrolled around 5,000 patients with an Oncotype DX recurrence score of 25 or lower and randomized them to receive either endocrine therapy or endocrine therapy plus chemotherapy. In this ongoing study, researchers are primarily tracking the difference in invasive disease-free survival between the two groups, which is a measure of how long patients are alive before experiencing a breast cancer recurrence, another invasive cancer diagnosis, or death for any reason.
At the time of interim analysis with five years of follow-up data, 447 out of 5,015 randomized patients had experienced one of these events, accounting for more than half of the events expected in the study. An independent data safety monitoring committee and NCI decided in November to report the interim analysis findings.
When Kalinsky and colleagues looked at the entire cohort, they found that by themselves, Oncotype DX recurrence scores between 0 and 25 did not predict which patients benefitted from the addition of chemotherapy. However, they also considered whether the association between recurrence scores and chemo outcomes could be influenced by other factors, such as patients' menopausal status. Two-thirds of the enrolled patients in RxPONDER were postmenopausal.
"We observed that while premenopausal women with an [Oncotype DX] recurrence score of 0 to 25 have an invasive disease-free survival benefit with the addition of chemotherapy, postmenopausal women do not," Kalinsky said. In premenopausal women, the five-year invasive disease-free survival rate was 94 percent for those receiving chemo and endocrine therapy, and 89 percent for those in the endocrine-only arm.
Researchers considered whether there were subgroups of women, for example based on the number of positive nodes, who might respond differently to the addition of chemotherapy. They found that there were no subgroups of postmenopausal women who benefitted from the addition of chemo, while all subgroups benefitted from chemo in the premenopausal cohort. Specifically, premenopausal women benefitted from chemo regardless of whether they had very low Oncotype DX scores in the 0-to-13 range or low scores in the 14-to-25 range.
Among postmenopausal women, however, the invasive disease-free survival rate at five years was around 92 percent in both groups. 
Similarly, there was around a 1 percent difference in five-year overall survival rates in the premenopausal group, favoring chemotherapy-treated patients. In postmenopausal women, the overall survival rate was 96 percent in both treatment groups.
"This report is an interim analysis of an important randomized trial," said Osborne, reflecting on the RxPONDER data. "The results clearly show no benefit to adding chemotherapy to standard endocrine therapy in postmenopausal patients despite having positive nodes, emphasizing that node positivity, while an important prognostic marker, is not a predictive marker of chemotherapy sensitivity."
He was more circumspect regarding Kalinsky's conclusions about possibly treating node-positive premenopausal women with chemotherapy if they had Oncotype DX scores between 0 and 25. The endocrine therapy most premenopausal women received in this trial was tamoxifen. However, the standard of care today for these patients would be to give drugs that stop ovaries from making estrogen, as well as an aromatase inhibitor, which blocks the production of estrogen, or tamoxifen, an estrogen receptor modulator. Ovarian suppression can reduce the risk of cancer recurrence in patients.
However, chemotherapy also has endocrine effects, for example, by stopping menses. Osborne questioned whether the benefit seen in premenopausal women with added chemo may be due to the ovarian suppression that results from this treatment, rather than a true biological difference between premenopausal and postmenopausal women being captured by the Oncotype DX test.  "Unfortunately, we may never know the answer to this question," he said.
Virginia Kaklamani, head of the breast cancer program at UT Health San Antonio, agreed that the benefits seen with added chemo in premenopausal women in the study is likely due to the ovarian suppression effect of chemo. In reviewing the study data, she noted that prior studies have suggested that ovarian suppression "can help as much as chemotherapy" in staving off recurrence. She noted the need for a large, prospective trial comparing the efficacy of ovarian suppression against chemotherapy in premenopausal breast cancer patients.
Kalinsky acknowledged that this is a "critical" question raised by RxPONDER that he and his colleagues tried to explore. In the study, 16 percent of premenopausal women received ovarian suppression in the endocrine therapy-only arm, while 3 percent received it in the chemo-plus-endocrine therapy arm and there was no significant difference in invasive disease-free survival between these groups. Kalinsky's group will continue to follow patients and update the study results, as well as conduct other exploratory analyses, which may provide additional insights on the impact of chemo-induced amenorrhea.
The RxPONDER data are similar to results from the MINDACT study, which showed that Agendia's 70-gene expression MammaPrint test could identify early-stage, node-positive women who are at low risk of recurrence and could do well without chemotherapy despite having clinical high-risk cancer features. According to a more recent subgroup analysis based on eight years of follow up, researchers reported earlier this year that postmenopausal women deemed clinically high risk, but low risk by MammaPrint, may be able to safely forgo chemo, while premenopausal women might benefit from chemo. However, the MINDACT researchers similarly recognized that this effect may be due to chemo-induced ovarian suppression. 
"The benefit of chemotherapy shown in premenopausal patients in RxPONDER may be a direct effect of chemotherapy on the tumor, may be due to suppression of the ovaries by chemotherapy, or may be due to a combination of both effects," Shak said. "We believe that this is a very important question for future research and look forward to working with the research community on it." Although RxPONDER wasn't powered to specifically address this, Kalinsky said, the field should consider whether an adequately powered study needs to be done.
Even with the uncertainty around this point, Shak said that RxPONDER provides "the highest level of evidence" supporting the use of Oncotype DX to guide chemotherapy use in node-positive breast cancer patients. "The RxPONDER results will greatly inform physicians and patients and will enable more individualized decisions for postmenopausal and premenopausal patients," he said. 
As with the TAILORx trial, the results of RxPONDER will impact how Exact markets Oncotype DX in the node-positive setting, as well as how it reports results. In 2018, following the publication of TAILORx data, Genomic Health (which developed Oncotype DX and was acquired by Exact) updated the test report to provide patients individualized estimates of distant recurrence risk and absolute chemotherapy benefit.
Similarly, in the next two months, Exact will add a cover sheet to test reports highlighting the RxPONDER findings and by next year, will provide published data from the study in the report. Shak said the company will also gather feedback from the medical community, work on updating practice guidelines based on the study results, and incorporate that information into the report.
RxPONDER may also influence Oncotype DX's cutoffs for guiding decisions about chemotherapy in node-positive patients based on menopausal status. Currently, in line with the results of the SWOG-8814 trial, node-positive patients' recurrence scores are interpreted according to three categories: 0 to 17 suggests no chemotherapy benefit, 18 to 30 indicates potential benefit, and 31 to 100 reflects substantial benefit. "It is now clear from RxPONDER, based on the recurrence score for postmenopausal patients, that the cut point of 26 can be used to select patients for chemotherapy treatment," Shak said, adding that the use of the test in premenopausal, node-positive patients will likely still be guided by the SWOG study.