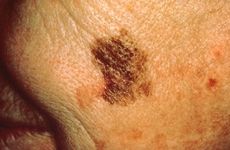 NEW YORK (GenomeWeb) – With its adhesive tape technology already implemented in select dermatology offices across the US, DermTech plans to publish an economic study that claims its pigmented lesion assay (PLA) technology will save insurers upwards of $700 per melanoma testing procedure.
The firm's non-invasive PLA technology assesses skin cells to distinguish potential melanoma-associated gene expression from benign pigmented skin lesions.
"We take advantage of the unique physiology of the skin, [since] it carries signals from the deeper layers of the epidermis, and those cells migrate from the bottom to the top, and with that, they carry all these signals we look at, [including] gene expression, DNA, and the microbiome," DermTech CEO John Dobak explained.  
DermTech primarily sells its adhesive patches to dermatologists in the US. The company currently has 400 early adopters of the technology, who administer the test four to eight times a month.
Gary Peck, former director of the Melanoma Center at the Washington Hospital Center, has used DermTech's adhesive tape technology for the past two years. In an interview, Peck mentioned that his office has performed at least 700 tests with the DermTech product, and about 10 percent have been diagnosed as positive for melanoma.
"What that means is that 90 percent of our patients have been saved from a surgical biopsy, [and] the patients are extremely happy that way," Peck said. "When we do follow up on the ones we've tested that came back negative, none of them have evolved into a melanoma."  
Dobak said that DermTech will publish an economic study by the end of September that will further detail the cost savings of its technology. He explained that patients will save closer to $400 to $700 because they will potentially avoid multiple procedures and special stains in order to detect whether their cells have melanoma or not.  
While DermTech is touting the assay's accuracy and reliability for diagnosing melanoma, the assay's costs might be a major factor for clinicians, healthcare companies, and patients.
Dobak said that the overall charge for one of DermTech's adhesive tapes will be set between $400 and $500. To placate the company's intended market, he emphasized the importance and potential financial impact of the company's PLA technology.
"If we charge $400 to $500 per test, we save $250 to $350 for healthcare systems, since we're reducing the number of unnecessary procedures. [We are] reducing the variability in the whole assessment, and the number of surgical costs," he said.
In a study published earlier this year in JAMA, researchers examined if DermTech's noninvasive adhesive patch biopsy technology could alter dermatologists' decisions as to whether to biopsy primarily pigmented lesions suggestive of melanoma. After incorporating the PLA, dermatologists improved biopsy specificity while maintaining or improving sensitivity. The result may increase the number of early melanomas biopsied and reduce the number of benign lesions biopsied, thereby improving patient outcomes and reducing healthcare costs, the authors said.
Dermtech has already secured payor coverage with CareFirst Blue Cross/Blue Shield and its affiliate CareFirst BlueChoice for its PLA assay. The firm has also signed agreements with pharmaceutical companies including Biogen and MedImmune among others, who are currently deploying DermTech's technology in Phase I and Phase II programs for biologics, allowing researchers to identify biomarkers for specific diseases and track patients' drug responses.
According to Dobak, there are 8 to 10 million surgical skin biopsies performed each year in the US to diagnose all skin cancers.Two to three million of those are performed on pigmented lesions, which Dobak believes creates a total available market opportunity greater than $2.5 billion that his company plans to tackle.
"It's a very subjective diagnosis," Dobak said. "Whether you're looking at [the moles] visually on the skin, or when you cut it out and look at it under the microscope, you're still looking at very subtle visual changes, and it's a problem with the accuracy, and that's what leads to unnecessary biopsies."
Based in La Jolla, California, DermTech was founded in 1996 as a clinical research organization providing dermatologic services. The firm began developing its adhesive tape technology when the company's customer relationship office received requests from customers for a way to obtain information about the skin without performing a surgical biopsy. In 2007, the company shifted gears and became more of a life sciences company focused on marketing its novel technology.
With the PLA technology, clinicians first apply a non-invasive patch that samples the patient's epidermal tissue. The patch collects stratum corneum tissue from nearly all parts of the body, with the exception of mucosal surfaces, palmar and plantar surfaces, and the scalp. Collected samples are shipped to DermTech's laboratories at an ambient temperature, avoiding the need for special storage and handling.  
DermTech researchers extract the DNA or RNA and perform qPCR on two genetic biomarkers that they believe correlate with a high risk for melanoma. The first gene, LINC 00518, is a new class of regulatory RNA called long-coding RNA that help regulate cell function, while the second gene, PRAME, is a well-known common cancer biomarker that was originally linked to melanoma. By looking at the two genes together, researchers can provide an accurate assessment of the risk for melanomas in pigmented lesions.
Doctors receive results in five business days or less, which allow their patients to have a definitive answer as to whether or not their lesions are at high risk of developing melanoma.
In an attempt to differentiate a unique component of its test with insurers, DermTech has also applied for a category 1 CPT code for its DNA sampling adhesive technology. DermTech received the codes from the AMA for its PCR analysis component back in July.
Dobak mentioned that the company's technology is "a proprietary patch, and … it would be good to have a code for the particular adhesive patch biopsy method."
The firm is actively marketing the PLA technology and intends to launch Nevome, an enhanced version of the test, in the first half of 2018. That new version will incorporate mutation analysis using sequencing of several key genes found to have certain mutations in pigmented lesions at risk for melanoma.
In addition, the company plans to release a new product in the second half of 2018 called Carcinome, which will detect basal and squamous skin cancers. According to Dobak, DermTech has completed about 80 percent enrollment of the clinical trial for the product so far.
In addition, DermTech aims to use its technology to potentially diagnose other skin cancers, particularly cutaneous lymphoma. Dobak also sees a potential role for the firm's technology for stratifying patients within drug trials in a variety of diseases, including areas as diverse as cirrhosis or atopic dermatitis, as well as for companion diagnostics.   
While dermatopathologists may feel threatened by the company's technology, Dobak explained that Dermtech's "test is currently used in situations where it is not ideal to perform a surgical biopsy, [as] there are more than enough surgical biopsies being done that require histopathology and dermatopathology reading, and the final diagnosis will rely on all the information available including the pathology read."
As he noted, if a PLA analysis comes out positive, then the clinician will need to turn to surgical biopsies for further treatment.
"We think we can play an integral role in this area, especially when you consider that many patients are not good candidates for surgical biopsies," Dobak said, citing cases such as individuals with too many pigmented moles, pigmented lesions in cosmetically sensitive areas, or patients that have risk factors like wound-healing issues, old age, or are taking blood thinners.
Peck believes that clinicians should treat the PLA technology as "an intermediate point before doing other biopsies, [and] it's going to be an evolution, as molecular biology and clinical medicine merge and produce these types of products down the road."
Dobak further noted that cancer diagnoses require more than a single test, and DermTech's technology simply provides an additional assessment of markers that are heavily associated with melanoma. Clinicians can integrate the added information into their practices, allowing them to easily rule out pigmented lesions that are not at high risk, he said.
Dobak acknowledged that there is a highly competitive market for melanoma diagnostic products, including photographic analyses that examine indirect factors that might be associated with melanoma, like electrical impedance or blood flow. While other companies might aid in diagnosing melanoma after surgical biopsies, such as Myriad Genetics' myPath Melanoma, Dobak argues that DermTech is the only firm using proprietary adhesive-tape technology before any potential biopsies, saving patients hundreds of dollars.  
"We are measuring the fundamental biological changes, root causes of cancer in melanoma, such as DNA mutations and changes in gene expression," he said. "Indirect tests will have difficulty in picking up cancer at its earliest stages because they're not measuring the fundamental root cause that lead to cancer development."