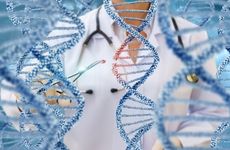 NEW YORK – A new CRISPR-based molecular diagnostic for SARS-CoV-2 aims to make COVID-19 screening more equitable and broadly deployed.
As described Thursday in JAMA Network Open, the method — called Cas13-based, rugged, equitable, scalable testing, or CREST — showed high concordance with gold-standard testing.
CREST was used to evaluate self-collected oropharyngeal swabs from more than 1,800 students and staff at University of California, Santa Barbara in two test periods over late May and early July of last year.
The asymptomatic screening did not pick up any positive cases in a first cohort. In a second cohort of 1,000 people, however, the CREST method was able to detect eight out of nine positive samples also detected using gold standard RT-PCR testing — namely the US Food and Drug Administration Emergency Use Authorized-assay from the US Centers for Disease Control and Prevention.
The single discrepant test had positive results at the detection threshold for the N2 target in the CDC test. The authors concluded this represented a low viral copy number and further noted that the patient sample was not confirmed as positive by a separate diagnostic test performed in a CLIA-certified laboratory.
Carolina Arias, a microbiologist at UC Santa Barbara and lead researcher on the study, commented in an email that overall, CREST is "an equitable and accessible assay that could aid in bringing widespread testing to areas in need."
Arias and her team developed CREST out of the imperative for an alternative assay for COVID-19 that would not rely on standardized methods or add strain to the already overburdened supply chain.
The method was honed very early in the pandemic, Arias said, with a proof-of-concept study initially posted to bioRxiv in April of last year. The team was subsequently motivated to carry out its JAMA study by a need to track the prevalence of SARS-CoV-2 in the population at UCSB, she said.
The JAMA results were surprising in a few ways, she noted. The team "saw a complete shift in the prevalence of the virus" from the first cohort to the second one, Arias said, and was able to detect the leading edge of an outbreak.
It was also surprised to find asymptomatic individuals with very high estimated viral loads, and to discover that self-sampling was "equally robust," and could thus eliminate the need for skilled medical personnel to perform sample collection.
On the other hand, the team was unsurprised by the high concordance between CREST and RT-qPCR. "We designed CREST to be sensitive, yet accessible," Arias said.
CREST is a cousin of more standard CRISPR technologies, relying on Cas13, an RNA-guided RNA endonuclease that cleaves single-stranded RNA.
According to the bioRxiv proof-of-concept study, CREST addresses the hurdles of reagent accessibility, equipment availability, and cost that otherwise limit the scalability of Cas13-based testing through "taking advantage of widely available enzymes, low-cost thermocyclers, and easy-to-use fluorescent visualizers."
From sample to result, the reaction takes about two hours with minimal handling, and does not require AC power or a dedicated facility.
The proof-of-concept study also highlighted that the readout signal "saturates even at low input levels." Therefore, "CREST offers the added advantage of binary result interpretation, similar to lateral flow test strips, but at a fraction of the price as it does not require the costly antibodies or antibody-conjugates needed for lateral flow immunochromatography."
The authors of the original bioRxiv study noted that Cas13 is not yet commercially available. The team was able to purify enough protein from a 1-liter bacterial culture for more than 500,000 reactions, however, and the authors said they can provide aliquots of protein upon request.
Now, Arias and her team at USCB is modifying CREST for rapid identification of viral variants. It is also continuing to work on the portability of CREST, developing a "COVID-19 lab-in-a-backpack," she said, which contains all reagents and equipment required for the assay. Portability could potentially aid the team's collaborators in developing countries and bring the assay to remote areas to facilitate testing.
Going forward, the CREST method is "versatile by design," Arias also said, and so could be easily modified for other medical needs as well as applied areas like veterinary and agricultural applications.
Overall, the ongoing SARS-CoV-2 pandemic has accelerated development of CRISPR-based diagnostics. So far, these have included assays deploying Cas13 developed by researchers at UC Berkeley, and teams in Thailand and China. Assays using a similar protein, Cas12, are also being developed such as ones from Mammoth Biosciences and startup Caspr Biotech, as are assays using a variety of Cas proteins, such as the Emergency Use Authorized SARS-CoV-2 test from SHERLOCK Biosciences