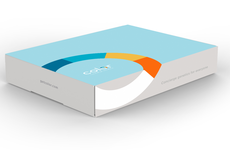 NEW YORK (GenomeWeb) – Eighteen organizations have agreed to cover at least half the cost of Color Genomics' breast and ovarian cancer risk test for their employees, the diagnostic company announced today. 
Earlier this year, the Burlingame, California-based firm began marketing a $250 test that gauges 19 genes, including BRCA1 and BRCA2, for assessing the risk of breast and ovarian cancer. In honor of Breast Cancer Awareness Month, throughout October, Color has dropped the price of the saliva test to $199.
This means the employees of the companies that have signed on to Color's benefits program and agreed to subsidize half of the cost would only have to pay around $100 if they get tested during October, and around $125 after that. The price of Color's test is further reduced for employees whose firms have agreed to cover a larger percent of the cost. Color CEO Elad Gil told GenomeWeb that some companies have even agreed to pay the entire test cost, while others are also offering discounted testing to employees' spouses.
Among the firms that have joined the benefits program are publishing platform Medium, the Sacramento Kings professional basketball team, web-based grocery delivery service Instacart, seed funder YCombinator, and Visa. Color estimates that its test will be available at a discount to 10,000 employees across the 18 companies, with Visa's boasting the largest workforce.
The benefits program fits with Color's ethos to "democratize genetic testing in a responsible way," Gil said. In launching the firm, Gil and cofounders wanted to reinvent how a molecular diagnostic company offers molecular testing for breast and ovarian cancer. They wanted to do away with the high prices, insurance headaches, and testing guidelines that were hindering people from getting the information that could benefit them and their families.
Most insurance companies' policies require that the person getting tested for BRCA gene mutations have close family relatives with cancer or a mutation. But families are getting smaller. So, a person may not have female relatives affected by breast or ovarian cancer, and if the mutation is inherited from a male relative, then chances are he hasn't been tested.
Moreover, the majority of payors consider panel tests like Color's investigational. However, companies like Color are offering breast and ovarian cancer risk testing at such low prices, that many consumers don't need to wait for their insurers' approval.
Prices for breast and ovarian cancer susceptibility testing began dropping after the US Supreme Court ruled in June 2013 that isolated gene sequences were patent-ineligible. That decision ended Myriad Genetics' nearly 20-year monopoly on the BRCA testing space, and overnight the market became highly competitive, particularly around price.
A recent Nature Biotechnology article estimated that a year after the Supreme Court ruling there were 20 BRCA1/2 tests and 36 panels assessing multiple cancer genes available or about to launch on the market. These panels are 70 percent cheaper than the approximately $4,000 list price for Myriad's test, according to the article.
Another year later, the market is even more crowded with new players like Color and Veritas Genomics, which offer testing on next-generation sequencing panels at unheard-of prices for clinical grade analysis. Color has previously said that at $250, its test is one-tenth of the price of other molecular diagnostics. 
More established companies such as InVitae and Counsyl have responded by introducing lower pricing options when patients pay out of pocket. For example, a few months ago InVitae announced that it would charge patients $475 when their doctors have a clear medical reason for ordering testing, but their insurance policies won't cover it. Similarly, in an attempt to make its 22-gene panel for inherited cancer risk "broadly accessible to all at-risk patients, not just those who meet strict eligibility guidelines or can afford expensive testing," Counsyl will charge around $350 for patients without insurance coverage.
The latest partnership with 18 companies enables Color to offer genetic testing and raise awareness among a broader audience, to women and men (because men can get breast cancer, too), as well as to historically underserved minority groups. "This is really about access than anything else, and enabling people to be able to afford to take the test," Gil said.
Certainly, the price point was attractive to companies that joined the program. "Some companies really wanted to focus on this because they felt that finally … it's possible to provide this as something that everybody in their employee base can have access to," Gil said.
Other firms were drawn in by the knowledge that half of all women with BRCA mutations don't have a family history of breast or ovarian cancer. A team that included breast cancer research pioneer Mary-Claire King published a study last year of 8,000 healthy Ashkenazi men for three cancer-associated BRCA mutations. They found that half of the tested men with BRCA mutations came from families without a strong history of breast and ovarian cancers.
Based on the results, King and her co-authors wrote in the Journal of the American Medical Association that "it is time to offer genetic screening of [BRCA1/2 genes] to every woman, at about age 30, in the course of routine medical care." King, who in 1990 discovered that BRCA1 was associated with the breast and ovarian cancers occurring in some families, is an unpaid consultant for Color.
Other organizations that signed up for Color's benefits program had executives or loved ones with cancer. At some of the companies the employees were interested in taking charge of their own health and in contributing to research. "Color allows its clients to opt in to have their data used in anonymous aggregate form for research purposes," Gil said.
Color's program also comes at a time when employers are getting creative around employee benefits. Gil noted Netflix recently made waves by announcing that its employees, male or female, can take as much paid leave as they need during the first year of a child's birth. Some of the firms that signed on to Color's benefits program saw it as a way of offering something innovative to employees, Gil said.
An employee interested in getting tested can go to Color's website to initiate the order online and pay for the test, after which either a physician at the company or the patient's own doctor reviews the order. If approved, Color mails a spit kit to the customer for providing a sample. Experts at the firm then analyze the sample using Illumina next-generation sequencers; a Color physician reviews and signs off on the test report; and the company informs the customer in an email that the results are ready.
The customer has to schedule a telephone genetic counseling session in order to learn the results. The cost of the service "includes genetic counseling as part of every test ordered," Gil highlighted, noting this as a critical part of democratizing genetic information responsibly. The company also offers to share the results with the customer's doctor or suggest local healthcare providers.
Employee participation in the benefits program is voluntary, and information about who gets tested and test results will remain private. The Genetic Information Non-Discrimination Act prohibits insurers from using people's genetic data to make coverage decisions and bars employers from using that information to make employment decisions. As an added privacy protection, GINA also prohibits employers and insurers from requesting, requiring, or purchasing their employees' genetic information.
Color provides a template document to participating companies to help them address such employee concerns. Color will also send its experts on site to these companies for a free educational seminar to help employees understand "the benefits and risks of genetic testing," Gil noted. 
"It's super hands-off," Gil said. "It's all about access and choice."