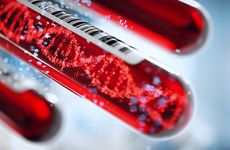 NEW YORK – Using DNA sequencing to detect measurable residual disease (MRD) in acute myeloid leukemia (AML) patients about to undergo a stem cell transplant can help predict who will have their disease recur, according to a new study by researchers at the US National Heart, Lung, and Blood Institute and elsewhere.
"Having this increased risk for relapse may not impact a person's decision about having a bone marrow transplant, but it could influence their next steps in care," said Christopher Hourigan, chief of the laboratory of myeloid malignancies at NHLBI and the study's corresponding author, in a statement.
Many AML patients who go into remission after their initial treatment will receive a hematopoietic cell transplant, but about 30 percent of them end up having their disease come back, the most common cause of death after transplant.
While previous studies showed that MRD testing can help predict who is at risk of relapse, there has not been a standardized method for MRD testing in AML, and there have been concerns about the standardization of flow cytometry-based testing.
To find out whether DNA sequencing-based testing could provide a good alternative, the NHLBI group looked for specific AML-associated variants in the blood of patients prior to their stem cell transplant and studied whether these correlated with higher rates of relapse or death after transplant.
For their study, published in JAMA on Tuesday, the researchers tested blood samples from a total of 1,075 patients, provided through the Center for International Blood and Marrow Transplant Research, who subsequently had a stem cell transplant between 2013 and 2019.
Using a custom sequencing panel, they looked for variants in hotspot regions of five genes — FLT3, NPM1, IDH1, IDH2, or KIT. All of the patients had AML associated with variants in one of these genes, and they all had gone into apparent complete remission before their transplant. The researchers divided them into a discovery cohort of 454 and a validation cohort of 621 patients. Variants present at an allele fraction of 0.01 percent or higher counted as a positive result for MRD.
For their analysis, the researchers decided to focus on the two most common AML mutation types — FLT3 internal tandem duplications and NPM1 variants — which were present in the initial disease of 822 of the patients tested. They found that patients in both the discovery and validation cohorts who had these mutations show up in their blood, about 17 percent, were at significantly higher risk of relapse and death compared to those without them.
Specifically, 68 percent of patients who were MRD-positive for these mutations relapsed, and only 39 percent survived for three years. This is compared to 21 percent of patients without MRD relapsing, and 63 percent surviving for three years.
In addition, having these variants in the blood was associated with lower rates of relapse-free survival after three years, though mortality for causes other than relapse was similar to patients without the variants.
Whether or not blood-based DNA mutation testing prior to transplant will actually result in better outcomes for AML patients at high risk of relapse remains to be seen.
Hourigan suggested that patients deemed to be at high risk of relapse may want to enroll in a clinical trial or consider "additional or different therapies."
"This information can also empower physicians to tailor transplant strategies, including considering different pre-transplant conditioning regimens and chemotherapies, to reduce an AML patient's risk for relapse and improve their long-term chance for survival," added Rear Admiral Richard Childs, clinical director and acting scientific director of NHLBI, in a statement.