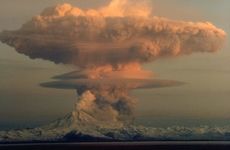 NEW YORK (GenomeWeb) – Despite recent nuclear posturing by politicians at home and abroad, a false alarm warning of an inbound nuclear missile in Hawaii, and the announcement that the US Centers for Disease Control and Prevention was planning a nuclear emergency preparedness event, the timeline of federally funded projects to develop radiation exposure tests remains unaltered, according to two test developers.
The Biomedical Advanced Research and Development Authority took over Project BioShield and other bio-defense and bio-threat measures funded under the Pandemic Act in 2007. BARDA then began funding about a dozen researchers and manufacturers in parallel in 2009 to develop tests to measure radiation exposure, or biodosimetry tests.
According to sources, the agency has now winnowed down the technologies to only a handful.
Importantly, part of the vision for this project is that the tests — which everyone hopes will never have to be used — will also go through regulatory approvals at the US Food and Drug Administration before being made commercially available to appropriate agencies and labs.
The projects are close to starting verification procedures to prepare for pre-Emergency Use Authorization requests, clinical validation, and seeking FDA clearance, according to a presentation the agency made in 2016.
The tests fall into two categories: point-of-care triage assays meant to screen a million people in one week, and high-throughput lab assays that can test 400,000 people in that same amount of time. 
BARDA has said the plan is to ultimately seek FDA clearance for at least one point-of-care biodosimetry test and one high-throughput test to enhance the US "preparedness position."
Point-of-care tests so far include protein expression immunoassays from SRI International and MesoScale Diagnostics. The first is a dual lateral flow test with a reader and cell extractor, while the second is a microfluidic cartridge and instrument.
For high-throughput testing, a test from Northrop Grumman is described as semi-automated cytology.
Two PCR-based gene expression tests have also made it through to the advanced funding stages.
One is a project at Arizona State University's Biodesign Institute that has involved partnering with Thermo Fisher Scientific's Life Sciences Solutions business and has since been licensed to MRIGlobal for further development.
The other has been developed from a partnership between DxTerity and Duke University that went on to receive a $150 million contract in 2016.
The test from ASU is meant to quantify how much radiation a person was exposed to after a single explosive event.
"This particular tool was specifically for detecting gamma radiation exposure to civilians if a nuclear bomb were detonated in a city or populated area," said Josh LaBaer, chair of the university's Biodesign Institute.
The test does not detect radiation exposure due to environmental contamination and ingestion of tainted food and water supplies following a blast. The researchers had to grapple with things like proximity to a blast and whether or not people were directly exposed or behind concrete walls.
"If it is detonated 1,000 feet above the ground it is going to have one radiation angle at which it is going to hit people, whereas if it is exploded from the inside of a shopping center that is going to have a different angle of exposure — our tool doesn't worry about how the radiation gets to you, but focuses on how much radiation did you absorb," LaBaer said.
The ASU test looks at the effect of radiation on gene expression in white blood cells and runs on real-time PCR systems from Thermo Fisher Scientific such as the Applied Biosystems 7500 Fast Dx and QuantStudio Dx, as previously reported. The choice of platform was meant to enhance the ability to utilize qPCR instruments that already exist, and are regularly maintained in clinical labs.
"The last thing you want in the event of a nuclear explosion is to have to dust off a brand-new machine and pull out the instruction manual," LaBaer said.
It will assess the level of exposure, from the moment of an event until seven days after, gauging exposure levels up to 10 gray, where somewhere in the 4 to 6 gray range is a lethal dose, LaBaer said.
The group has whittled down a large pool of potential biomarkers to around 13 or so, LaBaer said. It used animal models and has done verification studies, and is gearing up for a large validation study.
LaBaer said MRIGlobal won funding worth $100 million over 10 years using the ASU technology, and they will now be developing it further. "We're shifting from discovery to product development," LaBaer said. 
The funding involved in-process review sessions at BARDA where a team of 40 experts would review data and presentations. "We got reviewed probably a half dozen times, over the course of that period and the majority of people in the program were not continued for funding."
Meanwhile, DxTerity's test, called REDI-Dx, is a high-throughput blood test designed to measure a panel of gene expression markers related to cell cycle control, immune response, and DNA repair to estimate individualized levels of absorbed ionizing radiation, said DxTerity CEO Bob Terbrueggen.
Like the ASU test, it was designed to integrate into existing clinical lab infrastructures and deliver same-day results with expedited processing, specifically using Thermo Fisher's ABI 3500Dx Genetic Analyzer.
The test was developed in collaboration with Duke University and Thermo Fisher as well as patients and researchers from the City of Hope Cancer Center, Fred Hutchinson Cancer Center, and the University of California Los Angeles, Terbrueggen said.
The CDC event "doesn't directly impact our development timeline however it creates awareness and is part of the process of maintaining preparedness for responding to a nuclear emergency," he added.
Terbrueggen said the REDI-Dx kits and DxCollect Blood Collection Tubes would be managed and distributed by a government agency in the event of a nuclear incident. 
"The test would be most useful in nuclear events like an improvised nuclear device or nuclear bomb detonation, where casualties might absorb large amounts of radiation," he said. The blood tubes would primarily be shipped to hospitals and other medical facilities for sample collection and the test kits would be shipped to a network of qualified laboratories for use in testing.
In addition to the biodosimetry project, DxTerity has been growing based on the strength of its Pharma CDx business, Terbrueggen said.
"Our patented DxDirect genomic testing platform that is used for REDI-Dx, enables very high-throughput, low-cost genomic testing from a fingerstick-collected blood sample," he noted. The technology is particularly useful for 'from home' monitoring of immune-mediated disease. 
Last year the firm launched direct-to-patient lupus and multiple sclerosis studies in which self-collected blood samples and on-line reported patient data were used to monitor disease activity, and DxTerity is currently raising additional capital to support the launch of a multi-modular gene expression test for lupus patient characterization and disease activity monitoring, Terbrueggen said.