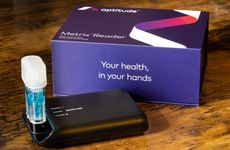 NEW YORK – Startup Aptitude Medical hopes to develop a suite of molecular diagnostic assays for use in the home and at the point of care using up to $53.7 million in support from the US Department of Health's Biomedical Advanced Research and Development Authority (BARDA).
The BARDA contract covers $19.6 million in base funding with $34.1 million in options for the development of at-home molecular tests for COVID-19, a combination COVID/influenza assay, and additional multiplex tests for other infectious diseases. While the current system — called Metrix — can test up to four targets at once, the firm aims to develop eight- and 24-plex assays in the future.
Aptitude is a spinout of University of California, Santa Barbara, headed by three cofounders. "We have core expertise in integrated microfluidic electrochemical sensor technology, as well as expertise in exploiting nucleic acids for high fidelity amplification and enzyme engineering," said Scott Ferguson, cofounder and CEO of Aptitude.
With Metrix, the team is using a novel modified LAMP-based chemistry, Ferguson said, as well as an electrochemical methodology that allows qPCR-like performance at a low cost. The Aptitude team modeled their reader device on the most pervasive at-home diagnostic on the market today — the blood glucose monitor.
"We've exploited that as the backbone of our sensor technology," Ferguson said, adding that this is unlike any other at-home molecular diagnostic test on the market.
According to Ferguson, at-home molecular testing "is a nascent market with significant long-term potential," in part because home testing combined with remote physician consultation can yield more efficient healthcare, and improve healthcare outcomes.
Furthermore, "the recent acquisition of Lucira by Pfizer is a clear sign that big pharma is taking notice of the value of home testing products," he added. Combining a timely diagnosis — when a treatment can be most effective — with the treatment itself "is a very powerful paradigm," Ferguson said.
Still, that market is only at its very beginning, and in the meantime Aptitude is addressing more established markets, such as point-of-care sites, physician office labs, urgent care clinics, long-term care facilities, and pharmacies.
Based in Santa Barbara, the company is privately funded and currently has revenues from product sales as well as services it provides out of its high-complexity CLIA lab — called Aptitude Clinical Laboratories — that the team set up for COVID testing in the local area earlier during the pandemic. The company was also supported by RADx Tech Phase 1 funding issued in July 2020.
The Metrix obtained Emergency Use Authorization from the US Food and Drug Administration in October for use on saliva or nasal swab samples. The EUA was for both over-the-counter and CLIA-waived use, with the former making it the first authorized OTC test for a saliva-based molecular diagnostic test.
The new BARDA funding now "helps us bring several products all the way through 510(k)" clearance, said Tyler Chozinski, head of scientific and medical affairs at Aptitude.
Although the at-home molecular diagnostic market is very new, there is already a fair amount of competition.
Ferguson said that users of the Metrix system in an at-home setting found it simple and easy to use compared to OTC assays from Lucira and Cue Health, while in the point-of-care testing setting users appreciated it compared to the Thermo Fisher Scientific Accula or Abbott ID Now.
Furthermore, unlike other offerings on the market, Aptitude uses an electrochemical readout of the nucleic acid amplification within the Metrix platform. With this core technology, the firm believes it can scale quickly and can achieve a very low cost, Ferguson said.
Going forward, Aptitude's long-term vision for the Metrix "is to compete directly with antigen tests in terms of cost," he also said.
Lucira and Thermo Fisher Scientific did not respond to a request for comment and Cue Health declined to comment for the story.
Abbott highlighted that the company has a longstanding presence in diagnostics and that the Abbott ID Now uses nucleic acid amplification "to deliver results in as little as two minutes and no more than 16 minutes." Furthermore, ID Now tests for COVID-19, strep A, respiratory syncytial virus, and influenza A and B "are widely available throughout the US," the company said.
The Metrix
The Metrix device is akin to a basic blood glucose reader, Chozinski said.
It is about the size of a cell phone and uses a USB charger. Linking reaction products to electrochemical probes, rather than the more typical colorimetric or fluorescent probes, allows amplification detection through the application of a voltage and measurement of a change in current.
This method "is dramatically easier to do than interfacing with optics," Ferguson said, and this in turn lowers the cost of the sensor as well as the reader.
It also has the advantages of being impervious to pH changes, which can be an issue in saliva samples, and being insensitive to bubbles in the reaction.
With the Aptitude test, a user adds saliva sample into a disposable cartridge then puts on a cap and snaps it shut. This in turn releases buffer and reagents from the cap. The user then shakes the cartridge vigorously, snaps it to a sensor, and inserts one end into the Metrix reader. Positive, negative, or invalid results are read out via red, green, or purple lights on the reader after about 30 minutes.
Some of the core technology of the Metrix was developed at UC Santa Barbara. For example, in a 2011 study published in the Journal of the American Chemical Society Ferguson and a team in the lab of Tom Soh showed that an integrated microfluidic electrochemical detector could be used to detect H1N1 strains of influenza directly from throat swabs.
Future plans
Since obtaining EUA in October, Aptitude has sold products primarily through business-to-business channels, Ferguson said. The company currently uses a direct sales approach but is also pursuing distribution partnerships. 
In the professional setting, "our plan is to offer a competitive price for consumables and provide the readers for free, so people can easily switch to the platform," Ferguson said.
Cost is a very critical piece in these markets, he said. The movement toward instrument-free testing has essentially transferred assays from instruments into the consumable, which, he said, "has resulted in extremely expensive consumables." On the other hand, some systems have lower-cost consumables but require users to purchase a reader that costs hundreds of dollars.
With the Metrix, "we don't like to call our reader an instrument, because it doesn't require any calibration, it is low [cost of goods], and you can use it for a long time," he said.
The device also doesn't require users to do any maintenance or upkeep.
"They don't have to do anything — it's the same level of care that you would give to a toaster," Chozinski said. "You just use it; it's there and it works."
With a low cost and small footprint, Ferguson said a professional setting could use multiple readers to achieve a higher throughput, while a person in the home can keep one in a cupboard and purchase assays as needed.
In terms of menu, the team is aiming to develop an assay for strep A, a syndromic respiratory panel, a sexually transmitted infections panel, and other tests.
The team has the ability to do in-channel multiplexing using its chemistry expertise, but the reader allows it to also spatially multiplex as well, essentially because the size of the sensor is large enough to fit many segregated channels, Chozinski said.