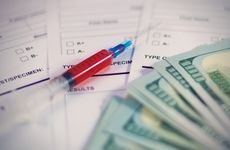 The headline has been updated to reflect that AMA is only issuing PLA codes, but not pricing them. Pricing is issued by the Centers for Medicare & Medicaid Services.
NEW YORK (GenomeWeb) – The American Medical Association has been rapidly issuing a new set of CPT codes at the request of test makers that want to more specifically track the use of their diagnostics for reimbursement purposes.
The AMA CPT Editorial Panel has begun approving so-called Proprietary Laboratory Analyses (PLA) codes in response to the Centers for Medicare & Medicaid Services requirements for implementing the Protecting Access to Medicare Act. The AMA began accepting applications last year from test makers that want PLA codes, and over the past months it has issued 23 codes.  
"A variety of tests have fallen into this process," Medicare policy expert Bruce Quinn said last week at DxCon17 in San Francisco, a meeting for makers of personalized medicine diagnostics. A substantial number of these tests with PLA codes have even entered the gapfill and crosswalk process to determine pricing.
CMS is expected to release 2018 pricing for diagnostic tests sometime over the next two weeks. However, Quinn said the degree to which insurers will reimburse these rapidly issued and priced codes remains to be seen.
Among the tests with a unique PLA code are those with premarket approval from the US Food and Drug Administration, such as Immucor's PreciseType test for molecular typing of rare red blood cell antigens and Thermo Fisher Scientific's Oncomine Dx Target Test for analyzing 23 genes and informing non-small cell lung cancer treatment.
CMS has also issued a PLA code for OneOme's RightMed Pharmacogenomic Test; Interpace Diagnostics' ThyraMIR thyroid cancer gene expression assay; Vermillion's ovarian cancer risk test Overa; and Invivoscribe's LeukoStrat CDx FLT3 Mutation Assay for determining response to the leukemia drug Rydapt (midostaurin). The Mayo Clinic and University of Iowa have gotten PLA codes for next-generation sequencing-based gene rearrangement assessments and BCR/ABL1 fusion transcript detection, respectively.
"This is really taking off," Veracyte Chief Commercial Officer John Hanna said at DxCon17. "These [PLA] codes are very rapid."
As long as test makers develop and perform the test in the US, it seems they can get a PLA code. Tests don't have to meet usage or volume criteria required for other CPT code types, such as Tier 1 and Tier 2 molecular pathology codes or multi-analyte algorithm-based assays codes. As a result, Hanna said it is taking companies around three months to get a PLA code, whereas it can take up to 18 months before a category I CPT code becomes active.
Molecular diagnostic companies often decry the difficult reimbursement environment for their products, but in order for tests to be priced and paid for they first have to have a CPT code, which can be a protracted process in and of itself. Fast access to PLA codes could help labs better manage their test reimbursement in the marketplace, Hanna observed.
The AMA is developing PLA codes in response to requirements set forth by CMS, which is working on implementing PAMA before it goes into effect next year. The diagnostic test price law will replace Medicare's clinical lab payment framework with a market-based system pegged to private payor rates.
The law directs CMS to create a coding process for identifying so-called advanced diagnostic laboratory tests (ADLTs) and FDA approved or cleared clinical diagnostic laboratory tests (CDLTs). CMS also has to figure out a way to quickly issue codes for tracking and monitoring diagnostics for test makers that request them. 
In its final rule for implementing PAMA, CMS defined ADLTs as tests developed and offered by a single lab that use a unique algorithm to analyze multiple DNA, RNA, or protein markers, and which provide new clinical diagnostic information that can't be obtained by any other test. The definition is controversial among industry players, and test developers are awaiting further clarification from CMS regarding the requirement that ADLTs must provide new clinical diagnostic information.
According to guidance from the AMA, however, PLA codes aren't restricted to ADLTs and CDLTs as defined under PAMA. The codes may be issued for "a range of medical laboratory tests," including multi-analyte algorithm-based assays and genomic sequencing procedures. With these new codes, AMA is addressing the concerns of payors and test providers. 
As utilization and spending on molecular tests have increased, payors have pushed for retiring the older system of stacking CPT codes that generally describe each step in the diagnostic process in favor of adopting codes that allow them to discern with greater specificity which tests are being paid and in which clinical contexts. Meanwhile, some test makers, particularly firms selling multi-analyte algorithm-based tests, want payors to recognize the value their diagnostics are providing to patient care and have wanted unique identifiers in order to capture that data for pricing discussions with payors.
After the passage of PAMA, the makers of multi-analyte algorithm-based tests, such as Veracyte, went to the AMA to describe their challenge. "In order for us to report rates under PAMA, we have to have unique test codes," Hanna said. "In the lab industry … we're all doing things that are a little bit different."
Tests with the same indication may have different performance characteristics or a company may have invested in a technology that distinguishes that test from others in the market. Veracyte, for example, markets a test that analyzes the expression of 142 genes and helps patients determine if their thyroid nodules are cancerous or benign without surgery. The company claims that its test, since it became available in 2011, has helped tens of thousands of patients avoid unnecessary thyroid surgery and saved the healthcare system $500 million in surgery-related costs.
Test developers that are addressing a healthcare problem in a unique way, "want to be remunerated for that by the marketplace," and want the market to determine how much it will pay for their test compared to other services, Hanna said. "That's the whole intention of PAMA."
While PLA codes might make it easier for diagnostics companies to quickly garner codes to facilitate pricing and track test use, it remains to be seen whether payors will ultimately reimburse for these codes. "I don't think anybody knows yet," Quinn said.
"The fact that [PLA codes] are coming out so fast and with prices may mean that at least some payors just pay them," he said. "Others may quickly put them on not payable lists."
Because recently issued and priced PLA codes will show up in the new 2018 fee schedule, it's conceivable that some payors would default to reimbursing for them as they did when codes for pharmacogenomic tests first entered the fee schedule. But this didn't last after some PGx testing companies were found to be abusing the Medicare payment system. 
Quinn reflected that for newer tests, it might be disadvantageous to seek PLA codes and enter the pricing process so quickly, because the test developer may not have had sufficient time to gather evidence around the test's performance and utility. If a test is priced based on preliminary evidence, that is the set rate for three years under PAMA.
However, Quinn predicted that a PLA code may make claims processing easier for tests that have FDA approval or clearance, or already have a coverage determination under Medicare, or have been on the market for several years.