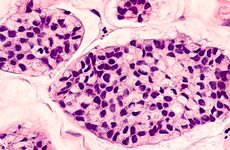 NEW YORK ─ As part of its effort to gain regulatory clearance in the US and beyond, Agendia has begun offering early access to a digital testing platform for patients in Brazil that allows physicians to receive genomic insights from a digitized image of a tumor to predict the likelihood of metastasis in early-stage breast cancer.
The rollout aligns with Agendia's long-term goal to achieve broad, global adoption for tests in its pipeline and provide results from a hematoxylin and eosin (H&E) stain that are equivalent to the information provided by its current microarray-based MammaPrint assay, the firm said.
The new digital assay, called Digital MammaPrint, uses artificial intelligence technology developed thorough a collaboration between Agendia and New York-based computation pathology firm Paige.
The early access program in Brazil represents a step in Agendia's plan to seek US Food and Drug Administration clearance and worldwide adoption for the new test, the firm's CEO Mark Straley said in an interview.
The launch of Digital MammaPrint "is about providing options for clinicians globally," he said, adding that in some countries, including Brazil, "where there is little or no access to genomic insights, the digital image version of the assay is particularly relevant."
The new test also reduces turnaround time to receive results to around 24 hours compared to four days with the microarray, the firm said.
Clinicians use the lab-based MammaPrint 70-gene gene expression microarray to predict the likelihood of metastasis in early-stage breast cancer. Results are part of the overall assessment of treatment for a newly diagnosed cancer, and they are used mainly to decide whether the risk of metastasis is high enough to warrant chemotherapy.
The assay can also be used to decide whether patients at low risk of metastasis will benefit from endocrine therapy, how long the therapy should be used, and whether it can be stopped early, said William Audeh, Agendia's chief medical officer.
Digital MammaPrint will move such testing to wherever digital pathology scanners are available. Clinical sites will obtain images of breast tissue and use digital scanners to create slide images, a normal part of the clinical workflow. Newly developed artificial intelligence algorithms will then analyze that information to generate a report.
Agendia has gathered data about the concordance of Digital MammaPrint's performance with that of its microarray, but it has not publicly disclosed or published the data. As it continues to gather information about its new assay, the firm intends to publish concordance data in peer-reviewed scientific journals, Audeh said.
For the development of the new assay, Agendia provided Paige with tens of thousands of digital slides from patients with known MammaPrint results whose formalin-fixed, paraffin-embedded tissue samples had been analyzed using the gene expression assay. The AI-algorithm went through an extensive training and validation process, Audeh said, adding that in data they have gathered the firms are seeing "a very high concordance" between the digital readout and the microarray.
"We consider them equal," Audeh said, adding that the clinical utility for the microarray readout has already been established and noted that a randomized study, called MINDACT, describing its performance was published in the New England Journal of Medicine in 2016.
The study enrolled 6,693 women with early-stage breast cancer and evaluated genomic risk, using the MammaPrint microarray assay, as well as clinical risk. Results provided by the microarray demonstrated that approximately 46 percent of women with breast cancer who are at high clinical risk might not require chemotherapy, according to the study investigators.
According to David Rimm, a pathologist at the Yale School of Medicine who specializes in biomarker assessment in lung and breast cancer, Digital MammaPrint could become "the first low-risk, high-risk separating algorithm" that uses "information from an H&E stain that is equivalent in prognostic value to the genomic information."
Rimm and his colleagues recently published a study in Modern Pathology describing the use of machine learning to predict HER2 status and treatment response in HER2+ breast cancer patients taking the monoclonal antibody trastuzumab. By analyzing H&E stained slide images, their algorithms correctly selected 87 percent of the patients that responded to trastuzumab. The only other way to identify those patients is to use a molecular or immunohistochemistry test, Rimm noted.
There are numerous factors in favor of the digital test getting adopted, said Rimm, who sits on Paige's scientific advisory board and formerly was on Agendia's scientific advisory board.
According to Rimm, an H&E slide that can be extracted using machine-based intelligence but cannot be seen using a microscope could have clinical value because the artificial intelligence-based assay provides insights equivalent to the prognostic value of the microarray and has the potential to eliminate the need for the microarray, a more expensive test. That along with the clinical needs the new assay addresses could drive broad adoption of Digital MammaPrint, he said.
The assay's analytic capabilities are easily accessed using hardware pathologists already have, and the incremental cost of doing a test for a new patient is inexpensive because the use of an algorithm for a diagnosis is "essentially just computer time," Rimm said.
Pricing and reimbursement
Agendia said it had not yet established a price for the digital assay in Brazil where reimbursement for such testing "is essentially nonexistent," but it expects to establish a price for the new assay "at a level the market will allow," according to Straley.
Going forward, its position with the Centers for Medicare and Medicaid Services and other payors in the US will be that the new assay provides the same genomic insights as its microarray test, which is reimbursed at $3,873 in the US. The firm has not yet discussed its new assay with CMS but Agendia intends to seek the same reimbursement for Digital MammaPrint as for its microarray in the US, Straley said.
"As we continue to refine the product, we will launch in more and more countries, and obviously we will bring it to the United States, which will require FDA clearances and reimbursement," he said.
Agendia intends to use the MammaPrint microarray or NGS assay as a predicate device for its submission of Digital MammaPrint to the FDA. Straley declined to provide an estimate for when the firm could launch the product in the US but said additional countries with underserved medical needs are on its radar for future rollout.
Overall, "we're focusing on where there's a high degree of unmet need and limited access to testing," he said. "These are not markets that require CE marking or FDA clearance," but from there, the firm can look to expand geographically, first to locations that require CE marking and later to the US.
The company selected Brazil as a suitable location for early access to the test partly because there are 66,000 newly diagnosed cases of breast cancer each year with only a small portion of patients with access to genomic tests. Further, Agendia and Paige already have distribution partners in the country that they plan to leverage for Digital MammaPrint placements.
The rollout of the new assay is designed to enable the firm to obtain a better understanding of the test from scientific, clinical, and business perspectives, Straley said.
Testing volumes
Straley added that Agendia continues to expand on the genomic information obtained by the MammaPrint microarray tests, and that it will continue to offer the microarray test and an NGS version of it from its lab in California as well as kitted versions of its microarray assays.
Annual commercial testing volume for its assays has increased from 13,088 in 2016 to 22,813 in 2020. Testing volumes for 2021 are not yet available, the firm said. It did not provide commercial test volumes for the MammaPrint microarray test in Brazil.
It has adapted its breast cancer platform to include whole transcriptome profiling and targeted NGS on formalin-fixed paraffin-embedded tissue to predict the likelihood of metastasis in early-stage breast cancer. Outside the US, it has launched a distributed NGS kit for MammaPrint and BluePrint for clinical laboratories to enable local testing.
BluePrint, an 80-gene molecular subtyping test, identifies the underlying biology of an individual breast cancer to provide information about its behavior, long-term prognosis, and the potential response to systemic therapy, the firm said. It is working with Paige to develop an AI-based version of the BluePrint assay.
Further, the firm has applied for clearance to the FDA for a kitted version of MammaPrint that runs on the Illumina MiSeq Dx sequencing platform, and earlier this month, Agendia announced a multiyear partnership with Illumina to codevelop in vitro diagnostic tests for oncology applications. Specifically, Illumina and Agendia plan to develop new tests for the management of breast cancer patients and use the Illumina MiSeq Dx sequencing platform to expand the range of gene panels available for solid tumor analysis.
AI-based pathology
Agendia said that along with Paige, it is among the first firms to offer genomic insights from a digitized image of a breast cancer tumor using artificial intelligence. However, numerous organizations are using AI to extract medical insights for pathologists, including Mindpeak, PathAI, Proscia, and Ibex Medical Analytics.
Last September, Paige announced that the FDA had granted de novo marketing authorization for Paige Prostate, making it the first artificial intelligence-based pathology product to receive such an authorization to aid in the primary diagnosis of prostate cancer.
"No doubt, the reason Agendia went knocking at Paige's door is because [Paige knows] how to obtain an FDA clearance" for AI-based digital image technology, Rimm said.
According to a Paige spokesperson, the company is "currently working with a number of companies leveraging its AI-enabled digital pathology software, but we're unable to discuss specifics at this juncture."