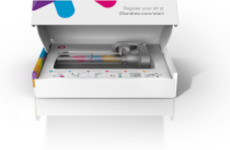 NEW YORK (GenomeWeb) – 23andMe has received clearance from the US Food and Drug Administration to market its first health-related test, for Bloom syndrome, directly to consumers.
The test determines whether a healthy person carriers a genetic variant that could be passed on to a child. Bloom syndrome is an autosomal recessive disorder that results in short stature and a predisposition to cancer. The child must inherit two abnormal alleles in order to have symptoms of the syndrome.
The FDA said that the test is intended "only for postnatal carrier screening in adults of reproductive age, and the results should be used in conjunction with other available laboratory and clinical information for any medical purposes."
23andMe last year submitted a 510(k) application with the FDA for its Bloom syndrome test. The submission marked a reboot of its previously unfruitful interactions with the FDA, which resulted in the firm receiving a warning letter in November 2013. In that letter, the agency asked 23andMe to stop marketing health-related genetic test results directly to customers through its Personal Genome Service until it received the agency's regulatory clearance or approval.
The Mountain View, Calif.-based firm complied with the agency's demands, and decided to maintain access to health-related reports for customers who received such data from the company or purchased a test kit before the FDA warning letter dated Nov. 22, 2013. Customers who purchased kits from the firm on or after Nov. 22 have only received ancestry-related information and their raw genetic data.
Now, in approving the Bloom syndrome test, Alberto Gutierrez, director of the Office of In Vitro Diagnostics and Radiological Health at the FDA's device division, said in a statement that "the FDA believes that in many circumstances it is not necessary for consumers to go through a licensed practitioner to have direct access to their personal genetic information."
The approval marks a first for 23andMe in being able to start reporting health-related test results to its customers again. When it was offering health-related reports directly to consumers, 23andMe offered testing for more than 200 health conditions and traits. According to the firm, it doesn't plan on selling the Bloom syndrome test as part of its offerings until it can "offer a more comprehensive product offering."
In addition to announcing the test clearance, the FDA also said it is classifying carrier screening tests as Class II devices and plans to exempt these tests from premarket review. The agency will issue a notice about its intent in this regard, and the public will have 30 days to comment. "This action creates the least burdensome regulatory path for autosomal recessive carrier screening tests with similar uses to enter the market," the agency said.
"Given the probability of erroneous results and the rarity of these mutations, professional societies typically recommend that only prospective parents with a family hisory of a genetic disorder undergo carrier screening," the FDA further noted.
The FDA noted that since this DTC test may be similar to a home-use test, 23andMe must present the test results in a way that consumers can understand. "While the FDA is not limiting who should or should not use these tests, it is requiring that the company explain to the consumer in the product labeling what the results might mean for prospective parents interested in seeing if they carry a genetic disorder," the FDA said. Additionally, if the test is sold over the counter, the agency has also required that the company inform consumers about how to access a board-certified genetic counselor who can provide pre- and post-test information.
23andMe performed two separate studies in order to garner clearance for its test for Bloom syndrome. One study was conducted at two labs and analyzed more than 120 patients' samples, and another study, also conducted at two labs, analyzed more than 100 samples. "Both studies showed equivalent results in detecting carrier status of Bloom syndrome when the same samples were tested," the agency found.
In addition, 23andMe performed a "usability study" involving 295 people to show that consumers unfamiliar with the company's saliva collection kit could follow the instructions and provide an adequate biological sample for testing. The company also conducted a study involving approximately 300 randomly recruited participants – representative of the general US population in terms of age, gender, race, and education level – to demonstrate that consumers could understand the test instructions and results.