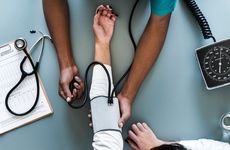 NEW YORK – Using rare variant association approaches, an international team has identified more than 100 previously undetected loci linked to blood pressure-related traits, including hypertension. 
"The results from our study indicate rare [blood pressure]-associated variants contribute to [blood pressure] variability in the general population, and their identification has provided information on new candidate genes and potential causal pathways," corresponding authors Joanna Howson, a cardiovascular epidemiology researcher affiliated with the University of Cambridge and Novo Nordisk Research Centre Oxford, and Patricia Munroe, at Queen Mary University of London, and their colleagues wrote in a paper published in Nature Genetics on Monday.
Using exome and genotyping arrays for up to 1.3 million individuals of European, African American, South Asian, or Hispanic ancestry enrolled in the large projects such as UK Biobank (UKBB) or in dozens of smaller studies, the researchers searched for rare variants involved in four main blood pressure-related traits: hypertension, inverse-normal transformed systolic blood pressure, diastolic blood pressure, or pulse pressure. 
The team relied on exome array-wide association (EAWAS) and rare variant-focused genome-wide association (RV-GWAS) studies and meta-analyses, along with fine-mapping and gene-based analyses, to search for rare variants linked to the blood pressure traits in question, they noted.
"Unlike most previous [blood pressure] studies that focused primarily on common variant associations, we performed an extensive analysis of rare variants, both individually and in aggregate within a gene," the authors explained.
With the EAWAS and RV-GWAS approaches, the investigators found 106 previously undetected loci linked to blood pressure, and dozens of blood pressure-related rare variants, while highlighting enhanced effects for individual rare variants compared to the 1,000 or more common, small effect variants implicated in blood pressure in the past. Just two new loci, in or around the RP11 or VTN genes, had genome-wide significant ties to all of the blood pressure traits considered.
Along with rare variants falling at genes or loci already known to contribute to blood pressure regulation, the team's analysis of common and rare blood pressure-related variants from the new analysis and from studies done before led to active chromatin regions involved in the fetal development of blood vessels, heart, muscle, and other tissues or organs. It also saw genes with potential ties to congenital heart defects, as well as genes with enhanced gene expression during heart development.
That was particularly true for variants associated with systolic blood pressure, which were over-represented in parts of the genome with DNase I hypersensitive hotspots linked to the presence of open chromatin in specific fetal tissues, the authors reported.
Based on such findings, they suggested that "early development and/or remodeling of cardiac tissues may be an important driver of [blood pressure] regulation later in life," though additional rare variant associations are expected to stem from future studies on large groups of individuals from UKBB and other efforts who have been profiled by exome or whole-genome sequencing.