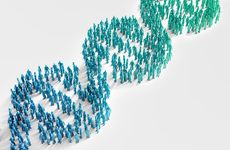 NEW YORK – With consumer genomics kit sales down and layoffs recently announced at Ancestry and 23andMe, not to mention last year's major restructuring at Helix, many feel the direct-to-consumer market is in decline.
Many have attributed the fall off in projected kit sales to a tapped out market, particularly in the US, as well as increased privacy concerns following some high-profile law enforcement cases. Yet some of the market's most influential voices believe that consumer genomics is not on the way out, but rather experiencing a period of transition.
"I think the consumer market is going to become more integrated into the healthcare experience," said Joe Grzymski, an associate research professor at the Desert Research Institute and principle investigator on the Healthy Nevada Project, a four-year-old population health study.
"Whether that occurs through your primary care doctor, your large integrated health network, or your payor, I think there will be profound changes in society's tolerance for using genetics for prevention," he said.
While the recently announced layoffs at both 23andMe and Ancestry ignited significant media coverage of a direct-to-consumer market downturn, this general pivot toward the health market has been underway for sometime and is perhaps best embodied by Helix's decision last year to refocus its efforts on partnerships with health systems for population studies, such as Healthy Nevada.
The effort, now overseen by the Renown Instute for Health Innovation where Grzymski serves as CSO, initially worked with 23andMe during the first phase of the study that enrolled 10,000 people, providing them with ancestry, traits, wellness, and carrier status reports. The second phase, undertaken with Helix, involves the whole-exome sequencing of 40,000 participants.
"Anecdotally, our patients want the hospital to help them understand this information," said Grzymski. "There's a small group of people who buy every new iPhone, every new pair of Nike shoes, and they bought 23andMe, they bought Ancestry, and they compared," he said. "But then there are those who want more out of it. That is partially driving the downturn."
Helix has also partnered with Mayo Clinic on a 100,000-participant study, and last July, Intermountain Healthcare announced a partnership with Amgen and Reykjavik, Iceland-based DeCode Genetics to sequence 500,000 patients as part of a population health study called HerediGene.
While these might look like the initial phases of a new period of making genomics available to the masses, they are similar to what pioneers in the consumer market had in mind when they launched the first services over a decade ago.
"I don't think the slowing in the sales is telling all that much about the potential of direct-to-consumer testing," said DeCode Genetics CEO Kári Stefánsson. DeCode was among the first companies to launch a consumer genomics service in 2007, entering the market roughly at the same time as other pioneers 23andMe and Navigenics with its offering.
While DeCode shuttered the service in 2013, Stefánsson said the ideas that led the company to offer DeCodeMe are more relevant than ever. "If you think about it, healthcare systems have been changing over the past two decades," said Stefánsson. He described a general empowerment of the patient within healthcare systems, who have more access to information that can help them make decisions, including genetic information obtained from DTC services.
"I wouldn't be surprised if they wouldn't yield a new kind of healthcare system where the customer of the healthcare system is a more important player in all of this," said Stefánsson. "Those who sell these tests will eventually take on the task of triaging the customer, referring people to healthcare centers and even build speciality clinics by themselves," he said.
As such, he believes that rather than signaling the end of the market, the 23andMe and Ancestry restructuring only reflects the shift underway as people rethink about how to make the information obtained from these tests more relevant and actionable for the end user.
"I think the market has a bright future and will be a significant remaker of the way in which we think about healthcare," said Stefánsson.
Ever larger databases
It's worth looking at the birth of consumer genomics to gauge its current trajectory. While much of the current focus is on health, the most popular application to date has inarguably been ancestry. Houston, Texas-based Family Tree DNA has been serving the market with genetic genealogy tests for over two decades, and National Genographic's Genographic Project wasn't far behind when it kicked off in 2005 under the helm of explorer-in-residence Spencer Wells, now the head of Austin, Texas-based Insitome.
But it was the drop in cost of doing whole-genome genotyping on microarrays produced by Santa Clara, California-based Affymetrix, now absorbed into Thermo Fisher Scientific, and San Diego-based Illumina that enabled companies like DeCode Genetics and also Mountain View, California-based 23andMe to envision a market where people would pay to have their DNA analyzed in return for reports on ancestry and health, allowing them to aggregate large amounts of valuable data.
As the price of arrays plummeted, Family Tree DNA and NatGeo moved their services over to chips, and DeCode, 23andMe, and later Ancestry entered the market, the latter becoming a market leader and driving new customer acquisition with massive spending on advertising. By the end of the 2010s, roughly 30 million people had taken one of these tests, right before a drop-off in sales caused the largest players to slim down.
"I wasn't surprised by the news," said Linda Avey, a co-founder of 23andMe, of the recent restructuring at her former company. "The level of expensive advertising has been insane here in the US," she said. "Those [customer acquisition costs] are not a sustainable model."
Avey, who originally had the idea of offering whole-genome genotyping to the public while working at Affymetrix in the mid-2000s, left 23andMe in 2009, and recently co-founded Precise.ly, which aims to deliver genomic insights to populations in South Asia. Rather than going directly to customers though, Precise.ly has partnered with Naryana Health, an Indian speciality hospital network, to reach users.
"We're pursuing a very different model by partnering with hospitals," said Avey. "It's more business-to-business-to-customer."
One factor that might be on the minds of entrenched players, like 23andMe, Avey said, is how much they are willing to invest to grow their databases now that kit sales have tapered off.
"Does selling more kits really add value to the companies from a genetics research angle?" Avey said. "Or have they hit a point of diminishing returns, especially as it relates to SNP data, which doesn't allow for discovery of new mutations?"
"Remember that 23andMe was never in the consumer genomics business, they were in the data aggregation business," noted Insitome's Wells. "They created a database that should in principle allow them to do what they promised, which is to improve people's health through genomic testing," he said. "They've got 10 million people in their database now," Wells said. "If you can't do it with 10 million, it can't be done."
Wells agreed that as far as medical genetics is concerned, health systems are best poised to escort participants through that experience. He pointed out that consumer genomics products are often given as gifts around the holidays, and people receiving them often don't know what to make of the various carrier screening reports they unlock when they log in to an online service.
Yet while all eyes are on health — with new health applications launched by Ancestry and MyHeritage within the past year — Wells said that people shouldn't count out ancestry as a market driver. The question is not so much whether companies can deliver, but if they want to spend more to reach more customers.
"For the recreational side, ancestry is still the killer app," said Wells. "The question becomes if you are in the industry, how do you get more people to buy kits?" he said. "I don't think that pumping more money in on the marketing side is going to do it." He noted that if all the market required was more advertising dollars to keep kit sales churning, the major providers would just allocate more for marketing.
"They would have upped their marketing budgets and would still be selling lots of kits," he said.
David Mittelman, a former CSO at Family Tree DNA, also hinted that companies might have actually achieved their aims to grow their databases to a desirable size and are now, "letting off the gas" once they achieved those numbers.
"They aren't trying to build an infinite database, they want to build a database that's big enough to answer interesting questions," said Mittleman, who currently serves as CEO of Othram, a Houston, Texas-based forensic genomics company. "Not only are they beginning to saturate the early adopter market, but what's the motivation to keep growing?" asked Mittelman. "23andMe already has 10 million in their database. What will happen if they have 20 million?"
If these companies actually don't need more data, there is less motivation for them to invest in reaching new customers, he maintained. "Maybe this was the plan all along," said Mittelman. "Who is to say that anyone wanted to build a 30 million person database? Maybe they thought they just needed 10 million people."
For their part, major providers have promised to continue offering customers new products. 23andMe spokesperson Andy Kill said the company sees "a lot of room for innovation" going forward and that the firm will provide updates later this year.
An Ancestry spokesperson similarly said the Lehi, Utah-based company will continue to invest in the service. She cited a Feb. 5 post by CEO Margo Georgiadis, where the company pledged to invest more in its new AncestryHealth offering in order to "help people understand their heritage and put people on the path to improved health and wellness."
Back … to the future
As industry observers and players ponder a future where consumer genomics and healthcare are more tightly interwoven, it's hard not to draw parallels to Navigenics, a Foster City, California, personal genomics company that, like DeCode and 23andMe, launched its consumer-facing service in autumn 2007. Unlike other DTC firms, though, the company tried to provide a platform where physicians played a significant role in guiding users through potential genetic risk factors.
"The goal of Navigenics was to deliver genetic risk factors to patients and their physicians so they could together manage a patient's environmental risks in a prioritized manner," said Dietrich Stephan, the former CSO at the company who now serves as CEO at Pittsburgh-based Neubase Therapeutics.
Without that kind of intermediary in place, he said, it is difficult for users of such services to gain anything from the experience. Preventive health requires changes in behavior or diet, or early screening, all of which requires interaction with a healthcare provider, he noted. Without such stewardship, mistakes can also be made.
"In the absence of the physician-patient dialog, it's reasonable to assume that complex topics such as relative risk and odds ratios might be misinterpreted by consumers," Stephan noted, "and it's obvious that the relationship between the patient and physician cannot support the necessary behavior and screening changes that are critical to the success of such preventive strategies."
When asked if Navigenics was ahead of its time, Stephan replied, "Yes. For sure."
Navigenics fell under the same kind of regulatory scrutiny that slowed 23andMe's health offering in the early years of the market. The firm eventually was acquired by Life Technologies in 2012, which later became part of Thermo Fisher Scientific. Yet the idea behind Navigenics seems to have held up, even though the company succumbed to market pressures years ago. DeCode also exited the market, though in different circumstances when it was acquired by Amgen in 2013.
"I saw in [consumer genomics] the same future that we see in it now," said DeCode's Stefánsson. "We were just a tiny company back then," Stefánsson said. "DeCode didn't have the resources to weather the difficult first years," he noted. "But, I was as convinced then as I am today that around direct-to-consumer testing there will grow a special new type of healthcare."
A natural shift
Better integrating consumer tests within healthcare systems seems to be the new, and old, consensus, and it might help to assuage the concerns of customers who were spooked about sharing their DNA data following the media coverage of the Golden State Killer case in 2018, plus Family Tree DNA's disclosure that they have worked with US federal law enforcement.
"For the industry to recover, what's needed is to tip the scale back to utility, and I believe that this will require new applications in health and potentially wellness that have utility in consumers' every day lives as well as being actionable, contextual, and measurable," said Ruby Gadelrab, CEO at MDisrupt, a Santa Clara, California-based consulting company.
Gadelrab also noted that new stakeholders are entering the industry now who are making information about ancestry and traits free for those consumers that decide to enroll with them.
"The interest in genetics is not going away any time soon, but what does potentially change is which stakeholders are deriving value from genetics, who is paying for it, and how privacy and security around consumer health data are addressed," said Gadelrab, who once was vice president of commercial marketing at 23andMe and head of commercial development and marketing at InVitae before that.
Pouria Sanae, CEO at ixLayer, a San Francisco firm that offers tools for delivering genetic tests, agreed that the consumer genomics market is evolving rather than diminishing.
"The transition that we see here is going from ancestry and genealogy to more distinct information about health," said Sanae, who served as director of product management at Helix. "We are seeing a trend shift from hobby tourism in genealogy to consumers that want to know about their health and well-being within precision medicine," he said. "I think this will continue."
Sanae also noted the trend toward taking genetic tests through health systems, rather than directly from companies. ixLayer, for instance, is a partner on the Mayo-led Tapestry study.
"We are working with multiple health systems that are coming out with their own tests, all on their own brand," said Sanae. "Consumers have been educated by 23andMe and Ancestry for years now," he said. "It's a natural shift to go from a kind of early fascination and curiosity to a deeper level of desire to learn about health."