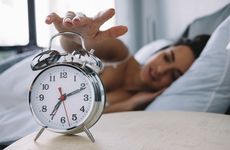 NEW YORK (GenomeWeb) – A team led by researchers at the University of Exeter and Massachusetts General Hospital has unearthed hundreds of genetic loci linked to individuals' circadian preference, or "chronotype," particularly their propensity for being a morning person or a night owl — a set that overlaps in part with genetic factors implicated in mental health.
"[W]e have provided the strongest evidence to date that 'night owls' are at higher risk of mental health problems, such as schizophrenia and lower mental well-being, although further studies are needed to fully understand this link," senior and corresponding author Michael Weedon, a researcher at the University of Exeter who focuses on the genetics of complex traits, said in a statement.
As they reported online today in Nature Communications, Weedon and his colleagues relied on a large genome-wide association study involving nearly 698,000 individuals — UK Biobank participants and customers from 23andMe who consented to participate in research — to search for variants associated with directly measured or self-reported sleep timing and sleep times. Their search highlighted 352 chronotype-associated loci, including two dozen sites previously associated with circadian preferences.
The team noted that variants linked to chronotype were peppered in and around genes that are expressed in the brain or retinal tissue, genes implicated in circadian rhythm function in the past, or genes from glutamate, insulin, cyclic AMP, and other signaling pathways — a collection the group used to estimate chronotype genetic effects and search for causal variants.
"This study highlights a large number of genes which can be studied in more detail to work out how different people can have different body clocks," Weedon said.
A Mendelian randomization analysis pointed to apparent overlap between early riser-related variants and those associated with positive mental health traits, the researchers reported, while a preference for late nights was linked to variants that seem to be somewhat overrepresented in individuals prone to conditions such as schizophrenia or depression.
On the other hand, the study results suggested that circadian rhythm-associated loci appeared to be distinct from those implicated in body mass index or type 2 diabetes.
Together, it appears that a preference for early mornings or late nights may come down to subtle differences in internal clock function and response to external light cues, first author Samuel Jones, a researcher at the University of Exeter Medical School, explained in a statement. "These small differences may have potentially significant effects on the ability of our body clocks to keep time effectively, potentially altering risk of both disease and mental health disorders."
The investigators began their GWAS by searching for variants associated with self-reported sleep phenotypes in data from 449,734 individuals from the UK Biobank project. They then performed a meta-analysis on and validated 351 suspicious variants with genotype data for another 248,098 23andMe participants.
When the team dug into the data for a subset of 85,760 UK Biobank participants who had activity monitoring data available, meanwhile, it found that the chronotype-associated loci found in the study appeared to coincide with sleep timing but not with other sleep features such as duration or sleep quality.
"[W]e show, using objective measures derived from activity monitor data, that these chronotype variants do affect objective measures of sleep timing," the authors wrote, "but not other aspects of sleep … providing evidence that we are identifying biologically meaningful associations and allowing us to [quantify] the effect of these variants on sleep timing."