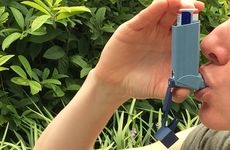 NEW YORK – New research suggests that healthy sleep patterns may help stave off asthma risk in individuals carrying genetic variants associated with the respiratory condition, while at-risk individuals who do not sleep well are more prone to develop asthma.
"This large prospective study indicates that individuals with poor sleep patterns and higher genetic susceptibility have an additive higher asthma risk," senior and co-corresponding author Fuzhong Xue, a biostatistics researcher affiliated with Shandong University in China, and colleagues reported in BMJ Open Respiratory Research on Monday, adding that "[e]arly detection and management of sleep disorders could be beneficial to reduce asthma incidence."
Using self-reported data on five sleep-related traits for more than 455,400 UK Biobank participants between the ages of 38 and 73 years, the researchers identified 97,915 individuals with poor sleep patterns, 73,223 participants reporting healthy sleep patterns, and 284,267 individuals with intermediate sleep phenotypes. A subset of 45,217 UK Biobank participants were also assessed by repeat imaging-based sleep assessments.
Adding genotyping profiles, meanwhile, the team found that 150,429 of the participants appeared to be at high genetic risk of asthma based on an asthma polygenic risk score, while 151,970 appeared to be at intermediate genetic risk, and 153,006 had low genetic asthma risk.
Bringing together the self-reported sleep data and asthma genetic risk profiles, the investigators found that individuals who slept seven to nine hours a night, had little to no insomnia, reported infrequent sleepiness during the day, and were not known for snoring also had reduced asthma risk, despite genetic risk in some cases.
Among 17,836 individuals who were diagnosed with asthma over 10 years of follow-up, the team saw high genetic risk in 7,105 and intermediate genetic risk in another 5,748.
While a combination of poor sleep patterns and genetic risk appeared to boost asthma risk by some 122 percent, the researchers reported, their results suggested that favorable sleep patterns could dial down asthma risk by some 37 percent in individuals with high genetic asthma risk.
"Individuals with poor sleep patterns and higher genetic susceptibility have an additive higher asthma risk," the authors reported. "A healthy sleep pattern reflected a lower risk of asthma in adult populations and could be beneficial to asthma prevention regardless of genetic conditions."
The team noted that nightly sleep duration and insomnia influenced asthma risk the most, though each of the five sleep-related traits seemed to have some impact on asthma development in individuals with or without genetic risk.
The authors cautioned that the relationship between asthma and sleep cannot be considered causal and may reflect the presence of confounding health traits or conditions that were not explored in the current study, though they speculated that the interactions may reflect inflammatory features that have previously been linked to poor sleep.
"[T]he negative impact of sleep disorders on asthma, which is generally considered a chronic inflammatory disease, might be mediated by sleep-induced chronic inflammation," the authors wrote, adding that "chronotype, snoring, and sleepiness were all shown to be associated with specific inflammatory reactions."