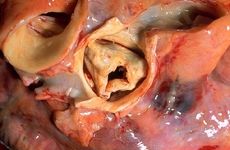 NEW YORK (GenomeWeb) – Two variants within the lipoprotein(a) gene can increase a person's chances of developing aortic stenosis, according to a new study.
Lipoprotein(a) is a risk factor for cardiovascular disease and about half the variation of Lp(a) levels in plasma has been linked to the LPA gene. Previous studies have also suggested that the LPA gene is linked to valve calcification and aortic stenosis, the narrowing of the aortic artery.
In a new study of 44,703 individuals published in JAMA Cardiology yesterday, researchers from McGill University and elsewhere found that two variants within the LPA gene could each increase aortic stenosis risk by about a third. In addition, having two risk alleles led to at least a twofold increase in risk, but age and sex could modify disease risk.
"These results suggest that homozygous (or compound heterozygous) individuals at the LPA locus have a markedly elevated risk for [aortic stenosis], likely because of higher circulating Lp(a) levels, and may therefore be candidates for future Lp(a)-lowering therapies," McGill's George Thanassoulis and colleagues wrote in their paper.
For their study, the researchers turned to the Genetic Epidemiology Research on Aging (GERA) cohort, which includes more than 100,000 people who are members of the Kaiser Permanente Northern California integrated healthcare delivery system. In addition to completing questionnaires, participants underwent genome-wide genotyping using Affymetrix's Axiom Genotyping Solution. Their electronic health records were also linked to this data.
Within this cohort, the researchers identified individuals who, based on diagnostic codes in their records, had either aortic stenosis or had undergone aortic valve replacement. All in all, they gathered 3,469 cases and more than 41,000 controls, all of European ancestry.
The researchers noted that their reliance on diagnostic codes rather than echocardiograms might have led them to include a small number of cases that weren't actually aortic stenosis.
Thanassoulis and his colleagues focused on the LPA SNPs rs10455872 and rs3798220, as they are strongly associated with Lp(a) levels. While rs10455872 was included on the genotyping array, they had to impute the rs3798220 SNP.
Both SNPs were associated with an increased risk of aortic stenosis. Each rs10455872 allele a person had increased their odds of aortic stenosis by 1.34 times, while each rs3798220 allele increased their odds of disease by 1.31 times. Each rs10455872 allele was also associated with an odds ratio of 1.57 for aortic valve replacement.
The researchers also developed a risk score based on the number of risk alleles an individual harbored. While the score could theoretically reach four if someone had all four risk alleles, the researchers noted that they only observed scores between zero and two. Participants could have two of the same risk alleles or be compound heterozygotes.
This score was also associated with an increased chance of aortic stenosis and aortic valve replacement. Having two risk alleles, the researchers noted, led to a twofold increased risk of disease, as compared to having no risk alleles.
The researchers noticed, though, that other factors could modify this risk. For instance, age modulated the effect of rs10455872 on aortic stenosis. For individuals with the rs10455872 allele, their odds of developing aortic stenosis was highest between the ages of 55 years and 64 years, but declined when they were between the ages of 65 years and 74 years and again after the age of 75 years.
Thanassoulis and his colleagues noted that individuals who are at increased risk of developing aortic stenosis could be identified based on their results.
In a related commentary in JAMA Cardiology, Nationwide Children's Hospital's Vidu Garg wrote that Lp(a)-lowering therapies are under development. "[This study] identifies potential populations who might benefit the most from this new class of drugs," he added.