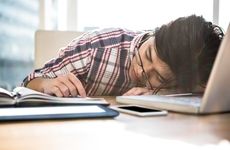 NEW YORK (GenomeWeb) – Results from a new study suggest that blood biomarkers can indicate acute sleep deprivation.
As they reported in the journal Sleep, researchers from the University of Surrey in the UK generated array-based gene expression profiles for hundreds of samples collected from three dozen young volunteers during a week of sufficient sleep and a week with little sleep, including a 24 hour stint of sleeplessness. Using a machine learning method, they tapped these profiles to search for messenger RNA biomarkers linked to acute or chronic sleep deprivation.
In the process, the team uncovered and validated a set of mRNAs — representing 68 genes related to cellular stress and other processes — that could identify acute sleep loss with 92 percent accuracy. The classification accuracy dipped to 57 percent in cases of chronic sleep deprivation involving less than six hours of sleep per night. Also, the authors cautioned that their current strategy did not offer insights into the amount of time each individual had remained awake during the acute sleep loss period.
"Identifying these biomarkers is the first step to developing a test which can accurately calculate how much sleep an individual has had," senior and co-corresponding author Simon Archer, a professor of molecular biology of sleep at the University of Surrey, said in a statement.
Archer added that the "existence of such biomarkers in the blood after only a period of 24-hour wakefulness shows the physiological impact a lack of sleep can have on our body."
The team noted that such a test would be beneficial in a wide range of real-world scenarios — from identifying individuals driving or working while drowsy to diagnosing or treating sleep disorders.
"We all know that insufficient sleep poses a significant risk to our physical and mental health, particularly over a period of time," co-corresponding author Emma Laing, a bioinformatics senior lecturer at the University of Surrey, said in a statement. "However, it is difficult to independently assess how much sleep a person has had, making it difficult for the police to know if drivers were fit to drive, or for employers to know if staff are fit for work."
Using Agilent expression arrays, the researchers assessed 254 samples collected in the week when participants got enough sleep and 242 samples from the poor-sleep week. In participants assigned to the training cohort, they searched for mRNA-based biomarkers with potential ties to everything from an individual's waking hours over the day to acute or chronic sleep loss.
While several of these metrics did not yield potential markers, the team's search for an expression panel linked to acute sleep deprivation did produce promising results in the validation cohort. That panel included genes related to cellular stress response.
"This characteristic response of whole blood to sleep loss can further aid our understanding of how sleep insufficiencies negatively affect health," the authors wrote. "Further development of these novel biomarkers for research and clinical practice requires validation in other protocols and age groups."