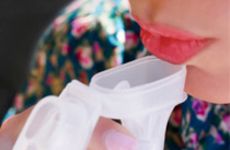 NEW YORK (GenomeWeb) – 23andMe has launched a pared down version of its Personal Genome Service (PGS) in the UK with CE mark certification.
A warning letter from the US Food and Drug Administration on Nov. 22, 2013 resulted in 23andMe having to stop reporting health-related genetic testing results to customers through PGS for the past year. Even though 23andMe wasn't actively advertising its services in the UK before now, more than 10,000 people residing in the country have ordered testing to date, and 3,800 of these customers ordered the test despite not having access to health-related reports following FDA's warning letter.
Now, 23andMe has decided to launch a localized version of PGS across the pond, outside of the FDA's reach but in line with UK regulatory requirements. Starting today, customers can order PGS through a new UK website for the price of £125 ($197.36) including shipping. PGS spit kits will be sent to ordering customers from a distribution center in Europe, according to 23andMe. Previously, when UK customers ordered the test from the US, they had to pay approximately $80 for shipping the spit kit.
UK customers will receive reports on more than 100 tests, including results on 11 health conditions, 43 inherited conditions, and 38 traits, as well as information about how likely they are to respond to 12 drugs. Existing UK customers who bought a kit from 23andMe between Nov. 22, 2013 and Dec. 1, 2014 will receive health-related reports for free, the company said. The genetic analysis will be performed on a customized Illumina HumanOmniExpress-24 format chip.
In launching the service in the UK, health regulators GenomeWeb spoke to pointed out that 23andMe edited out some of the tests it was previously offering that had raised concerns with the FDA. 23andMe suggested the same. "After consulting with a number of the most respected stakeholders in the scientific community and professional associations, 23andMe has focused on individual genetic markers with well-established associations that have clinical validity," a 23andMe spokesperson from the UK told GenomeWeb. "Certain 23andMe reports can help individuals better manage their health and lifestyle, while others simply offer a way to explore unique traits."
Additionally, 23andMe is launching PGS with CE marking. Labs can commercialize tests in the EU with so called CE or "European Conformity" marking – a self-certification process through which a company can let customers know that the product meets regulatory requirements.
Diagnostic industry players generally consider the regulatory environment for lab tests less challenging in Europe than in the US, particularly given the tensions surrounding the FDA's recently issued draft guidances outlining a new risk-based framework for lab tests. With regard to DTC testing services, the FDA states in the guidance that it "generally does not exercise enforcement discretion for [such] tests regardless of whether they meet the definition of an LDT … Therefore, the enforcement policies in th[e] guidance do not apply to DTC tests, and FDA's usual enforcement policies apply to DTC tests."
In England, the Department of Health seems satisfied that 23andMe has followed the principles put forth by the Human Genetics Commission in 2010 on direct-to-consumer genetic testing. "This government is developing the use of genomics for patient care within the National Health Service," a Department of Health spokesperson told GenomeWeb. "We welcome initiatives that help to raise awareness of genomics and those which enable people to take more interest in their personal health, but we urge people to think carefully before using private genomic services as no test is 100 percent reliable."
According to 23andMe, before launching the UK service, the firm consulted with the Medicines and Healthcare Products Regulatory Agency regarding how to market PGS and ensure that it was in compliance with UK regulations. Additionally, following review and approval by a research ethics committee, 23andMe hopes to give UK customers the chance to participate in genetics research.
23andMe believes there will be demand for PGS in the UK. According to 23andMe's survey of 470 existing customers based there, more than 70 percent have said they find the firm's test reports "extremely valuable." Approximately 24 percent have shared their reports with their doctors during a regular appointment, while 4 percent requested additional testing or made an appointment specifically to discuss results from 23andMe's service.
The company specified, however, that advertising and promotional efforts will be restricted to the UK, and reiterated that the company is not selling health-related information in the US. Although 23andMe is not yet marketing PGS in other EU countries, the company is "in the process of evaluating other market opportunities."
This is 23andMe's second offering of PGS outside of the US. In October, the company announced it would sell 108 health-related reports and ancestry testing services in Canada.
---
Justin Petrone contributed reporting for this story from Estonia. For more on 23andMe's UK plans, read our premium coverage.