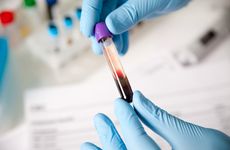 NEW YORK – Researchers from the Institute of Cancer Research, London and the Royal Marsden NHS Foundation Trust have presented data demonstrating that blood-based genotyping assays can accurately detect specific biomarkers and potentially be used to guide targeted treatment of metastatic breast cancer. 
The researchers used Guardant Health's liquid biopsy assay and Bio-Rad Technologies' droplet digital PCR (ddPCR) testing to identify errors — including mutations in the HER2, ESR1 and AKT1 genes — in circulating tumor DNA (ctDNA) that had been shed into the patients' bloodstream. 
During a presentation this week at the San Antonio Breast Cancer Symposium (SABCS), Nicholas Turner, molecular oncology professor at the Institute of Cancer Research, explained that his team wanted to solve the issue of genotyping breast cancer tumors without having to perform multiple biopsies. Turner highlighted the need for prospective studies to assess the accuracy of ctDNA testing in routine practice and the potential of these tools to guide targeted therapy without requiring solid tissue testing. 
With funding from Stand Up To Cancer (a fundraising campaign from Cancer Research UK and Channel 4) Turner's team therefore launched an ongoing prospective study, called "plasmaMATCH," to examine the clinical utility of ctDNA for metastatic breast cancer detection. The group enrolled a total of 1,044 patients with advanced breast cancer who had either progressed on prior drug therapy or relapsed within a year after adjuvant chemotherapy. 
The researchers analyzed ctDNA in blood samples from patients using the Guardant360 sequencing-based assay and Bio-Rad's ddPCR as an orthogonal method. Patients with identified mutations could also enroll in a treatment arm of the study that matched their mutation. 
Turner and his team split the patient population into three major cohorts depending on specific genetic errors found in ctDNA: ESR1 mutations, HER2 mutations, and AKT-1 mutations in estrogen-receptor-positive breast cancer. The researchers also added a fourth cohort that had AKT-1 and PTEN mutations based on both ctDNA and tumor sequencing results, as well as a fifth group with triple-negative breast cancer without mutations. 
While Turner's team's initially aimed to measure the response rate of targeted therapies matched to mutations in ctDNA without tissue testing, the researchers also monitored the frequency of mutations, accuracy of testing, proportion of patients entering a treatment cohort, and the activity in clonality-dominant versus subclonal mutations. Turner's team discovered that 784 patients who had cfDNA testing done with both Guardant360 and ddPCR had "very strong agreement" of between 96 and 99 percent. Comparing the ctDNA to the patients' tumor samples to validate the plasmaMATCH findings, the researchers found that the liquid biopsy assay had an overall sensitivity of 93 percent. 
Guardant360 also identified several more targetable alterations than hotspot testing, including over 35 percent more PIK3CA mutations that can be targeted by US Food and Drug Administration-approved therapies. The assay also detected significantly more ESR1 mutations and found previously undetected microsatellite instability and ERBB2 mutations.   
The researchers provided 142 patients that had specific identified mutations experimental targeted therapies as part of the study, and they plan to test the treatments that showed initial promise in larger clinical trials. 
The researchers now believe that they can use blood testing to identify rare subtypes of breast cancer, in addition to potentially replacing more invasive methods of breast cancer detection. 
"We have now confirmed that blood tests can quickly give us a bigger picture of the mutations [that] are present within multiple tumors throughout the study," Turner said in a statement.  
"We show that circulating tumor DNA testing offers a simple, efficient, and fast method of tumor genotyping," Turner also noted during the presentation at SABCS. "The patients with mutations identified in their ctDNA have efficacy with matching target[ed] therapies." 
The researchers believe the blood-based assays are now reliable enough to be applied routinely by clinicians after receiving regulatory approval.
"As the number of treatment-relevant genomic alterations in metastatic breast cancer continues to grow, it is critical that oncologists have a simple and reliable way to comprehensively test for this information about their patients," Guardant Health Global Chief Medical Officer Rick Lanman said in a statement. "Guardant360 detected changes in the genome picture over time … and also identifies targetable but uncommon genomic biomarkers."