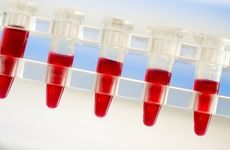 NEW YORK – Liquid biopsy monitoring firm Lexent Bio has shared new details of its test methodology, published last month in a scientific preprint that describes an initial validation study in a small, prospectively enrolled cohort of advanced cancer patients.
The results of the study, which appeared in the recently launched MedRxiv server late last month, showed that Lexent's whole-genome assay approach achieved a sensitivity of 54 percent and specificity of 100 percent in identifying late-stage cancer patients that were failing to respond to the drug with which they were being treated.
This highly specific detection of what the company calls "molecular progression," also manifested itself an average of 6 weeks before follow-up imaging caught signs of clinical progression, suggesting that it could augment oncologists' ability to get patients off of drugs that aren't working, creating opportunities to try something else.
Lexent, which emerged out of work that company cofounders initially began as employees of hereditary cancer testing firm Counsyl, is now conducting a follow-on clinical validation with the expectation of completing that by the end of next year and offering its liquid biopsy drug response monitoring approach as a laboratory-developed test thereafter.
Ken Nesmith, Lexent's CEO, said that the assay is already available for research use, and Ted Snelgrove, who was recently appointed as the company's chief business officer, added that the company is expecting to have several pharma-related research partnerships running this year.
Although the clinical use case for the company's assay would be to provide real-time monitoring of disease response to guide changes to therapy, the company is also targeting research applications like the use of blood-based monitoring in adaptive clinical trials.
"The ability to rapidly identify non-responders in a trial setting so they can switch to another arm … is something that could be an early, big use case for our system and we're in discussions now … about the potential for that. We don't have anything to announce yet, but we will at some point in the future," Snelgrove said.
When it first began discussing its plans last year, Lexent provided little information about the technology behind the test it was developing. But the new preprint lays out more clearly what the company is working with. The method involves genome-wide sequencing of circulating cell-free DNA and the application of algorithmic methods to identify a signal of response or non-response based on changes that occur in gene copy number and DNA fragment patterns compared to a normal baseline.
The current preprint also describes the integration of additional epigenetic information to the assay, and some early evidence of added value from that bisulfite sequencing data. However, Lexent is saving a more detailed report on performance of a fully integrated genomic and epigenomic method for future publication.
In the study, investigators from Lexent — with collaborators at Northwestern University, Vanderbilt, and a California group oncology practice — followed 97 patients with advanced cancer as they received normal treatment and monitoring via imaging.
The group tested blood samples from these patients in parallel, using the Lexent whole-genome methodology to quantify longitudinal changes in ctDNA that could provide a binary measure of "molecular progression."
Sensitivity for the assay in identifying clinical progression was 54 percent with 100 percent specificity, and molecular progression preceded positive findings on imaging by an average of 40 days.
The study also found that patients with early molecular progression had shorter progression-free survival compared to others.
Muhammed Murtaza, co-director of TGen's Center for Noninvasive Diagnostics, where he and colleagues are developing a method they call TARDIS for blood-based disease monitoring in early-stage cancer patients, said that the 56 percent sensitivity in the Lexent preprint seems to leave significant room for improvement.
But Haluk Tezcan, Lexent's chief medical officer, argued that specificity is more important for the use case that Lexent is targeting. "I think the difference between some of the other approaches [being explored] compared to ours is this very high specificity around the progressive signal," Tezcan said. "None of the patients [with a positive signal of molecular progression] had a durable clinical benefit."
This means that the test readout is something that clinicians could have high confidence in using to cease, or deescalate, a treatment. In the care of patients with advanced disease, decisions to stop treatment can be particularly fraught for both patient and oncologists.
Although numerous genomic approaches are now being explored to track cancer response or predict outcome via circulating tumor DNA, questions remain about whether such tools can actually improve patient outcomes or quality of life.
Tezcan admitted that this clinical utility is something that Lexent will have to demonstrate to make a strong case to clinicians and payors.
"It has to be shown … for patients who you identify earlier of having a progression … whether making a change at that point would [meaningfully] affect their outcome," he said. "I think … it varies based on available therapies, tumor biology, and whether [the patient has] a performance status to actually endure another line of therapy."
"But it is logical that if you are able to avoid an additional one or two cycles of [ineffective] therapy, even if you cannot change their overall survival, you could expect their quality of life to improve because they are not waiting to have their disease progressed to a point that's evident on an imaging or a clinical finding."
Snelgrove also argued that oncologists already want more real-time information. "There are other stakeholders and other interests in this than just the clinical oncologist looking at data," he said. "If you think about the clinical practice setting [for] late-stage treatments, there's a lot of prep, there's a lot of preauthorization from the insurance company. Sometimes the patients have to be able to come up with a fair amount of resources on their own. There's a lot of cash required."
"Right now they are dependent on radiographic progression. But the problem with that is that it just takes so much longer than is appropriate given this context to get an answer," Snelgrove added. "Every day represents opportunity costs for the patient … and real costs in terms of potential toxicity and money. Wasting those days is something I don't think the healthcare system is willing to let oncology continue to do in the presence of a technology like ours that actually allows one to know this as soon as is biologically evident," he argued.
According to Tezcan, Lexent will begin a clinical utility study to prove some of these hypotheses as soon as it finishes its clinical validation, which is expected by the end of next year.
Finally, Tezcan said, the study results also hint at another future benefit from having the ability to monitor response on a molecular level rather than progression on a structural or imageable level. It doesn't just offer a way to better understand whether drugs are working, he said, it also opens new opportunities to try to make them work better.
"We saw that the degree of response in the very early time setting predicts for a different outcome — meaning a better outcome if you have a deeper response. And I think that's going to drive, hopefully, some innovative approaches," he said. "If this is validated and we show that this is a useful tool, [you can start to study ways to] actually improve outcome by trying to reach that major molecular response."
Nesmith reiterated Lexent's plan to begin offering its testing through an LDT model, which should start after the company finishes is clinical validation. Snelgrove added, though, that the company is also going to be looking for potential commercialization partners to help it move forward from there.
"We think this is a sufficiently big opportunity as a product concept that it will benefit from having more horsepower in the launch phase than a startup may be able to bring to bear, so we're in discussions with folks who [might be able to] help us … and we think those are discussions that will reach fruition this year," he said.
As stated last year, Lexent is also investigating whether its approach could be used in the setting of early-stage cancer to detect the presence of minimal residual disease in patients post-surgery, helping to identify who might need additional adjuvant treatment.
TGen's Murtaza said that it may be difficult to translate a method that works in later-stage patients — especially one with lower sensitivity even in the context of these patients' relatively high levels of ctDNA — to the context of early-stage cancer.
But Tezcan said that Lexent is continuing its work in this vein. "We are still … collecting the data, and this requires a longer clinical development because you have to wait for some of these patients to have a recurrence to understand the clinical outcome," he said.