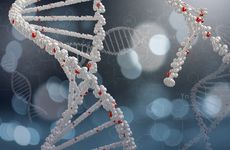 NEW YORK – Researchers led by cell-free DNA testing pioneer Dennis Lo have made new progress in the development of a test for more accurate detection of preeclampsia in pregnant individuals, sharing new data demonstrating that digital PCR can be used to detect the long cfDNA fragments that can distinguish those developing this complication from others with normal pregnancies.
The new study, published earlier this month in Prenatal Diagnosis, follows the team's earlier demonstration that fragment-size differentiation can indicate incipient preeclampsia.
Stephanie Yu, one of the paper's coauthors and a member of Lo's team at the University of Hong Kong, said that although the current data are only preliminary, they suggest that this could be developed into a test with clinical value.
Early detection of preeclampsia may not strike as an especially serious unmet need, but Yu said that it could actually provide a lot of benefit to the Ob/Gyn community in guiding recommended use of low-dose aspirin as a prophylactic against developing the elevated blood pressure that features in preeclampsia.
Yu said the American Society of Obstetrics and Gynecology recommends that treatment be initiated optimally before 16 weeks in at-risk individuals. But in current clinical practice, the only way to determine an individual's risk is with clinical and demographic factors, like age, and medical history. Studies in the past have tried to identify chemical or physical biomarkers like RNA signatures, proteomics, or methylation, but positive predictive values have been low, she added.
"Although the underlying etiology of preeclampsia remains uncertain, it is believed that abnormal placentation and placental stress are mechanisms involved in its development," Yu said, adding that soon after Lo's initial discovery of cell-free DNA (cfDNA) in maternal plasma in 1997, he also observed changes in cfDNA quantity in pregnancies with preeclampsia.
Since then, other groups have also reported findings like increased total cfDNA or fetal DNA in preeclampsia. The group hypothesized that unique fragmentation patterns, which they have previously showed to be associated with fetal abnormalities and cancers, would also feature in preeclamptic pregnancies.
They showed this was the case initially using a single-molecule sequencing technique called SMRT-sequencing, publishing their results in Proceedings of the National Academy of Sciences in 2021, demonstrating a distinct ctDNA size profile, specifically a reduction in the percentage of long cell-free DNA, in pregnancies with preeclampsia.
For Yu and her colleagues, the next goal was to try to adapt this to a cheaper and easier methodology, in this case droplet digital PCR (ddPCR) using Bio-Rad Technologies' QX One instrument.
"We know that the cost of sequencing is currently too high for widespread clinical use, so this pushed us to develop a droplet digital PCR-based method for the analysis of long cell-free DNA in maternal plasma, and as reported in our study, a ddPCR-based test is more than 30 times cheaper than long-read sequencing," Yu said.
"There are also other advantages of building out a panel-based test," she added. "It would be shorter turnaround time and also a smaller DNA input requirement, which is very important as we are working on cell-free DNA."
In the study, investigators analyzed plasma samples from 10 preeclamptic and 16 normal pregnancies, initially developing two ddPCR assays targeting a housekeeping gene, VCP, in fragment sizes of more than 533 and more than 1,001 base pairs, which were the main sizes analyzed in previous sequencing work.
They also conducted in silico dPCR simulations, using cfDNA sequencing data from their prior study, to determine the optimal parameters and the best differentiating power between control and preeclamptic pregnancies. This resulted in a third assay aimed at the long interspersed nuclear element-1 (LINE-1), a run of approximately 1,600 repeat regions across the genome, targeting fragments longer than 170 base pairs.
According to the authors, both the initial assays and the LINE-1 assay were able to differentiate preeclamptic patients from the healthy controls, but the LINE-1 assay provided better differentiation, with an area under the receiver operating curve of 0.94 compared to the VCP 533 assay.
The breadth of the LINE-1 assay also resulted in a 1,600-fold enrichment of target fragments compared to the single-copy gene assays which allowed for much smaller DNA inputs.
"Based on our initial findings we believe that this test has promising clinical potential, but much more needs to be done before it could be applied clinically," said Yu.
This includes follow-up validation studies with larger cohorts of samples, along with studies to explore how early in pregnancy a test can detect a difference in fragmentation sizes, which will be necessary for demonstrating clinical utility. The researchers will also try to determine what confounding factors might affect the percentage of long cfDNA molecules in a pregnant person's plasma.
Yu also said the field is still not sure about the mechanism whereby longer molecules become less prevalent in preeclampsia. "Like many of the phenomena like this … there is still a lot of controversy. We actually have some postulations, but I think we really need further experiments to explore this."