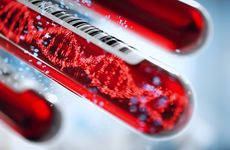 NEW YORK – Canadian firm Canexia Health is hoping that its leadership of a countrywide effort to widen patient access to liquid biopsy testing during the COVID-19 pandemic will help with its own development of new products for cancer mutational analysis and transformation into a precision oncology company.
Formerly called Contextual Genomics, the Vancouver, British Columbia-based company said last week that it is spearheading Canada's Project ACTT (Access to Cancer Testing Treatment), through which it hopes to develop a new, more comprehensive version of its Follow It next-generation sequencing (NGS) assay for cancer mutational analysis.
Founded in 2012 by Chief Medical Officer David Huntsman, CSO Samuel Aparicio, and Chief Informatics Officer Sohrab Shah , the firm initially sought to emphasize its experience on genomics. However, CEO Michael Ball said that the company recently shifted to highlight its expertise in artificial intelligence and machine learning for clinical data and other components critical to the success of a broader focus on precision oncology
"It's become clear that … what I call 'multi-modal data integration' is critical here, because as you integrate additional clinical data points, you can gain the most accurate view of how [patients] should be treated for cancer," Ball explained.
The team therefore began discussing plans to rebrand last fall before eventually altering the company's name to Canexia Health to reflect its status as a health company instead of a genomics firm.
Canexia's Follow It assay, launched in 2018, collects circulating tumor DNA (ctDNA) to spot somatic gene alterations to guide treatment selection and identify acquired drug-resistance mutations in patient blood samples.
Ball noted that the multiplex assay, which requires two 10-ml tubes of blood, can identify 30 genes, 146 hotspots, and 23 exons per run on an Illumina MiSeq instrument. The test has a clinical sensitivity of about 98 percent and a specificity of 100 percent.
Canexia currently offers the assay as a laboratory-developed test out of its CLIA-certified, CAP-accredited lab at the University of British Columbia. Ball highlighted that the workflow's overall turnaround time to produce actionable results can be as rapid as three days, depending on external conditions.
COVID-19 consortia
Because of COVID-19, some hospitals have delayed standard clinical visits and procedures to prevent spread of infection among vulnerable populations. However, Ball noted the strain on the healthcare system has prevented most cancer patients with metastatic tumors from undergoing tissue biopsies and receiving targeted therapies that may help improve their outcomes.
In March Canexia rallied a consortium of members from Canada's Digital Technology SuperCluster (DTS) behind a proposal to use its liquid biopsy approach for cancer testing. The firm had previously joined DTS last summer to help further validate its NGS-based platform.
"We saw that in Canada, cancer surgeries and biopsies were being cancelled as the surgery groups reprioritized for COVID-19 patients," Ball explained. "Although we're not developing a vaccine for COVID-19, we thought we could play an important role in helping cancer patients deal with the impact of the pandemic." 
According to Bill Tam, chief operating officer of DTS, Canexia and its collaborators launched Project ACTT after receiving institutional approval from the supercluster in June. DTS agreed to fund the initiative because it addressed needs in the healthcare system and precision health during the COVID-19 pandemic.
"We've seen a backlog of surgical procedures, upwards of 100,000, delayed in Canada, which about 30 percent are in cancer-related procedures," Tam said. "Having this tool to overcome the logjam associated with turning back to surgical procedures is a big step forward."
Tam explained that DTS has invested $1.6 million in Project ACTT, while the consortia has co-invested $1.0 million. The project will make testing immediately available to 2,000 cancer patients with lung, breast, or colorectal cancer in Canada.
Canexia is working with AstraZeneca Canada, Queen's University, the Eastern Ontario Regional Laboratory Association, Genolife, Emtelligent, Novateur, Sempahore Solutions, Xtract AI, and Illumina as part of the project.
Ball said that Project ACTT will initially involve collaborators drawing blood samples of patients that request the Follow It assay at health centers in British Columbia, Ontario, Quebec, and Saskatchewan. By providing a blood sample at a local health center, the patient will be able to minimize the risk of catching COVID-19, as they do not need to undergo a tissue biopsy at a larger hospital. 
After receiving patient samples at its lab, Canexia will assess them using the Follow It assay on Illumina NGS instruments.
"We [will] provide oncologists a list of available treatments that say 'based on the tumor profile, these drugs are available, and these clinical trials are available as well for the patient,'" Ball said. "But it's up to the oncologist [from there] to make the decision about [personalized] treatments."
Harriet Feilotter, a professor in the pathology and molecular medicine department at Queen's University and project collaborator, said that her team began working with Canexia as part of its efforts to raise funding for liquid biopsy research for advanced lung cancer during the pandemic. The group agreed to join the project last month.
"One of the really attractive parts of the proposal is the idea that we could begin collecting data on how liquid biopsy performs in a variety of different patients," Feilotter explained. "We could use that to inform [health] ministries and let them decide if that would be a good use of funds."
Ball said that Canexia hopes to eventually minimize turnaround time by gradually transitioning the workflow to partners' labs in the four provinces.  
"We are working with different groups and figuring out how quickly they want to establish that workflow, which [all] require individual discussions," Ball explained. "Harriet's group is the first example of how we will transition: she'll do the blood draw, recording, and the rest all within her system and will not need to send anything to us."
Liquid biopsy education
Canexia also aims to use the project to improve Canadian oncologist and hospital education on liquid biopsy as an alternative or complementary tool to standard tissue biopsies.
Feilotter noted that by performing the assay in her own lab, other academic groups may find interest in using liquid biopsy more broadly across Queen's University and gradually across the academic setting.
Ball emphasized that Project ACTT differs from previous liquid biopsy initiatives in Canada because it is nationwide instead of localized to provinces. By testing up to 2,000 patients, Canexia wants to collect necessary data to help healthcare providers decide whether to cover the assay as part of a patient's standard of care across Canada. 
"We want to allow hospital systems in each province [the option] of offering the test locally, closer to the point of care, with faster turnaround times," Ball said. "By collecting data across several provinces over the next nine months, we can make the case that they can use this as an alternative or complement to tissue biopsies, depending on the oncologists' preferences, resources, and accessibility."
"If we could also work toward standardized assays so that patients across the country can get the same test, that would be quite a breakthrough," Feilotter added. "Any success in that area is a bit of a showcase on what we might be able to do in the future."
One of the potential challenges of the new model, Feilotter acknowledged, will involve the amount of engagement between the clinic and the lab conducting liquid biopsy testing. When all patients get tissue biopsies, she noted that there is not as much engagement needed between members of the care team.
Feilotter emphasized that communication between members of the care team, including labs, will need to be guaranteed in a liquid biopsy-based model. If a liquid biopsy result does not identify mutations in key genes, she noted that an oncologist cannot identify it as "negative," but instead must label it as "inconclusive." 
"You [therefore] need to find a way to get back to the patient to ensure they get a biopsy if possible and [that] they don't fall through the cracks," Feilotter explained. "We need to make sure that each patient gets the proper amount of reflex testing when needed, because some patients will need to go for biopsy if we can't see what we're looking for."
Commercial plans
If Project ACTT is successful, Canexia anticipates applying the same model for cancer treatment selection in international markets. While the firm has customers for the Follow It assay in Canada, the US, and Australia, Ball hopes to eventually offer the test in Europe in early 2021, potentially followed by Asia in the future.
Despite the fact that Project ACTT will initially focus on guiding personalized treatment for patients with metastatic lung, breast, and colon cancer, Ball said that Canexia will use the project to develop an updated version of Follow It. However, he declined to elaborate further on the test's details, other than it will detect a wider range of solid cancers. 
"We've restricted the first phase to three cancers whose tumors arguably shed the most amount, [such that] a blood-based test [result] is at least similar to [that of] a tissue-based test," Ball said. "The majority of the money provided the by the Canadian government will allow us to improve the test's sensitivity and specificity for different cancers."  
Ball anticipates the firm launching the new version of the test early next year even as it continues to validate its current test using available resources. In addition, the company expects to eventually use its products for monitoring cancer patients, for instance measuring residual disease.
"At the end of the day, what we've done is create more awareness of liquid biopsy generically and hopefully open doors in provincial health groups to support our tech or others," Ball said.