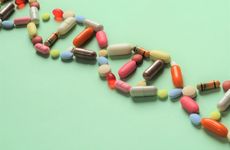 SANTA CLARA, Calif. – University of California, San Francisco Health will launch a clinical pharmacogenetics program next month, faculty announced at the Precision Medicine World Conference (PMWC) on Friday.
The program will launch Feb. 14, and test for 17 genes that influence a patient's response to 62 drugs, according to Bani Tamraz, an associate professor at the UCSF School of Pharmacy.
"UCSF is getting a very nice Valentine's present, and that is a broad clinical pharmacogenetic program that we've been working on in the last year and a half," he said at the PMWC on Friday. Patients tested through the program can learn how, based on their genetics, they're likely to respond to a variety of drugs, including treatments for mental health conditions, cancer, hormonal problems, and infectious diseases.
The program will be supported by two automated clinical decision-support (CDS) systems embedded in UCSF Health's Epic Systems electronic health records. The underlying CDS algorithms will present PGx information to clinicians in an "easy, digestible format," Tamraz said.
The first CDS will be a "pre-test" alert for patients who don't already have genotype data in their medical record. The system will alert doctors on how a patient's genetics could affect drugs they're prescribed, and prompt clinicians to order a PGx test based on recommendations from the Clinical Pharmacogenetics Implementation Consortium and the US Food and Drug Administration. The variant annotations are based on guidelines from PharmGKB, an online PGx resource funded by the US National Institutes of Health. 
These alerts will be live for a subset of 25 medications, including for the chemotherapies fluorouracil and capecitabine, which can lead to severe toxicity in patients with DPYD variants. If doctors choose to act on the pre-test alerts and order PGx testing, patients will give a blood sample that's processed and genotyped at the CLIA-certified UCSF Genomic Medicine Laboratory. Samples are genotyped using Thermo Fisher Scientific's PharmacoScan array. The test has a turnaround time of two weeks, and results will be available to clinicians in the Epic EHR's genomic module and to patients through the Epic MyChart patient portal.
The second "post-test" CDS alert will fire during prescribing if a PGx-tested patient has a clinically actionable variant. The alert provides pharmacotherapy recommendations based on the variants that patients have, and which doctors can choose or decline to order.
The two types of CDS alerts, which were written by a PGx team at UCSF Health, also include links to information that explain why PGx testing may be useful or why a particular drug is recommended or contraindicated, and allow prescribers to supply their reasoning for why they did or did not adjust a patient's medications as recommended. In cases where a clinician is presented with a clinically actionable post-test alert, the pharmacist processing the order will be able to see whether the ordering clinician made changes based on the PGx information. This can open opportunities for pharmacists and providers to further discuss patients' PGx test results. 
To develop this program, UCSF Health assembled a multidisciplinary PGx team in September 2021. Experts from different medical specialties, pharmacists, and staffers who work on the EHR met at least weekly, Tamraz said. A team of 38 pharmacists and physicians reviewed the EHR-embedded alerts. UCSF Health also established a PGx consult service to address questions from physicians as the program goes live.
The PGx program will help move UCSF Health toward more preemptive PGx care, in which patients get PGx testing and results are stored in the EHR in case patients are ever prescribed a treatment affected by the variants. "I really view clinical pharmacogenomics as a tool that we have as clinicians as part of our clinical decision-making," Lisa Kroon, chair of the UCSF School of Pharmacy's clinical pharmacy department and a program leader, said during a PMWC session on preemptive testing earlier in the week. "I'm really hopeful that, eventually, [PGx testing] will become part of our routine clinical care."
Next, UCSF Health wants to explore the impact of its CDS systems looking at, for example, the actions clinicians are taking in response to an alert.
"We anticipate that the first three to six months we're going to learn a lot," Kroon said. UCSF Health will also track the patient populations that are learning about PGx and being offered testing by doctors to ensure equity across the system, she added.
To get the PGx program off the ground, the UCSF Health team needed to demonstrate to administrators that such testing would have a positive impact on patient care and yield a return on investment. While they were able to model that the program would reduce the overall cost of care, most of the savings are likely to be realized by those paying for care, for example, insurers, and not the health system that has invested in setting up the testing infrastructure, Russ Cucina, UCSF Health's chief health information officer and VP for genetic and genomic services, said at the PMWC meeting.
"We have the privilege of working for an organization that lets us do things like that and can afford to do things like that. Not every organization can," Cucina said. "The difference between [a] cost-effective and money-saving [program] is a challenge that we have faced and discussed, and [this] is an important challenge for many facilities."