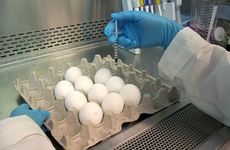 CHICAGO (GenomeWeb) – With flu season now in full swing in the Northern Hemisphere, the Human Vaccines Project is turning to various omics methods and to artificial intelligence-driven computer simulations in an effort to create more effective influenza vaccines.
The US Centers for Disease Control and Prevention has estimated that annual flu vaccines can reduce the risk of developing certain types of influenza by 40 percent to 60 percent. But current vaccines, which target whatever virus scientists believe might be predominant in a given year, don't confer immunity or protect against pandemics or exotic strains such as H5N1 avian influenza.
"There aren't very good vaccines," said Ted Schenkelberg, chief operating officer of the Human Vaccines Project. "We don't understand how the immune system fights influenza."
A month ago, the New York-based Human Vaccines Project kicked off the Universal Influenza Vaccine Initiative, an effort led by Vanderbilt University Medical Center. Researchers from the University of California, San Diego, the Scripps Research Institute, the La Jolla (California) Institute for Allergy and Immunology, the J. Craig Venter Institute, the University of British Columbia, and Lawrence Livermore National Laboratory, will participate in clinical trials starting early next year.
Researchers will run immunome tests and take samples of tissue, blood, bone marrow, and lymph nodes to examine genomic and bionomic factors, according to Schenkelberg. Analysis will include transcriptomics, metabolomics, genomics, epigenomics, and proteomics, and will use tools such as cytokine assays, flow cytometry, immunomonitoring, and data integration from clinical records, organizers said.
"They will be using different techniques for analyzing the data," said James Crowe, director of the Vanderbilt Vaccine Center and lead investigator of the Human Immunome Program component of the Human Vaccines Project. (The Human Immunome Program aims to make sense of the enormous data sets associated with the human immunome.)
Vanderbilt will handle most of the sample collection, then perform some assays locally and send other samples to partner institutions, according to Crowe. "We want to use every available omics technique," he said.
"At the Human Vaccines Project, we're focused on the human immune system and how we fight diseases," Schenkelberg said. "We now have tools that we didn't have before." Researchers will be looking for where they can apply those tools to have the biggest impact on flu vaccines.
"We need a total shift in the way that we do these things," Schenkelberg said. "If we keep going the way we're going, we're [only] going to get incremental improvement." The Universal Influenza Vaccine Initiative has far higher aspirations.
"Every century, we have four to five pandemic outbreaks of flu," Schenkelberg noted. "We're probably due for a 1918-size event." That outbreak a century ago killed an estimated 50 million people and infected one-third of the world's population at the time.
This means that researchers have to be proactive. "We can't play catch-up," Schenkelberg said.
They will start with an inpatient study looking for innate immune factors, according to Crowe. "These [factors] are very dynamic, and nobody knows when changes happen," he said. "We don't know the optimal time and volume" for blood draws, so about 10 to 20 inpatients will have frequent blood draws during the study, he said. "Then we will plan studies that are almost the scale of Phase II trials," Crowe added.
Schenkelberg said that he expects to enroll 1,500 to 1,700 people on five continents over the next five years. One goal is to be as racially and ethnically diverse as possible. "We will be studying pregnant women, children, and different races and ethnicities," Crowe said. "The scale of studies is going to allow us to do that," he added.
The first two years, however, will be dedicated to getting panels together and developing the data analytics to support the research.
The Venter Institute and Livermore, in particular, will be applying machine learning to the data. "They are going to be pushing the boundaries with simulations and bioinformatics," Schenkelberg said.
The Vanderbilt Vaccine Center will make some use of Illumina's Multi-Ethnic Genotyping Array (MEGA) chip, according to Crowe, though it is interested in conducting whole-genome sequencing if funding is available. "We will have enormous amounts of [data] from exomes, immunomes, and single-cell transcriptomics," Crowe said.
In some cases, the researchers will be challenging patients with viruses a month or two after giving them vaccines to test the efficacy of the immunizations.
"We know a lot of immune factors fire off after vaccination," Crowe explained. "But which immune factors fire off after vaccination is not well known."
Some researchers will be looking at blood, fine-needle aspirates, and even populations of cells, Crowe said. "You need to measure a lot of these things at once and not just measure single cells."
Preliminary work for the inpatient study has begun, with researchers developing assays and seeking approval of Vanderbilt's institutional review board. "We are measuring a few time points with people who got this year's flu shot," Crowe said.
The inpatient study will use the vaccine under development for the 2018-19 flu season.