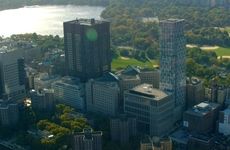 NEW YORK (GenomeWeb) – The Icahn School of Medicine at Mount Sinai has created the Center for Genomic Health, a new clinical research entity that will be a part of a $100 million pledge to integrate artificial intelligence into healthcare.
The Center for Genomic Health will be housed in another new and larger center, the Hamilton and Amabel James Center for Artificial Intelligence and Human Health, launched earlier this week. As reported by Bloomberg, the James Center was enabled by an undisclosed philanthropic gift and other funding totaling $100 million.
While Mount Sinai has committed to giving the James Center an entire building in New York, it said all the funds will go towards hiring new faculty and establishing the programs that will fit within the James Center, including new and existing programs.
In a statement, Mount Sinai said it expects to open the James Center in late 2021.
Mount Sinai Professor Eimear Kenny will lead the Center for Genomic Health as founding director. Professor Noura Abul-Husn will serve as clinical director. Eric Nestler, dean of academic and scientific affairs at the Icahn School of Medicine, said he expects the center to begin pilot projects to bring genome sequencing to primary care clinics as early as September.
"We see the potential of artificial intelligence to radically transform the care that patients receive, and we want to shape and lead this effort," Kenneth Davis, president and CEO of Mount Sinai Health System, said in a statement. The gift "will create a hub where our talented researchers can collaborate in unprecedented ways and bring forward ideas and innovative technologies that achieve better outcomes for our patients."
"You can do a lot with $100 million," said Eric Topol, director and founder of the Scripps Research Translational Institute and an expert on the integration of genomic and digital technologies. "The idea they have funding for is a good, sound idea. We do the same thing at Scripps, but we don't have $100 million." He added, "It's just the beginning, now, of these centers that are advancing data analytics to enlighten how we move forward." He predicted similar centers would pop up in the future.
The new AI-focused center is the culmination of two years of strategic planning and almost a decade of investment in data science, Nestler said. "We feel we've led the field in applying computational approaches to both research and clinical care," he said. "It became clear to us about two years ago it was time to put this all together."
The James' gift came in approximately six months ago. "I think we captured his imagination and showed how his gift could help Mount Sinai take a lead in this nationally," Nestler said.
The James Center will be the latest initiative by Mount Sinai to feature precision medicine, big data, and artificial intelligence. In 2018, the organization announced a $200 million investment in a precision medicine data science program to fast-track drug discovery by integrating data analysis and genomics. And in March, Mount Sinai announced a $15 million gift from Germany's Hasso Plattner Institute to fund a collaboration with Mount Sinai's Institute for Next Generation Healthcare (the Hasso Plattner collaboration is slated to become part of the James Center.)
Topol said Mount Sinai will need to make sure it has two things: carefully annotated data sets and "transdisciplinary talent." Mount Sinai says it has specific plans to acquire both.
In a statement, Mount Sinai said it plans for the Center for Genomic Health to be the "first in New York City to integrate genomic screening into routine primary care."
Nestler explained that the center grew out of the Institute for Personalized Medicine and its BioMe project, which collects and couples genomic and clinical data. BioMe "has become a major source of data for our AI experts to infer new insight into disease risk, diagnosis, and prevention," he said. "The Center for Genomic Health is taking that one step further."
The program will look for actionable variants in every person who comes to Mount Sinai for primary care. He noted studies that suggest a small percentage of apparently healthy people have genomic sequence variations that are actionable in the sense that they could suggest disease risk or an intervention to lower that risk.
"I will be one of the first individuals to sign up," Nestler added. "We see this as the future of medicine. We've been talking about it for decades, I think we're finally here."
He also suggested that Mount Sinai's location in New York could help the Center for Genomic Health create a more diverse genomic dataset, given that people with European ancestry are overrepresented in the genomes that have been collected to date.
In addition to the Center for Genomic Health, Mount Sinai said the James Center would also focus on multi-omics in complex diseases. Researchers will combine genomics — including single-cell analysis — with "epigenomics, pharmacogenomics, and exposomics, and integrate this information with patient health records and data originating from wearable devices in order to model the molecular, cellular, and circuit networks that facilitate disease progression," Mount Sinai said.
The James Center will also focus on precision imaging.
As for the transdisciplinary talent, Mount Sinai it will hire 40 new principal investigators and 250 graduate students, postdocs, computer scientists, and support staff. That's in addition to any current Mount Sinai researchers who might move into the center, Nestler said. Mount Sinai did not announce any new hires, but said it is in the process of making those decisions. Nestler added that Mount Sinai is looking to hire researchers with expertise in a broad range of technologies, from classification algorithms to augmented reality.
Nestler said Mount Sinai plans to commercialize the research taking place at the center and is "very interested in device development." The amount of intellectual property generated, especially IP that is commercialized with private companies, will be one yardstick by which Mount Sinai measures the initiative's impact and success.
Where the new centers will exist in physical space is yet to be determined. Nestler said Mount Sinai, which is located in Manhattan's Upper East Side neighborhood, is choosing between two locations, one of which already exists, but will need renovation, and one that will involve new construction.
Hamilton "Tony" James is executive VP of Blackstone, a New York-based private equity firm. According to his firm's webpage, he serves as chairman of the finance committee of the Mount Sinai Health System. In 2018, Blackstone acquired life sciences investment firm Clarus for an undisclosed amount and launched Blackstone Life Sciences, a "private investment platform" that has invested in pharmaceuticals, medical devices, and diagnostics.