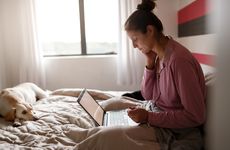 NEW YORK – A text messaging-based approach to communication could provide a convenient avenue for patients to access genetic counseling.
Although most patients receive genetic counseling in person or through audiovisual telehealth today, other methods could ease access challenges for patients in need of support, said Cari Koerner, a genetic counselor in the cancer center at Greensboro, North Carolina-based Cone Health. Koerner is the first author on a paper published in the Journal of Genetic Counseling this month that analyzed topics discussed by patients in asynchronous, chat-based sessions — an area she says has been understudied.
For their study, Koerner and colleagues analyzed 34 de-identified chat transcripts from DNAvisit, a telehealth company that provides messaging-based genetic counseling. The transcripts comprised conversations between genetic counselors and patients who had received direct-to-consumer genetic test (DTC-GT) results.
The company's chat service, which takes place through a web-based portal, is asynchronous, which means it's not live; genetic counselors have up to two business days to respond to patients' messages. 
Today, the dominant model for a patient to access genetic counseling is through referrals in a hospital system, but there's a growing market of companies — such as DNAvisit and Genome Medical — that sell a range of telehealth options directly to consumers, said Rachel Mills, an assistant professor in the genetic counseling program of the University of North Carolina at Greensboro and the corresponding author on the paper. She suggested that messaging-based services, in particular, could open the door for more convenient access to genetic counseling for consumers who otherwise may not have sought out such services.
While a number of consumers are seeking DTC genetic testing outside the healthcare system, most don't look for genetic counseling, despite recommendations from the American College of Medical Genetics and Genomics and the National Society of Genetic Counselors. In many cases, consumers may not know how to access genetic counseling. When they do try to engage such services, they might face hurdles if they can't find counselors near their home or can only identify clinics that don't accept outside referrals.
An analysis of the DNAvisit chat transcripts found that most patients reached out to genetic counselors with questions about specific variants and conditions in their test results, as well as for advice on next steps to take in terms of care management and additional testing. In conversations with nearly all patients, genetic counselors discussed limitations of DTC testing and recommended clinical-grade testing.
"Results suggest that genetic counselors are able to provide genetic information to clients and respond to their mental and emotional needs through asynchronous chat following DTC-GT," the authors wrote.
A messaging-based approach to genetic counseling could be a promising option for relatively simple and low-risk situations, Mills and Koerner said, although there should be a way to move to a higher level of care if needed.
"People have such different needs," said Koerner, who hasn't used messaging-based genetic counseling services herself. She primarily sees patients in person or through video-based telehealth visits.
At DNAvisit, the company sells 30-day and 60-day subscriptions to its chat service, during which patients have unlimited access to a genetic counselor, said Heather Wetzel, DNAvisit's director of genetic counseling and a coauthor of the study. With the 60-day subscription, genetic counselors can also schedule a phone call with patients if needed.
The service uses artificial intelligence (AI) to analyze conversations and suggest replies for the genetic counselor to send based on a library of prewritten responses to common questions, in a move designed to help genetic counselors be more efficient, Wetzel said. All responses are ultimately selected, and can be modified, by the genetic counselor. That's different than AI chatbots that guide patients through the genetic testing process and receiving their results, like those offered by Invitae and adopted by health systems like Geisinger, which interact with patients through conversations that are automated, immediate, and don't involve a human genetic counselor.
The type of asynchronous messaging explored in the Journal of Genetic Counseling paper is still uncommon in genetic counseling but could possibly increase access when used in the appropriate context — particularly for patients prioritizing convenience, said Deepti Babu, president of the National Society of Genetic Counselors, who was not involved in the study. Today, patients tend to access genetic counseling through in-person appointments, though there's been an uptick in telehealth visits since the COVID-19 pandemic, she said.
Messaging-based genetic counseling could potentially provide flexibility for patients to ask questions as they think of them, and advantages for genetic counselors if a patient asks a question that requires some digging for the answer. With asynchronous chats, "a genetic counselor can take their time, do their research [if they need to] … and then come back with the information [patients] were asking for," Babu said.
It's not a completely novel idea in healthcare, though. There are similarities between asynchronous, chat-based telehealth and how patients can send messages to clinicians within a patient portal between appointments, similar to email, Babu said. But while patient portal messages have starkly increased across healthcare — the number of messages sent by patients to clinicians rose more than twofold in 2020, compared to the pre-pandemic average — they're not widely used in genetics clinics.
Babu said she'd like to see continued research on chat-based approaches to genetic counseling, such as studies of patient and genetic counselor satisfaction when using chat-based services and whether trends in usage vary by patient demographic. Additional research could also study to what extent chat services could be automated, like with AI chatbots. Chatbots have been a hot topic across industries in recent months with the debut of OpenAI's ChatGPT.
Chatbots could help with tasks like collecting demographic and family history, providing basic genetics information, and fielding common questions, Babu said. But a chatbot should also be able to guide patients who would benefit from speaking to a genetic counselor on how to reach that level of care.
There's still room for automation of services related to genetic counseling, said Kelly Athman, senior director of medical affairs at InformedDNA, another telehealth company. InformedDNA offers genetic counseling through phone calls and video visits.
She suggested AI chatbots could one day augment and support genetic counselors by providing general education and directing patients to external resources. But "there's always going to be … more psychosocial needs [and] facilitated decision-making needs that may require more of a human touch," she noted.
According to Athman, the field has already benefited from technology. She's seen the growth of telehealth firsthand, particularly during the COVID-19 pandemic, and noted that according to recent guidelines from the National Society of Genetic Counselors on telehealth counseling, a systematic evidence review suggested telehealth was largely comparable to in-person genetic counseling.
Study author Mills said she hopes to see additional research comparing outcomes for chat-based genetic counseling against chatbots and in-person, video-based, and phone-based services to determine for which patients, and in which cases, various delivery models are most effective. Patients will also likely have differing comfort levels and familiarity with different communication methods, she added.
"There's a place for utilization for all of these technologies," Mills said. "I think we just need to figure out what situations, what patients, and what indications are the most appropriate for each."