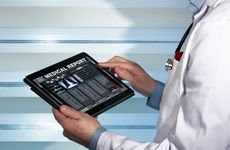 CHICAGO – Genomics and precision medicine continue to make slow but steady progress toward grabbing the interest of health IT companies and professionals, as evidenced by discussions at the largest health informatics event of the year, the annual Healthcare Information and Management System Society (HIMSS) conference, held here last week.
HIMSS CEO Hal Wolf suggested a paradigm shift is in order for primary care, with genotyping at the center of it.
"At the primary care doctor, you walk in and what's the first thing the primary care doctor asks you? 'Tell me about your family history,'" Wolf noted. "It's a substitute for genomics."
When informed of Wolf's comments, Steve Irvine, CEO of analytics startup Integrate.ai, agreed that family history has been serving as a substitute for genomics that is only as good as each patient's recollection of their relatives' health conditions.
"The main reason they're asking you about your family history is they don't have your genome," Wolf said. He expects genomics to be built into clinical workflows in the future, but he said it is up to the health IT and informatics world to sort through the huge amounts of data in a genome and deliver the right information at the right time to the point of care.
There remains no good way to express a genotype in an electronic health record (EHR). Several speakers at HIMSS noted that standards bodies including Health Level Seven International (HL7) and the Global Alliance for Genomics and Health (GA4GH) are addressing the issue, though adoption of emerging standards has been slow.
Of course, another area of promise for precision medicine is pharmacogenetics. But, David Krause, chief medical officer of genetic testing company Genomind, said that many physicians "do not appreciate the power of pharmacogenetics" and noted that lack of reimbursement for genetic testing remains a major barrier to wider adoption.
Krause spoke during a public policy workshop on precision medicine convened by Arcondis, a Swiss life sciences consulting firm that is trying to raise its profile in North America. During the same session, Atanas Todorov, the company's global lead in public health, discussed frustrations with incorporating next-generation sequencing into clinical workflows, another longstanding problem.
Another issue, raised in the same session by Alex Vaillancourt, senior VP and chief information officer of the Health Collaborative, an organization that convenes healthcare stakeholders in the Cincinnati area, is that genomic reports are "very text-based," not machine-readable, and thus not useful for clinical decision support until the data is structured.
Machine learning and artificial intelligence offer an opportunity to structure data, and these were hot topics at HIMSS, thanks in no small part to the hype around ChatGPT and other "generative" AI technologies. The general consensus last week was that the most immediate applications for ChatGPT in healthcare appear to be in patient and customer service and in clinician documentation of patient encounters.
In genomics, Memorial Sloan Kettering Cancer Center researchers noted that the center's proprietary MSK-IMPACT tumor sequencing assay is an important application of AI and machine learning there.
Frederick Health, a community health system in Frederick, Maryland, provided an update on its work in precision medicine, aided by the Expanse Genomics add-on to its Meditech electronic health records system. Frederick Health's Jackie Rice said that a challenge is educating patients about what they are being tested for.
Rice is one of a small number of chief information officers (CIOs) with direct responsibility in genomics, as responsibility for management of molecular data largely continues to be outside the scope of CIOs and chief medical informatics officers (CMIOs).
But Chicago-based HIMSS is hoping to help in this regard. At the meeting, it announced the launch of the HIMSS Center for Professional Excellence, which will offer mostly virtual continuing education in health IT for both IT professionals and clinicians. The center will open in late summer with a nine-month program to train future CIOs, and HIMSS Chief Products Officer Reid Oakes said that precision medicine will be part of the curriculum in the future.
A representative of the Association of Medical Directors of Information Systems (AMDIS), an organization for hospital CMIOs, said that its members are still more focused on creating interoperability of phenotypic data in EHRs than in looking at genomic datasets. AMDIS had no genomics-related sessions during its pre-conference symposium at HIMSS.
Among the genomic data firms present at the meeting, Sophia Genetics, in a session it sponsored, provided an overview of its DEEP-Lung-IV multimodal study of metastatic non-small cell lung cancer, offering new data but only on participation. Jeff Gaudet, medical science liaison for the company and an adjunct faculty member at Michigan State University, said that the study has now enrolled half of its targeted cohort of 4,000 subjects.
Chief Technology Officer Abhi Verma said that Sophia will offer more comprehensive data from DEEP-Lung-IV in the next few months but was unwilling to commit to having it ready for the American Society of Clinical Oncology (ASCO) meeting in June. Sophia's last major update on the clinical study came at ASCO 2022.