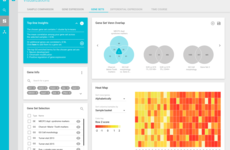 NEW YORK (GenomeWeb) – "Microsoft excel is our biggest competitor."
Such are the challenges for a company like genomics data-management and -analysis software maker Genialis, which is angling to get researchers in both academic and biotech sectors to abandon their old, cumbersome habits, President and Chief Product Officer Rafael Rosengarten said in an interview this week.
Based in Houston, but born in Ljubljana, Slovenia, Genialis is marketing a modular platform as a solution for modernizing how groups both large and small store and interact with data.
And Rosengarten seems just as confident that his firm's products can appeal to command-line jockeys as well as wet-lab biologists uncomfortable doing their own analyses. For the seasoned bioinformatician, Genialis promises the ability to automate rote tasks to make room for more innovative work; for everyone else, it's about simplifying access to data and making the analysis process more intuitive, through an application layer complete with sleek dashboards and other data visualization tools.
With a small but notable roster of clients, Genialis is advancing its vision of how researchers should interact with their next-generation sequencing, gene expression, and other high-throughput data.
"We try to recapitulate the researcher's natural intuition," Rosengarten said. "To not only facilitate the interpretation, but put the results in a context biologist can understand."
If Rosengarten seems confident Genialis' proposition can convince researchers to give up their spreadsheets and external hard drives, it's because he's a convert himself.
"I'm a biologist and I was disaster at the command line," the former Baylor College of Medicine postdoc said. "My academic lab was one of the first clients. Even at the early stages of their software, it was so transformative."
Founded in 2011, Genialis came out of the bioinformatics lab of University of Ljubljana Professor Blaž Zupan. Working in collaboration with Baylor researchers, his team developed a transcriptomics data visualization tool that became the seed from which Genialis grew. Today, the company is officially headquartered in Houston, with a fully-owned subsidiary in Slovenia, which handles software development.
Genialis CEO Nejc Škoberne told GenomeWeb in an email that the firm has raised around €100,000 in a "friends and family" round and is going after a $1.5 million seed round in the US and Europe. 
As a postdoc in Gad Shaulsky's lab working on the amoeba Dictyostelium discoideum, Rosengarten became a "power user" of that tool looking at gene expression time courses.
While visualization remains a key feature of the Genialis' product, it's a fully-fledged platform in the specific sense.
"It's software on which you can build applications and processes," Rosengarten said. "You can do this in two places. We've built a built a software developer kit that you can [use to] control all aspects of from the command line." Users inclined to do so can develop new algorithms and data pipelines, as well as automate them.
But users can also interact through a graphical user interface, the application layer, which can include components for doing transcriptomics, CHiP-seq, and variant analysisfor whole-genome or whole-exome sequencing.
For larger institutions, Genialis offers its complete package, but smaller, more focused groups can implement only the modules they think they'll need, Rosengarten said. "We can configure a really tight workflow that meets their needs and make things very intuitive. We can capture the order in which you want to ask questions in our dashboards."
On its website, Genialis has links to two examples of its platform in use for transcriptomics analysis, stemming from its relationship with Baylor. There's dictyExpress, a tool from Zupan and Rosengarten's old lab chief Gad Shaulsky, and kompExpress, a tool for the KOMP knockout mouse, from the lab of Rui Chen, also of Baylor.
Škoberne said that Baylor is just one of a handful of clients that Genialis has signed on already. Rosengarten added that the firm also works with the University of Rochester's Steven Goldman, while other clients include German pharma company Boehringer Ingelheim and University College London.
It's an "active" space that Genialis is working in, but Rosengarten said his firm feels comfortable there. "Our biggest competition is the old way of doing things," he said, whether that's Excel or homegrown software on the enterprise level. "I would have said Genospace, but they've made a hard turn towards clinical precision medicine." Genialis, he said, is more application agnostic.
And while other firms go after cloud-computing platforms, Genialis is more focused on data visualization and fitting its platform to the resources available to each customer, though Rosengarten noted his firm can do cloud-based implementation as well.
For those with legacy data structures, or anyone else who might be hesitant to commit to a new way of doing things, Genialis offers pilot projects.
"We have mechanisms for configuring the software so you get what you need and not more or less," Rosengarten said.